Winter-proof Your Skin This Season
10 tips to banish the winter beauty woes
Keep your skin supple this winter with these beauty skincare tips. Say goodbye to chapped lips, cracked hands and dry skin.
With the cold, brisk winter air, it is easy for skin to get dry, leading to more oil production for some and patches of flaky skin for others, all of which can cause makeup to look uneven or shiny. Here are tips from skincare experts to keep you looking your most beautiful this winter.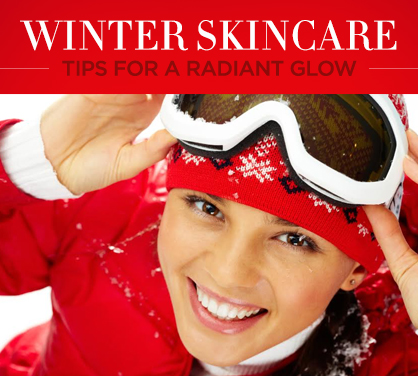 10 tips for winter skincare
Prevention - Harsh winds, cold temperatures and even having your heater on too high can all have a negative impact on your skin during winter. So bundle up to protect your skin before you go outside and keep your heater under control or opt to use a humidifier.
Exfoliation - During the winter, exfoliation shouldn't be as intense as during the hot summer months. Use a gentle, exfoliating cleanser that will decongest the skin and polish it with antibacterial properties to treat sensitive skin during the cold winter months.
Moisturizer - A lightweight, mattifying hydrator will keep skin supple during the winter months, without clogging pores. Added stem cells improve irritated winter skin by regulating yeast and sebum production.
Hydrate - In the winter your skin can easily become dehydrated and can feel cracked, scaly, and sometimes itchy. Your skin needs moisture, so drink at least 8 glasses of water a day. Although it may be tempting to order a second cocktail, you may want to opt for water instead. Getting the daily requirement of water eliminates many toxins and keeps skin clear and hydrated
Use SPF - For those who are frequent travelers, the windows on trains and cars don't block the UV rays that lead to wrinkling and aging. No matter the method of travel, apply and reapply SPF as you would any other day. Whether in the sun or snow, don't forget sunscreen. Apply a full spectrum, moisturizing sunscreen daily to all exposed skin including the face, neck, ears, décolletage, hands and forearms. Always check the SPF number on the label (those with SPF 15 or greater yield the best results). Also, scan the active ingredient label to make sure it has UVA-blocking elements such as titanium dioxide or zinc oxide.

Pucker up - Lips need love too. Be sure to use a lip balm that locks in moisture and reapply often.

Use a clean pillowcase - Be sure to rest your head on a pillowcase that is clean and free of irritants to avoid breakouts or contact dermatitis.
Wear a mask - Masks play an important role in restoring nutrients and protective antioxidants that help skin fight the effects of seasonal changes. Try applying a mask of eucalyptus, clay and sulphur once a week to put nutrients and moisture back into the skin while fighting any inflammation.
Take your vitamins - Consuming and applying the recommended amount of vitamins will have a monumental impact on both skin and immune health as the seasons change. Here are some of the absolute essentials:
Vitamin A: This is applied to the skin to reduce wrinkles, firm and tighten the skin, and protect against UV radiation. Foods like sweet potato, carrot, green tea, broccoli and pumpkin are also excellent sources of Vitamin A.
Vitamin C: This is important in the production of collagen for firmer, tighter skin. It also boosts UV absorption when worn under sunscreen. One pomegranate can supply 40 percent of an adult's daily requirement of Vitamin C. Other foods rich in C include oranges, broccoli, cantaloupe, pumpkin and tomato.
Vitamin D: A lack of sun and shorter days lead to less Vitamin D production, which is important for strong immune function. Apply a topical Vitamin D serum daily under sunscreen to give skin its daily dose. Liver, mushrooms and egg yolks are great sources as well.
And, the absolute favorite tip
Drink more wine – Yes, this is a treatment. To boost the immune system and create cold-resistant skin, consume anti-oxidants, such as a daily dose of red wine, and snack on almonds, which are filled with vitamins to prevent inflammation.
Sources: Pat Dutcher, SiSpa; Dr. Jwala Karnik, chief medical officer at Suneva Medical; Alisa Vidaurri from ESPA at Vdara Hotel & Skin; Amanda Gorecki, Pure MD skincare.
Tagged in: beauty, skincare products, winter skincare,