Expert Advice: 14 Beauty Mistakes to Avoid in Winter
Skip these cold-weather beauty blunders
Winter can take its toll on your skin and hair as the season progresses. The biggest mistake many women make is to use the same beauty routine during cold weather that they do in the summer. Whether it's changing your moisturizer, adding lip balm, or staying hydrated, it's important to pay attention to the seasons and changing temperatures.
Beauty experts share their tips on what to do, and what not to do, to look your best throughout the season.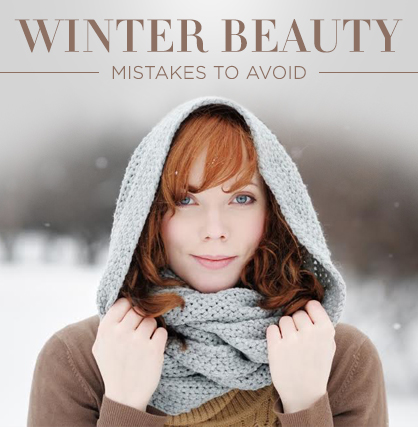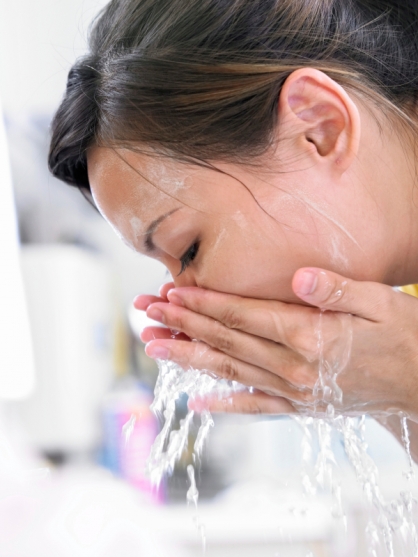 Mistake #1: Not Switching Your Cleanser
When winter rolls around, you'll need something more hydrating and comforting than you did in the warmer months in order to prevent dry, flaky skin. Switch to a hydrating cleansing milk that provides moisturizing properties and protects against dehydration while still removing makeup and impurities from the skin.
Try Decleor Aroma Cleanse Essential Cleansing Milk. It's designed for all skin types, and has a fresh and sparkling fragrance and comforting, moisturizing properties. It is the first step in preparing the skin to fight against dehydration. This light emulsion with a silky, smooth feel leaves skin feeling protected, soft and radiant. It's also paraben-free, non-comedogenic and free of mineral oil and colorant.
Mistake #2: Skipping the Sunscreen
Don't forget to wear sunscreen every day. UV rays don't care whether it is spring, summer, fall or winter. They don't even care if you are working indoors. Sun reflects off of sand, water and snow. UV rays pass through clouds and window glass.
Older (non-LED) computer monitors and fluorescent overhead lighting emit UV radiation. Pollution is depleting the ozone layer and UV rays are stronger than ever in urban cities. If you can't remember to add this step to your morning regimen, make sure that there is SPF in the products that you do wear regularly, like serums, moisturizers and foundations, said Dr. Tsippora Shainhouse, a board-certified dermatologist in Los Angeles.
Mistake #3: Not Exfoliating
One of the biggest winter beauty mistakes is applying liquid foundation to dry skin that is not exfoliated. When winter robs skin of moisture because of heaters and the cold weather, skin can turn flaky and dry. When liquid foundation is applied to dry, flaky skin the makeup almost sticks to the dry pieces. The makeup will not go on smoothly and the resulting cakey makeup look is unappealing and aging, said Nancy Reagan, CEO and creator of Bella Reina Spa.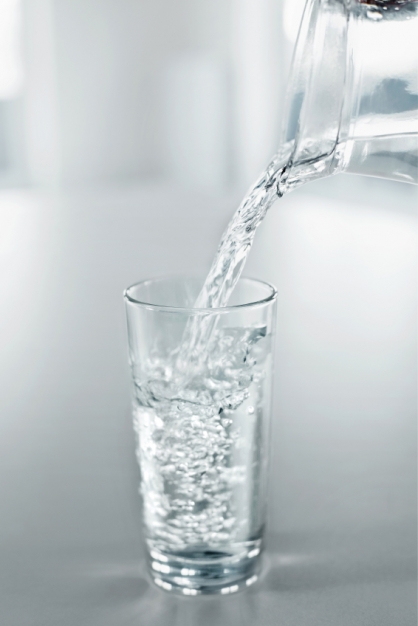 Mistake #4: Not Staying Hydrated
Drink plenty of water all year round, not just when you're hot and outdoors in the summer. The winter months can tend to be very drying on the skin, so it's important to drink a lot of water to stay hydrated, as well as use a good quality skin moisturizer. With the colder weather, you can also keep your fluid intake up by having hot tea, just don't load it up with sugar, said Katherine Goldman, celebrity esthetician/waxologist and owner of the Stript Wax Bar.
Mistake #5: Skipping Your Exercise Routine
Keep moving. Getting enough exercise will not only help keep you looking good, but it will help you feel great, too. Exercise releases endorphins, which naturally brings about a happy and positive feeling. Consistent exercise will also help to reduce any stress levels. It's tempting for people to lax on exercising during the winter, but that will leave you feeling down. There are plenty of exercise plans you can do indoors by tuning into workouts on television, popping in a DVD, or you can always join a gym, Goldman said.
Mistake #6: Heading to a Tanning Bed
Many people want to keep a healthy glow or tan during the winter months. It is important to opt for a healthier way to do this, such as using a good salon quality spray-on tan, rather than going to a tanning booth. This way you can maintain your color, but won't dry your skin out or have the risks that come with tanning beds, Goldman said.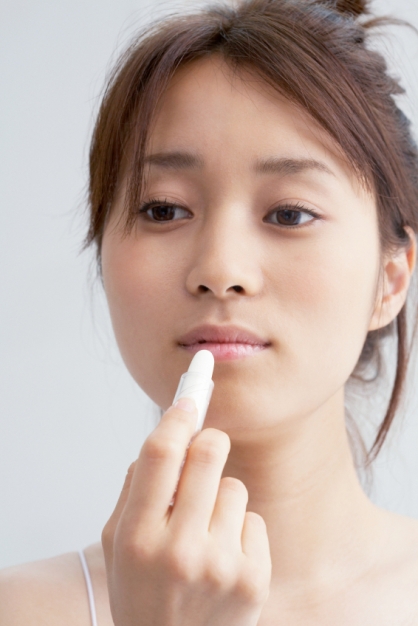 Mistake #7: Skipping a Lip Conditioner
Use a lip care product as part of your daily regimen. Blistex Daily Conditioning Treatment for Lips is inexpensive and it contains natural moisturizers and helps lips maintain a smooth feel and appearance. Put it on before your lipstick for a silky smooth finish, said Dr. Doris Day, NYC dermatologist.
Mistake #8: Forgetting Your Feet
Don't forget to prepare your feet for boots, socks, cracked heels and bitter cold - and then steamy hot indoors. If you're outside, be sure to shield yourself from wind and cold air by using gloves, scarves, and warm footwear. Heated indoor air can contain very little moisture, too, so consider investing in an air humidifier for your home, Day said.
Mistake #9: Not Changing Your Moisturizer
Don't use the same moisturizer you used in the summertime. As weather conditions change, so should your skin care routine. Upgrade to a moisturizer than contains alpha-hydroxy acids. Alpha-hydroxy acids are especially effective at gently exfoliating dry, dead skin cells that can build up if left unchecked, Day said.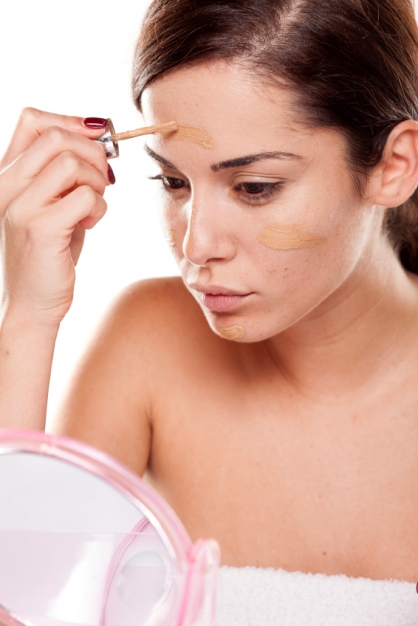 Mistake #10: Applying Too Much Foundation
A lot of women feel like they need to pile on foundation in the winter since they don't have that summer tan. But really, too much foundation can age a woman and the best approach is to only apply foundation where it's needed to even out skin tone. Most of the time the entire face does not need to be covered in foundation. The cheeks, chin and nose area might be the best place to dab on some foundation to cover any discoloration. The forehead can have more wrinkles than the rest of the face so apply foundation very sparingly to that area, said Liz Fuller, a Boston makeup artist.
Mistake #11: Letting Your Lips Get Cracked
Fuller said in winter, she sees many women who have dry, cracked lips. "Trying to apply lipstick to
lips in that condition is a recipe for disaster. It's baffling to me that they can't see this problem or address it. Vaseline or Aquaphor are amazing
for healing the lips. Use a dry toothbrush to exfoliate the lips first (I use a sugar scrub on my lips several times per week) and then just load up on the Vaseline or Aquaphor. Apply a lip ointment throughout the day as well. You will see a major improvement within days," she said.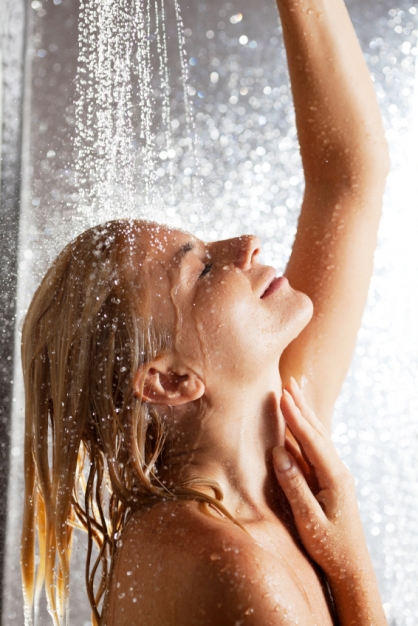 Mistake #12: Lingering in a Hot Shower
As fantastic as it feels when the mercury plummets to take that long, hot, hot, hot steamy shower, don't. Did you know that after just 15 minutes, all that yummy heat begins to compromise the lipid layer, a complex of fatty acids that hold in our much needed moisture in winter? Resist the urge to crank up that temperature – or at least shorten your shower time, said Gretchen Asher, founder of BeFab Skin Care.
Mistake #13: Bronzing Incorrectly
If you're using a bit of bronzer on your face during the gloomy, short days of winter, don't forget your neck. However, don't forget that our neck is naturally lighter than our face, a tan face and a white neck is never a good look. You also may be tempted to go overboard with bronzer in remembrance of last summer's tan. But don't pile it on, it will look ridiculous. If you prefer a more natural glow, try a body lotion with a low dose of the self-tanning ingredient DHA, Asher said.
Mistake #14: Neglecting Your Hands
In winter, we swim in antibacterial hand soaps to ward off colds and flu but they can be very drying. Instead, use a mild, creamy one without the harsh 100% alcohol. Rinse your hands well with lukewarm water, and reapply hand cream every time. Pay careful attention to your cuticles. You may need to utilize a good cuticle cream weekly to prevent splitting. Don't forget your gloves, your hands will thank you, Asher said.