Exciting New Snow Sports to Try This Winter
Skiing and snowboarding are losing luster
Are the winter doldrums getting to you? That means it's the perfect time to head out and try a new winter sport to have some fun.
Rather than opt for the same old skiing and snowboarding, learn a new outdoor thrill such as snowshoeing, fat biking, airboarding, snowkiting, snow kayaking, snow scooting or ice climbing.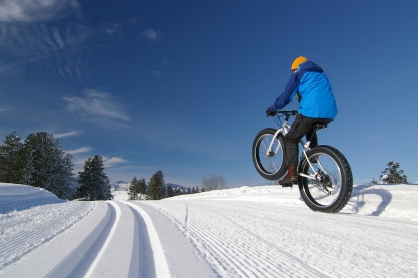 For the adventure lovers
Fat biking – Did you ever imagine riding on fresh powder on two super-fat tires? It's also known as winter mountain biking, and it began in Alaska in the late 1990s as another way to participate in the 1,100 Iditarod. These balloon-wheeled bikes are available to rent at ski areas around the country.
Airboarding – This is like boogie boarding, but in the snow. An Airboard is an inflatable, 48-inch long raft that you ride down a mountain side. It's popular in Europe and is gaining speed in the U.S. You'll hang on using the handles on the side, and there are grooves in the bottom to help control your speed. It's basically an grown-up version of the snow tube. You'll find them available to rent at ski resorts.
Snowkiting – Ever seen someone kiteboarding on water? This is the same principal, but on snow. It's easier because you aren't fighting waves or trying to stand on a board in water. With snowkiting, you'll ride on either your own skis, or a snowboard with a kite attached so that you can sail over frozen lakes and fields on a blustery winter day with winds of 5-30 mph.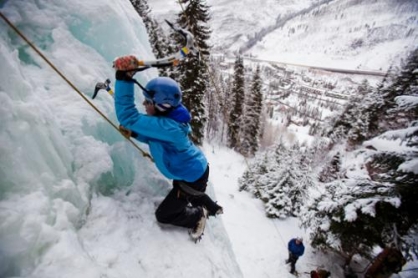 Get your thrill on
Snow kayaking – Yes, this is exactly what it sounds like. Thrill-seekers who use their kayaks during the winter months. You hit the slopes, wearing a helmet and cold weather gear, and paddle down terrain. It's hard to do, but tons of fun. Many ski resorts don't allow snow kayaking, so just find your own wide-open hill and get started. If you want to see how the pros do it, there are annual competitions in Colorado at the Monarch Mountain ski resort.
Snow scooting – The snowscoot is a cross between a scooter and a snowboard and you ride it down the mountain side. It's a tricky way to traverse the snow, so it takes a bit of practice to master. You have to be extra careful when getting on and off the chair lift at the ski resort because of the extra weight and size of the equipment.
Ice climbing – Find a frozen waterfall, pull out the right gear and a good guide, and you're set. You don't have to climb a frozen mountain to enjoy ice climbing. Your guide will help you with mountaineering boots, crampons, ice axes and a helmet, and teach you the basics. You'll have a harness around your waist, so you'll be safe from the dangers of falling. To try this sport, check out Apex Mountain School.
Tagged in: snowboarding, skiing, winter sports,