Easy Ways to Simplify Wedding Planning
Keep your wedding as stress-free as possible
It's far too easy to get bogged down in the details when you're planning a wedding. Tried and true advice from wedding planners and those who have been there and done that are the best way to simplify your own wedding and make the day as fun and carefree as possible.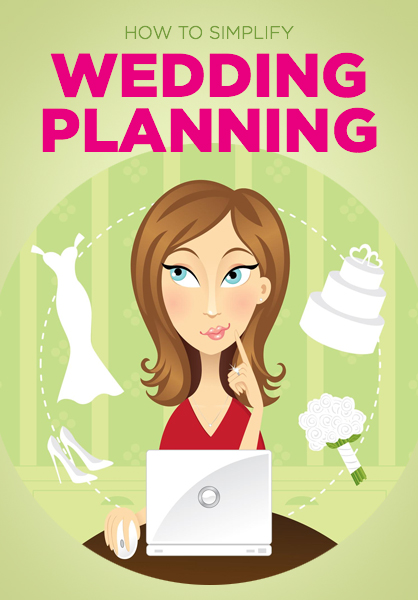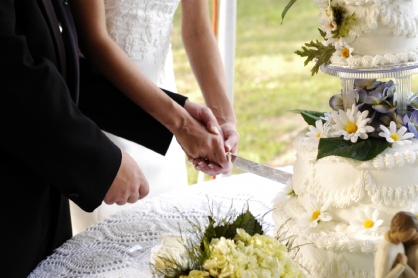 Things to consider
Wedding planning doesn't have to be a complicated process. Organization is key to keeping it streamlined and stress free. Anne Chertoff, editor of Twirl New York, shared her top five ways to keep your wedding a simplified dream and not a nightmare:
Keep a notebook with your to do list. Check out Twirl's checklist of what your first steps to do after getting engaged.
Consider hiring a wedding planner. A planner can work with you from start to finish helping with everything from sourcing vendors to dealing with guests at the reception who've had one drink too many. If you are not ready to fully commit to a full service planner, we suggest hiring a day-of planner to keep the big day simple and hassle free
Let the Internet be your friend. Create Pinterest boards that serve as your inspiration. Gone are the days of meeting your vendors with a folder full of tear sheets, now a few simple clicks can help you communicate your vision. Just beware, don't overdo it. You do not need to incorporate every idea you see on Pinterest.
Don't be afraid to delegate. Lean on your bridal party for certain tasks. They aren't your slaves, but you'd be surprised, they might just enjoy helping you with favors or the like. Make it a ladies night with wine, cheese, your favorite movies, and these tasks will be more fun than chore.
Breathe! Remember not to sweat the small stuff and try to enjoy it, as it goes by in a flash. When the stress seems too much treat yourself to a spa treatment or yoga class. Remind yourself what it's all about, try to keep it in perspective, and know no matter what happens, you're still the bride, so you should make the event what you want it to be (even if you have to make one or two compromises along the way).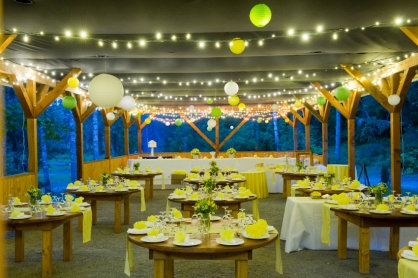 Keeping it simple
Wedding designer Caryn Lim shares her best tips on how to keep it simple:
One location - Having one location for your ceremony and your reception can simplify things a lot and can be a money saver. Look for a venue or a hotel with a beautiful garden for your ceremony or one that can provide two rooms for you. Many venues don't charge another fee for using their garden or another room, or the fee would be minimal. After your ceremony, all you have to do is to hop on over to the next room for cocktails and dinner, you can also save on a limo. It is also common to use the same room for the ceremony and the reception. The venue will have the dinner tables ready on the side and chairs in rows in the middle of the room for your ceremony. They will take about 30 minutes to transform your ceremony setup into your reception setup while your guests enjoy cocktails in the lobby or hallway. You can save on church rental fees as well as the delivery cost of flowers and decor from your ceremony to your reception.

Turnkey venues - Choose a venue where they already have an in-house planner and vendors. They will organize all your vendors for you. If you decide to go this route, do remember to ask to see the portfolios of their photographer, videographer, cake designer, florist, etc. You will have so much less to worry about. Even if your venue doesn't offer you all the vendors, choose another one that can offer you more than one service. Dealing with one person will give you less headaches and saves you more time rather than having to contact three vendors when you've to inform them of changes to your schedule. These one-stop vendors will often offer you a discount the more you book with them.

Hire a wedding planner - Your planner will deal with all the vendors for you so that you don't have to worry about the small details on the day of your wedding or the days leading up to it. Your planner knows your vision and your style, she will ensure that the vendors will deliver what you want on your big day. This way, you don't have to be bothered by the vendors and can enjoy your celebration with your new partner and your families and guests.

Simplify your guest list - Less guests means less food, less favors, less money, less headaches. Finding a perfect small venue for your intimate celebration is easier than trying to accommodate a large guest list. You can also find more things on the cheap when you need less quantity.

Google Docs - This is a great tool to use when planning your wedding, especially when you don't have a wedding planner. Share the documents with your family and friends who are helping you and vendors you hire. Everyone will be kept in the loop on the planning process and they will get instant access to the most updated information such as a change in your wedding day schedule. With Google Docs, you don't have to email attachments 30 times, every time you make a small change.