11 Beauty Mistakes to Avoid Before Your Wedding Day
How to look your best on your wedding day
The most memorable day in a woman's life is often her wedding day. It's also the day she will be photographed more than any other day, which makes it vitally important that she look her best.
With that in mind, it's essential that a bride-to-be avoid any last minute changes to her hairstyle or makeup, in order to look her best on her wedding day. There's nothing worse than seeing an orange bride who overdid it with the self-tanner the day before her wedding.
So, before a bride makes any drastic changes, she should test it out weeks or even months before the wedding, depending on the beauty treatment. That's right – months. Because it takes six months for hair to grow back a measly three inches. And it takes a full week to slough off a streaky fake tan.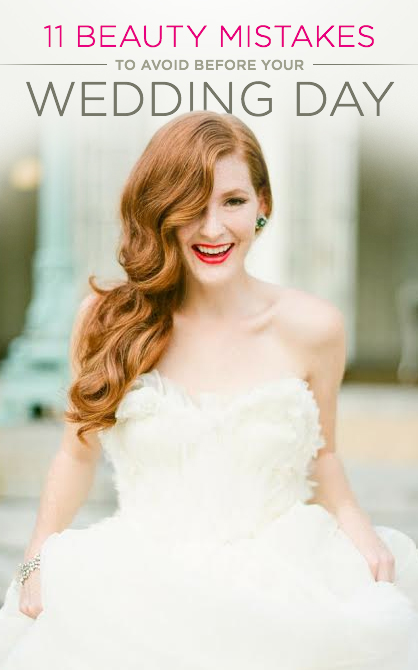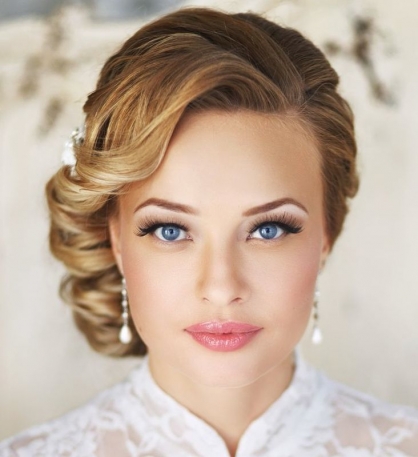 Here are 11 beauty disasters for brides to avoid:
Brides who are looking for a natural glow on their wedding day often elect to get a spray tan a few days to a week before the event, but light-haired brides should take special precautions for their hair and eyebrows as spray tan products can stain light and processed (bleached) hair. If you are going for a professional spray tan and have light blonde hair, it is best to treat your hairline and ends with a leave in conditioner before pulling your hair up into high bun away from the neck and shoulders to avoid unsightly orange staining. A simple swipe of clear mascara or moisturizer on the brows should similarly protect eyebrows from picking up tanning product, said Eden Di Bianco, a NYC-based cosmetologist.
The months leading up to an event as heavily photographed as your wedding day are not a good time for extreme changes to your hair unless youare one of those painfully stylish chameleons who are known for constantly trying new things.
Going platinum blonde for the first time, dyeing your hair blue black, or opting for the trendy crop cut you admired in a magazine last week are all very dramatic shifts in your appearance that are not easy to reverse before the wedding and are therefore ill advised. On your wedding day you want to look and feel like yourself, only more polished and formal. Trends come and go, but those photos are forever, so don't do anything crazy, Di Bianco said.
Di Bianco also said to keep your brows in good shape before the wedding. She said that brows provide structure for the face by framing the eyes and helping to balance your features. While a good brow shape can make you look younger and more symmetrical, a bad one can throw off the delicate balance of your
facial features for weeks and even months to come leaving you looking surprised, quizzical, or angry. There are a number of photo-heavy events from the engagement party to the bridal shower and bachelorette night, so brides to be may feel pressure to always look their best, however an overzealous or hasty brow grooming can lead to long lasting regret. Leave the major shaping to the professionals who will map out where your ideal brow begins and ends and create the perfect arch. In between appointments,
restrict home maintenance to plucking the bottom most hairs in the line and the unibrow region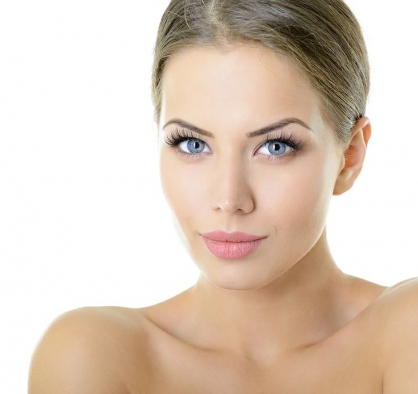 Amanda Shackleton. a NYC-based celebrity hairstylist and makeup artist, has specialized in wedding beauty for the past 16 years. She said the most important thing to avoid is first-time spray tanning. If you've never had a spray tan, the day before your wedding is not the best time to try it. She said, "I've had a lot of brides show up blotchy from a bad spray tan and it's very hard to cover. Along with the patchiness, they sometimes are a little too on the orange-looking side. My suggestion: Get a spray tan about a month before your wedding to try it out. Once you know you have the right person and formula, then you know you are safe. I always keep a bronze buffer in my kit as it's a great tool for evening out the color."

Over cleansing/over drying is another problem. A lot of brides get so nervous, their skin will break out, as they wash it too often with too harsh of a cleanser. This often results in the thing they were trying to avoid - pimples. Skin gets so dry, that it cannot release oil from the clogged pores, causing havoc on the skin.
In a last minute panic they load on the pimple products, which contain super harsh drying ingredients and the result is a makeup artist's worst nightmare – dry, broken out skin. Pimples or uneven skin are one thing and can be fixed/covered pretty well. But try evening out or concealing dry patchy skin, well, it's virtually impossible, as any make up you apply on the skin gets caught on dry patches. "My advice is to keep your routine simple and consistent. Exfoliate three times a week and if a pimple pops up, I'll cover it," Shackleton said.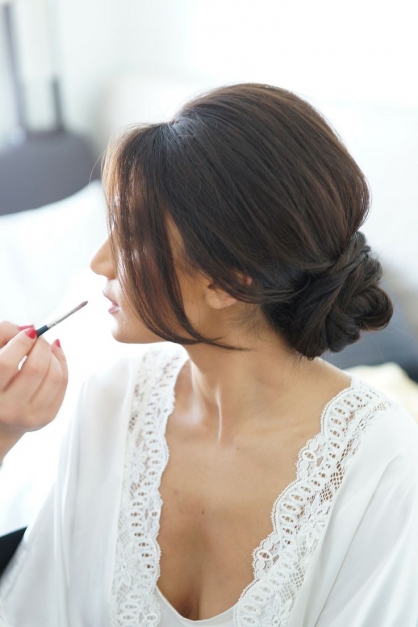 Another obvious problem, but one that happens far too often, is when the bride indulges in too much alcohol before the wedding, said Jill Wells, director of the Ogle School, a cosmetology and esthetics school in Denton, Texas. "While wedding festivities should be a celebration, nobody wants a wedding day hangover. Although it is tempting to overindulge at the rehearsal dinner – refrain – save your brain for the big day. You want your 'I do' to be loud and proud, not slurred and blurred," Wells said.
Another problem is not planning enough prep time, Wells said. "Plan your hairstyle with your stylist well in advance and avoid rushing around and over-processing your hair. The same goes for makeup. Practice your wedding day makeup with your makeup artist. Consult your beauty team a minimum of four weeks in advance. Also, don't neglect your nails. Take care of them in advance with regular manicures and pedicures. In the event of a nail disaster, a quick, mini manicure and pedicure on the day of will be an easy fix for the bride. Your wedding day is not the time to try out new products. Use makeup that you know works well with your skin and won't cause an allergic reaction."
The bride also should avoid overdoing it with makeup. Natural beauty is the goal. Less is more. Use enough makeup to accent your beauty for the camera, the audience and your new groom without over emphasizing and taking away from your natural glow. Waterproof makeup is strongly encouraged to avoid streaking mascara on this emotional day, Wells said.
Make sure to get enough sleep in the nights leading up to your wedding day. Wells said a lack of rest can lead to puffy eyes and dark circles. Say "yes to the dress" early instead of lying awake at night fretting over your choice. Many brides are so excited the night before their big day, they forget the most important beauty component: rest.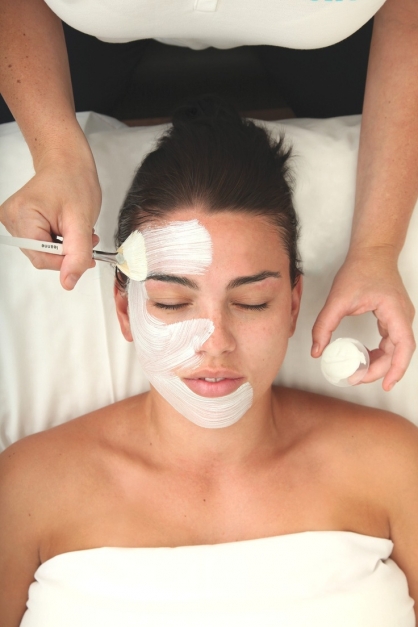 Whatever you do, don't schedule a chemical peel too close to your wedding date. Dr. Michael Lin, a California-based dermatologist with his own skincare line, said, "Getting a chemical peel is a great way to look youthful and radiant on your wedding day. It's important to give your skin enough time to heal after the treatment so your complexion isn't still looking raw or inflamed." He explained there are three kind of chemical peels; superficial, medium and deep peels. Deeper peels provide more dramatic results and will need a longer healing time.
Superficial Peel: Helps improve the appearance of acne marks, mild sun damage or fine lines. Allow 2 days after treatment for best results.
Medium Peel: Treats mild to moderate wrinkles, sun damage, hyperpigmentation and in some cases, pre-cancerous lesions. Allow 5-7 days for redness to subside.
Deep Peel: Treats severe wrinkles, long-term sun damage, uneven pigmentation and lesions or growths. Allow at least three weeks for complete skin regrowth.
Don't forget to wear sunscreen. There's nothing more painful than a bad sunburn, and no bride should have to suffer through the discomfort, not to mention the unsightly blisters, on her wedding day. Dr. Lin said, "If you are going to tan under the sun to get a golden glow, always wear a broad spectrum SPF of at least 30. Your skin still tans when you wear sunscreen, and you'll also prevent unwanted burns and future damage."
Tagged in: weddings, bride, beauty remedies, hairstyle,