Menswear MFW Spotlight: Philipp Plein
Fall 2016 Collection

PHILIPP PLEIN, internationally known designer, and namesake brand, debuted its Fall 2016 Menswear Collection in Milan over the weekend.
Historically, PLEIN the man, has a reputation for showmanship and orchestrating over-the-top productions.
Opening in a dark room, lit by green laser beams—and a spotlight on a podium, where a classical conductor stood, conducting, Ride of the Valkyries, with a 30-piece symphony, sitting in neon-lit scaffolding, surrounding a DJ.
Enter, L'il Wayne - performing in Philipp Plein pants atop a skate ramp, only to introduce BMX riders, outfitted in LED piping before starting the main event.
The collection was overwhelmingly black - with pops of grey and red. A cohesive collection featuring textured knits, leather accents and of course, Swarovski crystals.
The theme, #PLEINHERO, focused on superheroes, both from Marvel & DC, with appearances from Spiderman, Captain America and Batman - with the models snaking through gold skate ramps, and carrying super lux skateboards.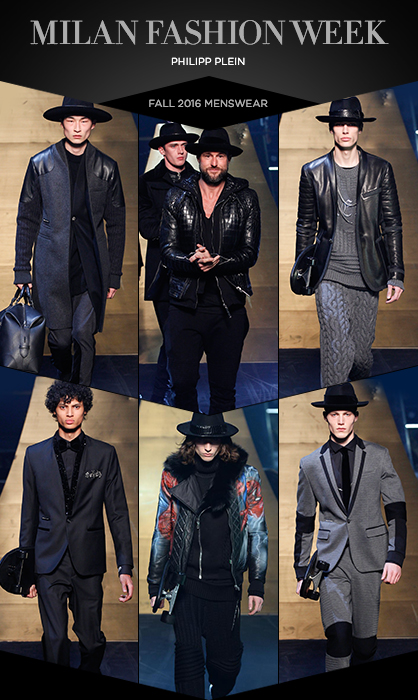 Overall, the collection was very defined with outerwear, tailored suiting and tuxedos. Showing wide-brimmed hats, leather paneling on pants and outerwear, quilted velvet and crystal embellishments on sleek suites.