Menswear Fall 2014: Fabric Trends
London Fashion Week is heating up with menswear Fall 2014 collections. The runways are starting to show heavy trends in color. Think lots of orange, along with key fabrication trends. Three trending textiles coming down the runways are tweed, chunky knits and technical outerwear fabrics.
Tweed fabrics are the ideal new businesswear. The runways displayed the essential, day-to-day styles that can be created with this rich, unfinished woolen fabric. Rake, Casely Hayford and Oliver Spencer gave their collections a fresh twist of style using tweeds. Double-breasted and single-button blazers gave an assortment of style options for the business man. Double up the tweed and wear a head-to-toe tweed suit. The fabric lends well to the sophisticated man with a rustic, well-styled look.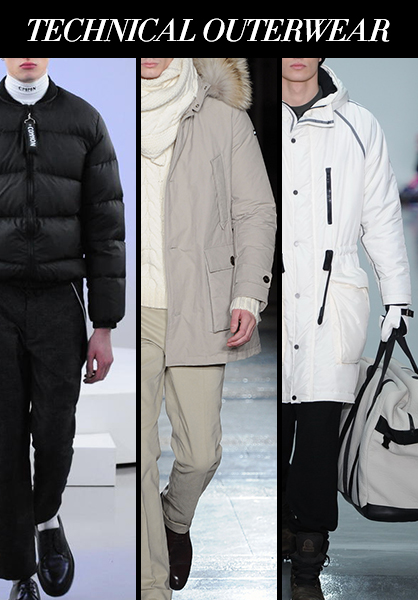 Leaving the office and heading out into the winter cold, technical outerwear pieces are going mainstream. The industrial look from clothes that would typically be spotted at a mountain resort are becoming secondary to peacoats and trenchcoats. Common, Christopher Raeburn and Hackett presented a chic assortment of neutral colored tech outerwear. Contrasting buttons, zippers and trims were heavy trends within the tech outerwear details. Bundle up in a sporty style next fall.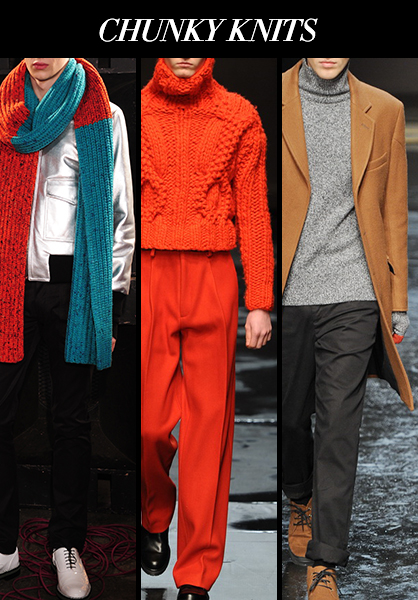 Chunky knits were another trend that will be seen next fall. The knits were displayed in a variety of different forms. From traditional sweaters at Topman Designs and Oliver Spencer to heavily knit scarves at Jonathan Saunders, the knits were everywhere. Along with the warm layer of chunky fabric, the necklines are sky-high and bold. Men will be taking their knitwear to the next level in Fall 2014.
Read more menswear
Tagged in: trends, menswear, runway, lfw, fall 2014, fabric, tweed, chunky knits,