Accessory Trends for Winter Weather
From the runways to your closet, winter weather looks are in full force. The key to bearing the cold weather is bundling up from head to toe. This season, there are three hot looks for fashionable accessorizing: candy coated coats, LUX gloves, and zipper-embellished boots. Indulge in the runway-inspired looks and shop for your own pieces.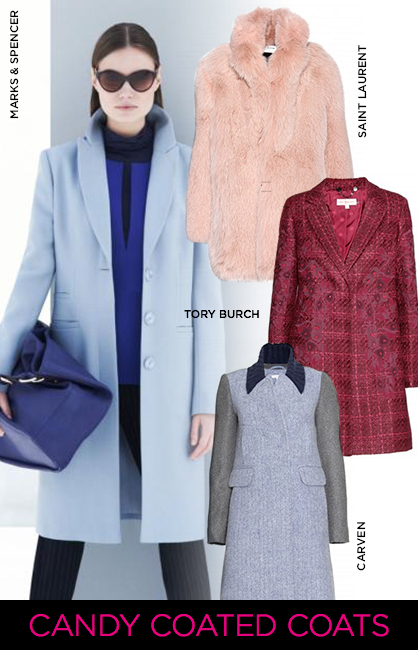 Saint Laurent: Fox Fur Coat
Tory Burch: Patsy Tweed Coat
Carven: Alpaca and Wool Coat
Dip your coat in a rich, candy-coated color. From soft pinks and blues to indulgent reds, the colors are too good not to be wearing. A coat is essential for keeping warm this season, and these colors are giving your style a kick. Keep your neutral, black or tan coats in the closet and bundle up in a richly-colored coat for a girls' night out.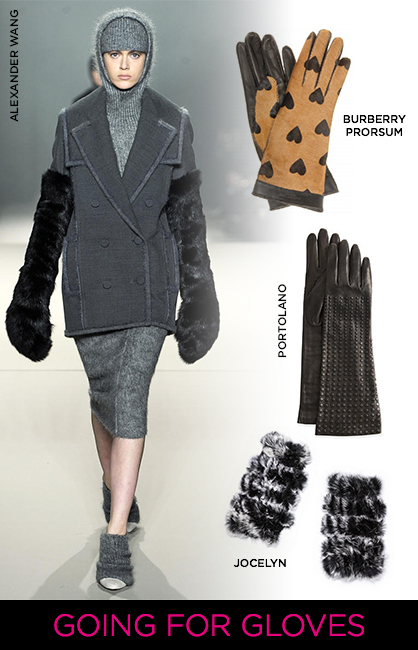 Burberry Prorsum: Jenny Heart-Printed Gloves
Portolano: Long Tonal-Studded Gloves
Jocelyn: Mandy Rabbit Fur Mittens
Next up on the essential winter weather accessorizing list is gloves. The runways were graced with extra-long, fur mittens. For the everyday woman, there are three gotta-have styles: Fingerless gloves, printed leather gloves, and long gloves. Fingerless gloves sound so unrealistic but are perfect for driving and texting, keeping your fingers free of constraints. For the busy woman on the go, give your classic leather gloves a touch of style with print or fur details. Lastly, for romantic nights out, long gloves are the perfect pairing to your dressed-up style.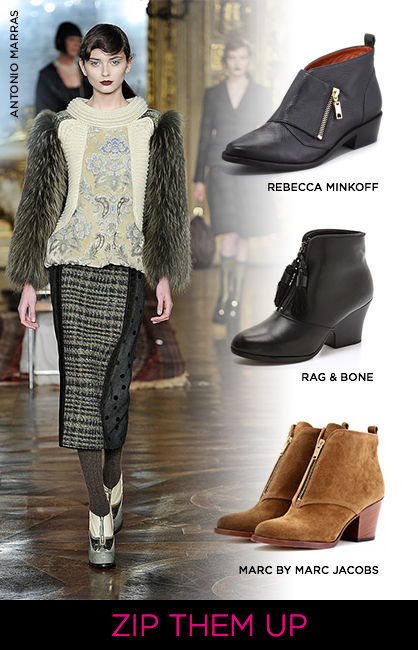 Rebecca Minkoff: Saachi Wrapped Side-Zip Bootie
Rag & Bone: Darcy Tassel Booties
Marc by Marc Jabobs: Aurely Suede Ankle Boots
Last but not least, let's keep your feet warm. The go-to winter weather footwear style is boots. This season, it's all about the front zipper. Tassel adorned or exposed metal details, the stylistic choices are endless, so pick your favorite zipper embellished booties. Pair your boots with socks or tights and you'll be bound to keep in the warmth.
Read more style
Tagged in: trends, guides, accessories, boots, fall 2013, gloves, coats,