Vans Custom Culture Contest to award $50,000 prize to support high school art programs
To inspire high school students to embrace their creativity through art and raise awareness of diminishing school art budgets, Vans is celebrating its third annual nationwide Custom Culture contest. The contest encourages students to express themselves by customizing four favorite Vans canvas styles: the Old Skool, 106 Vulcanized, Sk8-Hi and the Classic Slip-On. Students are charged with designing each pair of shoes to fit within one of four themes representing the Vans lifestyle, including action sports, art and music. For the fourth theme, "local flavor," students will tap into their regional styles and attitudes for inspiration.
Back in February, the contest registration was opened to all U.S.-based high school art programs and accepted the first 1,000 registrant schools into this year's competition. Schools were initially narrowed down by an internal Vans team, and then by public voting through the Vans Custom Culture website. To pick the top five schools, Vans has opened it up to online voting again. One school per region will travel to Los Angeles for the exclusive final event at the Long Beach Museum of Art in May to showcase their customized Vans design.
The grand prize winner will receive $50,000 and each runner-up will receive $4,000 for his or her school's art program. To up the ante, national shoe retailer Journeys will award an additional $5,000 for their favorite Local Flavor themed pair of shoes, along with $1,000 to each of the four runners up.
Reflecting company ideals of originality and creative expression, Vans believes in the power of art in schools as not only a creative outlet, but also as an important educational component.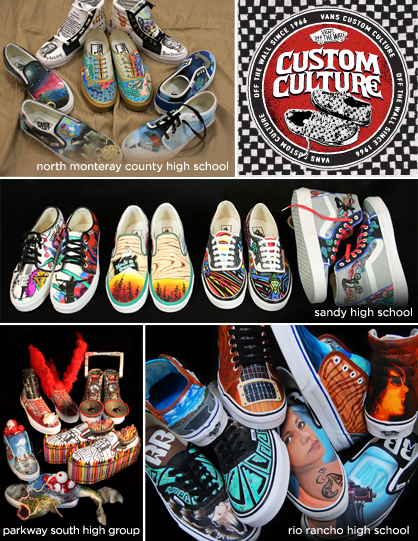 LadyLUX via Vans Custom Culture
"Not only are the number of jobs based in creative skills growing, but developing and exercising inherent creativity nurtures traits applicable in nearly any career path," Vans vice president of marketing Doug Palladini said. "Vans aims to support art programs and help fight budget cuts that are all too common by inspiring students to embrace their creativity while also educating communities at large about the importance of art in the schools."
To create further awareness, Vans has also created a student- and teacher-friendly media network for the Custom Culture contest, allowing the public and participants to download the official application and rules, interactively engage in the process and stay updated on the latest happenings from the Vans Custom Culture team. Interested parties can vote for their favorite contestants here. Voting ends May 3.
Tagged in: sneakers, contest, los angeles, vans, design challenge, journeys, vans custom culture, support high school art programs,