Spring 2014: The Backpack Trend
Backpacks are more than an academic essential, it's the new accessory must have. If you're worried that a backpack will give off an overly youthful appearance, have no fear, we have put together three backpack trends from the Spring/Summer 2014 runways ranging from bright and printed to simple, leather chic that anyone can style.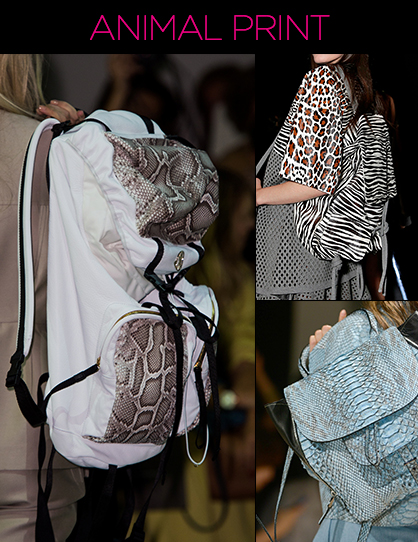 Show off your wild side with animal skin or print backpacks. Don't be intimidated by Barbara Bui's reptile skin backpack; the pastel blue painted look, zipper detail, and black leather panels give it an approachable, yet exotic look. Espaco's zebra print backpack is perfect inspiration for the animal-print lover, pair it with another animal print for a daring look; with solid bright colors, or with neutral hues for a safari-meets-sophisticated look.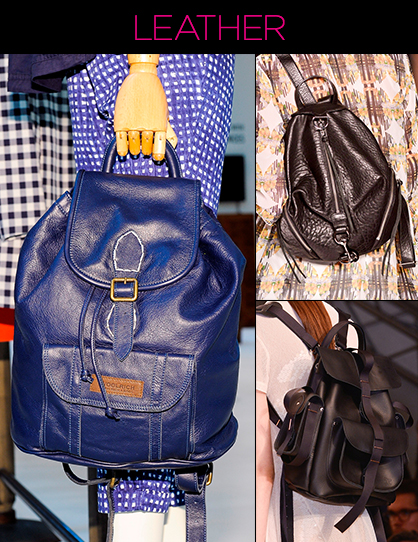 You can't go wrong with an all-over leather backpack. Whether it's in a bright color, a unique cut, or a classic flap and cargo pocket backpack; this accessory is simple, chic, and versatile. Rebecca Minkoff's supple-chocolate brown backpack features multi-functional hardware for an untraditional look; Woolrich John Rich & Bros' vibrant blue backpack makes a statement with its simple cut and saturated color; and Marios Schwab's smooth, cargo backpack with exaggerated strap closures gives off an adventurous look and adds intriguing contrast when paired with flowing, dramatic dresses and gowns.
Go graphic with exciting and bold printed backpacks. DKNY made a stand-out black and white enlarged text backpack for an urban look; Manish Arora created a collection of vibrant, art-deco inspired, printed backpacks; and Osklen's gleaming, faux jewel embellished print backpack not only features a fun print, but also has interesting zipper, buckle, and strap details. If you're not keen on wearing prints, sporting a backpack with a stand-out print is the perfect introduction to the trend.
Read More Spring 2014
Tagged in: trends, fashion, accessories, spring 2014, runway, backpacks,