LUX Style: 3 Must-Have Jacket Trends for Spring
Make a smooth transition into spring with a chic jacket inspired by Spring 2014 runway collections. We took a cue from these Spring 2014 Must-Have Jacket Trends and selected three unique jacket styles:sheer, boxy and floral. These styles will bring life to your closet, just in time for a new and refreshed season.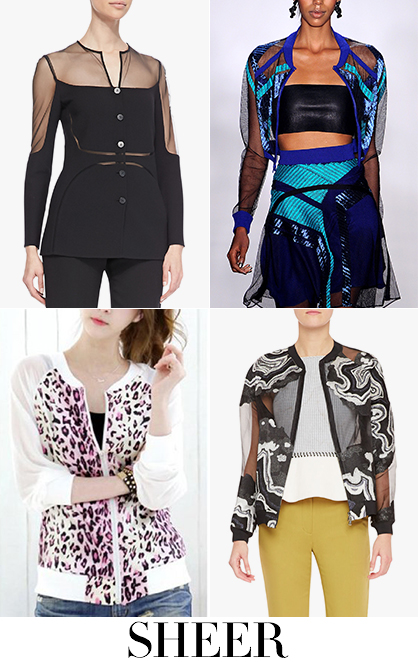 3.1 Phillip Lim / Geode Embroidered Chiffon Jacket
Ralph Rucci / Sheer Chiffon-Inset Shadow Jacket
Ostart / Leopard Chiffon Casual Zip Tops Jacket
Sheer elements create an airy and intriguing look for lightweight jackets this spring. 3.1 Phillip Lim's Geode Embroidered Chiffon Jacket is avant garde featuring an interesting pattern from embroidered and sheer details for a overall bold but tasteful look that can be worn during the day with a denim skinny jean, plain T-shirt and sneakers, or glammed up with a dressy top, faux leather bottoms and heels. Ralph Rucci's Sheer Chiffon-Inset Shadow Jacket creates a slimming and seductive evening look without giving too much away; wear over a strapless black or solid color a-line dress or with a tapered pant and heels. And Ostart's Leopard Chiffon jacket is great statement piece for a casual look.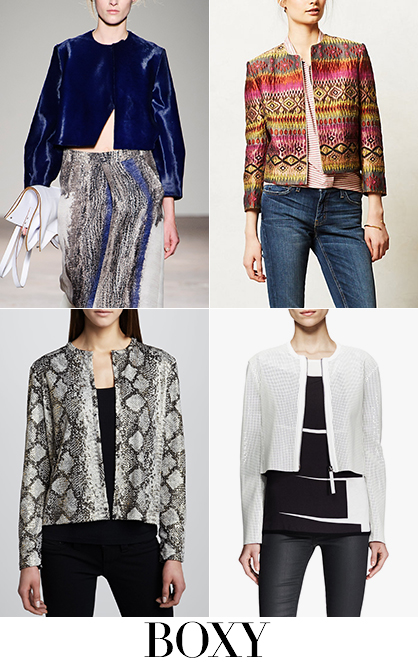 Helene Berman / Adirondack Midi Jacket
Helmut Lang / Slit Perforated Crop Jacket
Grayse / Snake-Print Jacket at Mezzo Grid
Boxy silhouettes in cropped and midi-length jackets will have you feeling anything but square. Create a bold look by styling a boxy jacket that is as cropped as a balero jacket or just sitting on top of your waistline with a fitted blouse and bottoms, finishing with boots for a daytime look or booties for an evening look. This style jacket can be worn in a variety of prints, colors and fabrics such as leather, velvet, denim and embellished textiles.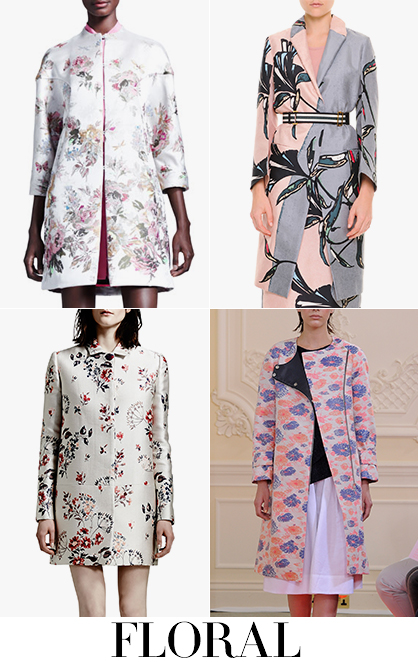 Valentino / Floral Embroidered Coat
Marni / Large-Floral Long Coat
Stella McCartney / Hidden-Placket Wildflower Jacquard Coat
Wearing floral prints this spring does not have to look outdated; try small to large floral print jackets in a color palette of blush pinks, peach, coral, grey, and neutral hues for a sophisticated chic look that can be worn alone or belted for a fresh outfit.
Read More Spring 2014
Tagged in: trends, guides, fashion, spring 2014, lux style, jackets, style guide,