Spring 2014 Trend: Florals for Men
Menswear floral prints were bigger than ever on Spring/Summer 2014 runways. All sorts of floral prints from vintage inspired to tropical were found in a variety of menswear styles. Here are our top three floral runway styles that would make for an interesting graphic addition to your wardrobe.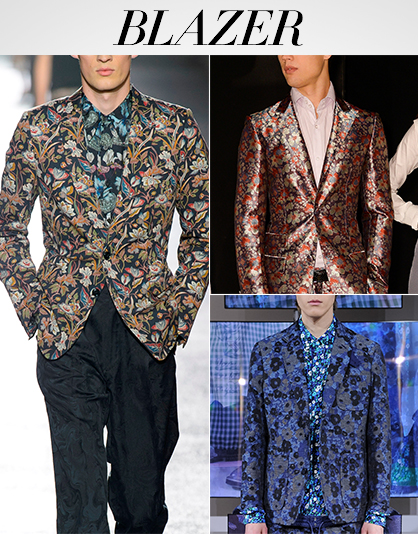 A blazer is a wardrobe must-have; it can be worn casually with a T-shirt, dark-washed jeans and clean sneakers; or dressed up with coordinating slacks, a button-down (neckwear if it's a formal event), and dress shoes. Designers Dries Von Noten, Malan Breton and Sacai utilized the classic blazer style and created unique floral print blazers that are a stand-out look on their own. Incorporate a floral blazer into your closet as a statement piece; style it with Bermuda-length shorts (a little bit above the knee or right at the knee) and T-shirt, henley, or other basic top for a casual-preppy look. Go bold pairing the floral blazer with matching slacks (if available) and a solid colored or simple print (like pinstripes); or wear a loud or contrasting floral print button-down complementing-colored slacks, and you will sure to get heads turning, in a good way.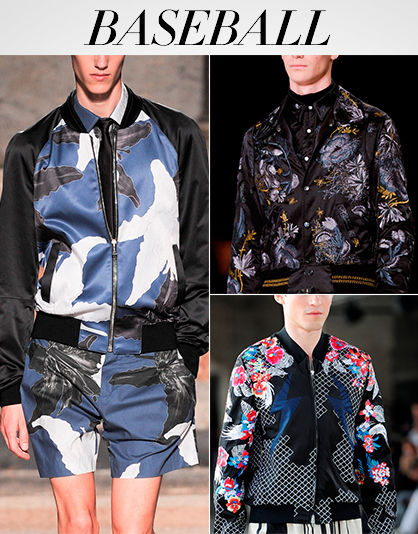 For a more fashion-forward urban look; try wearing a floral-print baseball jacket. Designers 3.1 Phillip Lim and Les Hommes transformed a classic baseball jacket with bright prints, and designer Topman Design created a baseball jacket with a unique notch collar with a retro floral print. Style a floral-print baseball jacket as your normally would wear such a jacket style with your clothes, or have some fun with it by pairing a button-down shirt, buttoned to the top with the baseball jacket zipped down to show the top three or four buttons.
Shorts are a no-brainer and essential for spring as the cold weather dissipates. Have fun with a pair of floral shorts paired with your favorite T-shirt, denim jacket and sneakers such as Converse Chuck Taylor All-Stars for a daytime going-around-town look. Or dress to impress by tucking a button-down into the shorts, held together by a belt, a solid-colored blazer, and a simple slip-on loafer. Designers Andrea Incontri, Auslander and Ellus provide great inspiration with simple to bright short styles.
Read More Menswear
Tagged in: trends, fashion, spring 2014, menswear, floral, runway, prints,