Fall/Winter 2014: Waist Defining Looks
Who doesn't want to accentuate or create curves for a seductive but sophisticated, waist-defining look? A cinched waist is a timeless look and can be created with high skirts and a crop top. Take a cue from Fall/Winter 2014 runway collections, where dresses featured cut-out details, structured belts, or ruching. Use these to cultivate styling ideas to enhance your waist.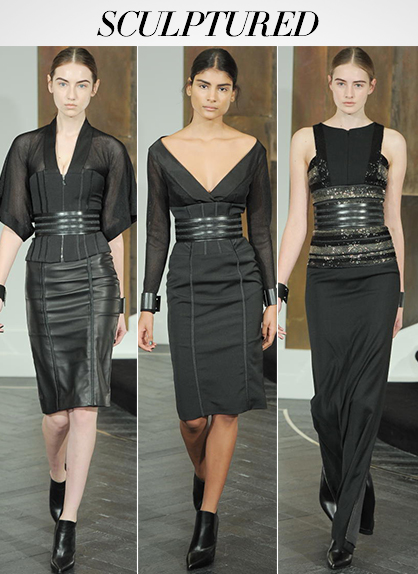 Nothing says waist cinching like a bold belt tying your look together. Designer Amanda Wakeley presented a powerful collection of dresses, gowns, and coats styled with wide Japanese-inspired warrior-like belts. The models with their pulled-together waists exuded a silent-yet-cunning sense of confidence and strength on the runway. Style a similar look by adding a wide belt to a dress, gown, coat or even a top paired with with skinny-legged pants.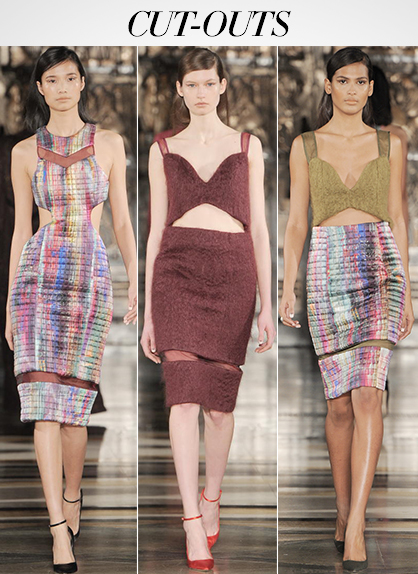 Cut-out details create an interesting look, and when placed strategically at or around the waist area create an interesting look and the appearance of a minimized or enhanced waist. Designer Felder Felder created a Fall/Winter 2014 collection featuring a handful of cut-out dresses in unique colors and textures. Wear this runway trend with a dress that has side triangular or semi-circle cut-outs pointing towards your navel. Or wear a dress that has a triangle cut-out with the widest part of the cut-out sitting above your navel and pointing upwards.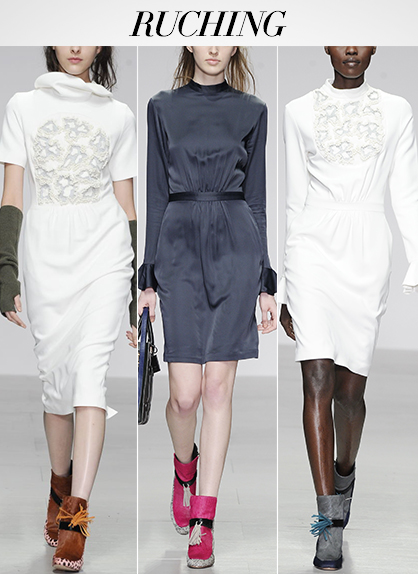 Designer Eudon Choi graced the runway with polished neutral-hued dresses that showcased ruching details at the waist. Gathers that are placed at the waist pull excess fabric together for simple and elegant waist definition.