Tech App Trend: Wisely
We turn to the internet for most things nowadays. From restaurant reviews, to dating, to keeping tabs on our friends, it's amazing how much we rely on the web. One snag to our obsession with the internet, is you never really know if someone is being honest especially when it comes to reviews. Who knows if that one review isn't someone who's holding some weird grudge against the restaurant they are bashing on Yelp? That's where the newly created app Wisely comes in.
What better way to review a business than by actually doing business with them. Wisely taps into actual transaction data, allowing you to filter your searches based on popularity of establishment or the average bill size. Gone are the days of filtering through Yelp wondering if some of these people are just grumpy parishioners. There's no better way to tell if a business is legit than through it's customers spending habits.
Behind the genius of the app is a company called Glyph, who already introduced us to another clever idea that gave you recommendations on which credit card to use to get the most rewards. While they ultimately decided to go in another direction, we now get to reap the rewards of that scrapped plan with the launch of Wisely.
Glyph CEO Mike Vichich spoke to Tech Crunch and mentioned the importance why the company made this change. "We always felt like transaction data was really important, and told a story about the world we live in. If you're able to view a map of how people swipe their cards, it's a map of the economy – it tells you which places are quality, which places are popular, how expensive places are, which places are for locals versus tourists. We thought that was something valuable that didn't exist," Vichich said.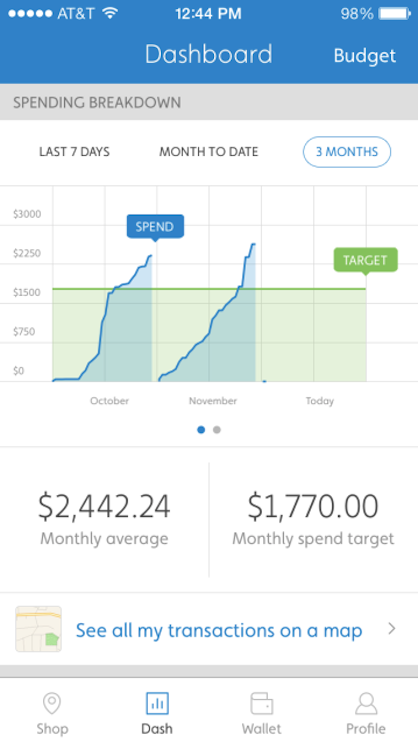 Wisely can certainly be used as another Yelp, but it also draws comparison with Mint, which tracks your spending and allows you to make budgets, something that Wisely also allows users do to. As you use the app more often, it will begin to analyze your spending habits once you've linked your bank account. One step ahead of the game, the app will show an actual map of your spending habits, allowing you to not only keep tabs on where you're spending your money, but making it easier to detect suspicious charges.
Currently, the app only has access to American Express accounts but in February, Bank of America and Chase cardholders will be able to use the app. Currently, Glyph is undergoing funding, so we'll watch and see when more banks will have access to the app.
Download the Wisely app for free in the iTunes store.
Read more Tech articles
Tagged in: tech, app, news, spending habits, wisely,