Best of the Best: Healthy Thanksgiving Recipes
Thanksgiving kicks off the holiday season next week and, though it is a time of happiness and celebration, it can also be the stressful time when healthy diets and exercise regimens fall to the wayside. Yet, the season of indulgence doesn't have to foil your hard work and good intentions. These great recipes from around the Web prove that you can have beautiful, satisfying food and still keep it healthy. Try some of these top picks for a killer Thanksgiving meal!
Bites
Toasted Pumpkin Seeds
Ask for advice on healthy snacks and you will always hear fresh nuts and seeds as a top choice. With just a little salt and olive oil, you can put a bowl of these incredibly easy and tasty seeds out for guests to munch on as you get ready for the main event.
Pumpkin Hummus
Stick with the pumpkin theme and try the "pumpkincredible" hummus by Plant-Powered Kitchen. With a mix of chickpeas, white beans and pure pumpkin, this creative dip will be a conversation starter and a great source of healthy protein to hold people over until dinner.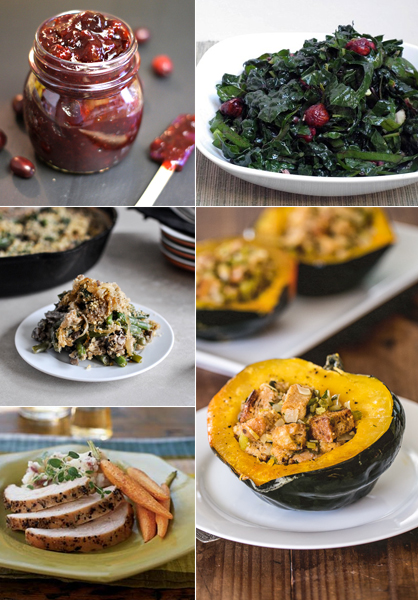 Main Course
Butternut Squash Soup With Thyme and Parmesan
A delicious, hearty soup is a lovely way to kick off the Thanksgiving feast. This butternut soup by The Picky Eater uses broth rather than a cream or milk base to keep cals down while not sacrificing the comforting flavors of the squash, garlic and spices. Bonus: easy prep and cooking time of about an hour.
Pomegranate-Hazelnut Winter Greens Salad
YumSugar nailed it with this "jewel-toned" salad featuring superfoods kale and chard for a sophisticated and impressively healthy option. Skip some of those carbs and fill your plate with this lovely salad instead.
Stuffed Acorn Squash With Whole Grain Stuffing
If you've never visited A Couple Cooks, change this now. This adorable blog featuring the alluring culinary creations and photography of a husband and wife team in Indianapolis never fails to provide some inspiration. Their stuffed acorn squash looks great as a side or as the main course for any vegetarians who may be at your table. The stuffing, which replaces loads of butter and white bread with whole grain bread, vegetables and a little olive oil, could also be served on its own as a lighter version of the Thanksgiving staple.
Honey-and-Thyme Brined Turkey Breast
We'll admit, Thanksgiving leftovers are great. But for those trying to eat healthy, consuming all that heavy food for not just one day but the whole week after can dangerously jeopardize any attempt to stay on track. Instead of doing a giant whole turkey this year, consider doing only a breast for a more manageable amount of meat. This tempting recipe from Cooking Light will do the trick.
Lemon-Garlic Roast Turkey & White Wine Gravy
Then again, if you are hosting the whole fam, you may need to go ahead and roast the whole bird. If so, this recipe from Eating Well uses an organic turkey and, like the Cooking Light version, a natural brining technique that greatly cuts down on the sodium and other artificial nonsense found in typical supermarket turkeys.
Lightened Up Green Bean Casserole
For many, green bean casserole is an old holiday standby, but the typical canned beans/cream of mushroom/French fried onions recipe leaves a lot to be desired for those trying to keep healthy. How Sweet It Is uses fresh beans along with mushrooms and herbs, topped with caramelized onions and whole wheat herbed panko to turn the dowdy old casserole into a fancy and healthy scene-stealer.
Spiced Cranberry Sauce
Megan at The Detoxinista complains that the canned cranberry sauce we're used to just plain sucks. We're with you. Try her fresh and festive version that's loaded with antioxidants and essential nutrients. Sweetened naturally with maple syrup, this recipe skips all the highly processed sugars for a sauce that she claims may even prevent bloating after the big meal. Sign us up.
Maple Roasted Brussel Sprouts
Whether you are a brussel friend or foe, this recipe will make a delectable addition to your Thanksgiving table. Gabby's Gluten-Free claims this recipe converted some of the staunchest brussel sprout haters in her life, and it definitely looks worth a try.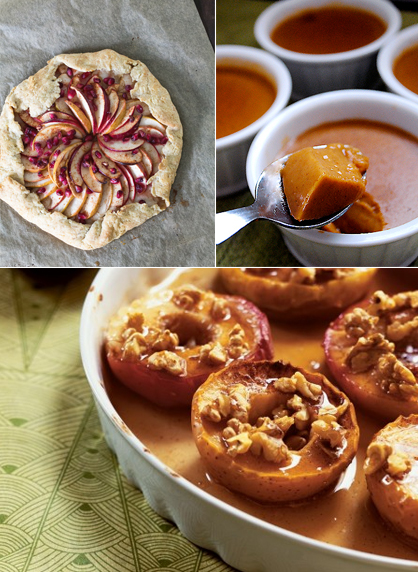 Dessert
Apple Pomegranite Gallette
Another one from A Couple Cooks, this one is too cute to pass up. Unlike a traditional pie, this lighter dessert uses only fresh fruit, a little bit of honey and spices like nutmeg and cinnamon to satisfy your sweet tooth.
Baked Apples With Maple Walnut Sauce
Whether you are vegetarian or not, Vegetarian Times consistently has the most crave-worthy recipes that are impossible to resist. Their baked apples with walnut sauce is creative, healthy and would look gorgeous on any table.
Vegan Pumpkin Custard
It may be surprising to find custard on a healthy recipe list, but this is not your average custard. It skips on all the fatty dairy and sugar, opting for leaner coconut milk, vanilla extract and agave nectar for flavoring instead. Of course, fresh pumpkin puree is what makes this another unique and exciting recipe that will impress guests. Whether you tell them its vegan or not is up to you!



Tagged in: food, health, diet, thanksgiving, healthy recipes, food blogs, health blog, cooking light, healthy thanksgiving recipes, vegetarian thanksgiving, a couple cooks, how sweet it is, the picky eater, healthy holiday, yumsugar, vegetarian times, eating well, detoxinista, gabby's gluten free, plant-powered kitchen,