Style Guide: St. Patty's Day
Are you scrounging for outfit ideas for St. Patrick's Day? We've put together three different looks for you: casual, business chic and elegant evening. Shop our looks, or get inspired to style your own outfit with green elements to avoid being pinched this holiday.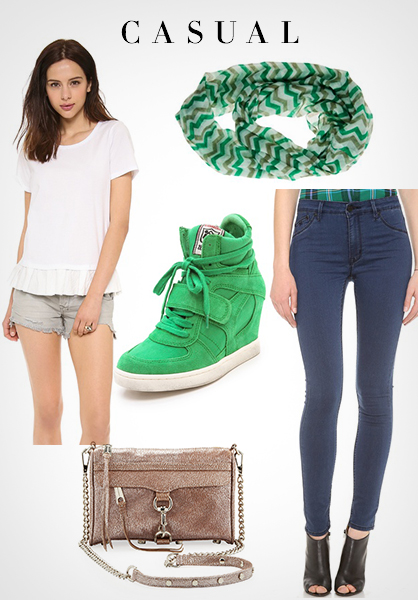 Clu/ Clu Too Ruffled Short SleeveTop
Cotton Cantina/ Soft Chevron Sheer Infinity Scarf
RES Denim/ Kitty Skinny Jeans
Ash/ Cool Wedge Sneakers
Rebecca Minkoff/ Mini MAC Metallic Crossbody Bag
If you don't have big plans for St. Patrick's Day, you can still get into the spirit with a casual look. Put together a neutral white, grey, or beige T-shirt paired with your favorite denim shorts, skirt or jeans, classic sneakers, and a shamrock shade of green for accessories like jewelry, scarves or handbags. Great for celebrating with friends at a party or for a festive pub crawl.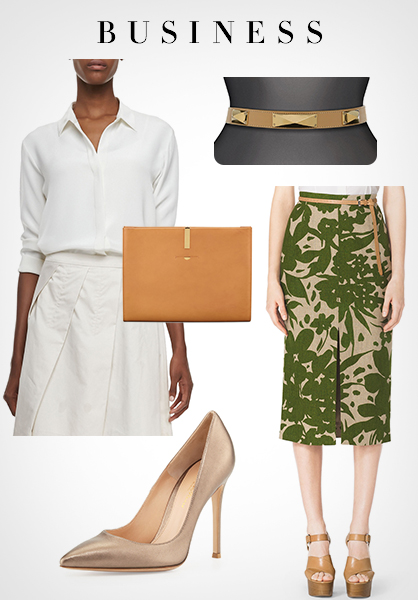 Theory/ Aquilina B Silk Blouse
Michael Kors/ Floral-Print Linen Pencil Skirt
St. John Collection/ Narrow Leather Waist Belt with Metal Pyramid Studs
The Row/ Large Wrap Clutch
Gianvito Rossi/ Metallic Leather Point-Toe Pump
If you work in an office setting and want to dress business chic with some St. Patrick's flair, wear a solid or printed green pencil skirt that is more on the tropical green color palette, with a white button-down tucked in, tied together by a bronze or gold belt and matching pumps. Go a little glitz with statement jewelry.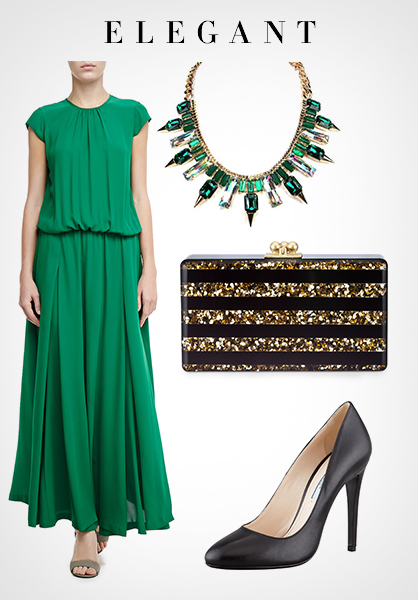 Cynthia Steffe/ Astrid Gathered Maxi Dress
shopluvme/ Elegant Fierce Cyrstal Statement Necklace
Edie Parker/ Jean Confetti Striped Acrylic Clutch Bag
Prada/ Round-Toe Leather Pump
Are you going out for a St. Patrick's Day event or dinner date that requires a dressier look? Make an impact at any 'lucky' gathering by styling an emerald green maxi-length dress with chunky or bold jewelry and a pair of metallic heels. Finish with a coordinating handbag or clutch.
Read More Style Guides
Tagged in: trends, fashion, green, style guide, st. patrick's day, st. patty's day,