Paris Couture Week 2014: Runway Trends
It got haute in Paris these past few days with Paris Couture Week Spring/Summer 2014 collections. Paris is recognized as one of the most influential fashion capitals of the world, so it never fails to deliver riveting couture designs. Behold the trends that caught our eye on the runways of designers such as Chanel, Christian Dior and Giorgio Armani Prive. These fashions will have you yearning to get a head start on incorporating couture spring/summer elements into your wardrobe.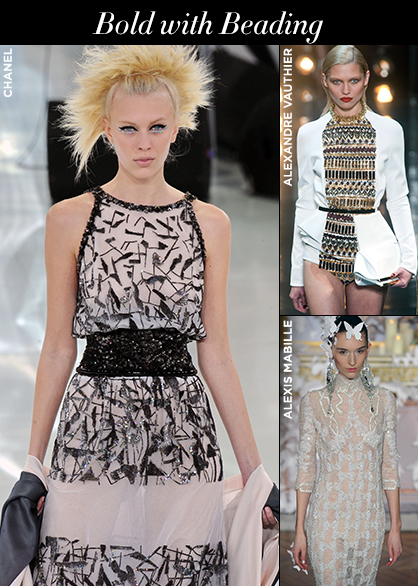 Beading is bigger than ever. From a distance, beadwork creates a textile pattern or print look for a dramatic sparkle with metallic beads and sequins. Take a closer look and it is breathtaking to see the intricate work that goes into creating the beaded patterned designs such as Alexis Mabille's use of beading on lace, Chanel's all-over abstract sequin clad dress, and Alexandre Vauthier's horizontal bead and rhinestone jumper.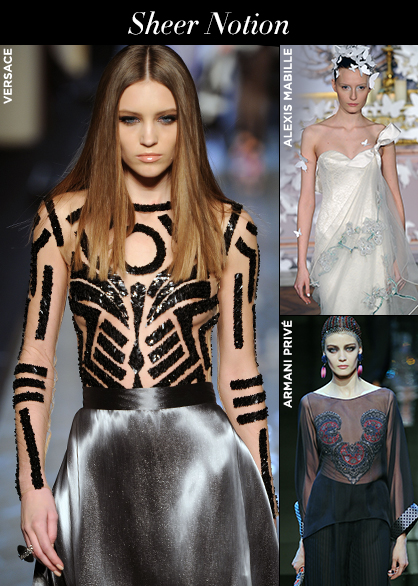 The notion of wearing something transparent can be daring and risque by giving the illusion of bare skin decorated only with jewels and beads. But transparency can also be dreamlike, creating an almost ethereal look with enchanting gowns and dresses. Designers used sheer fabrics in their haute couture spring/summer 2014 collections to create panels of transparency, layered together for volume or over a solid fabric to make it appear differently, or to create an entirely sheer dress or blouse adorned with embellishments.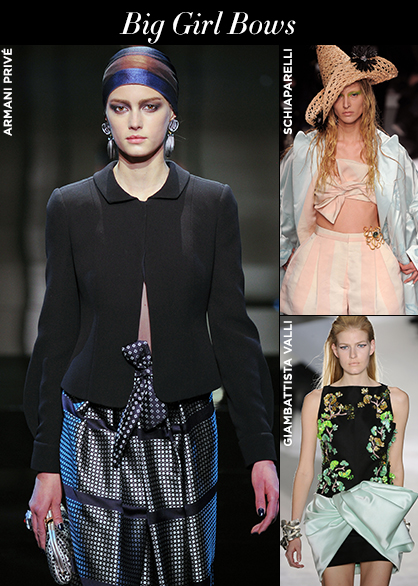 Bows are not just for little girls. Designers strayed from the traditional bow and played with revamped bows in unexpected ways; an exaggerated sash at the waistline of the Giorgio Armani Prive pants, a voluptuous bow as a hem to accent the bodice of a Giambattista Valli dress, or a more playful look with Schiaparelli's tied together top accentuated by an oversized bow.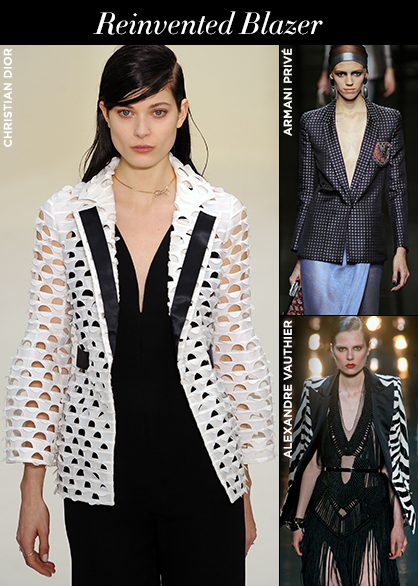 Blazers will never go out of style and are versatile in any closet. Instead of opting for a simple blazer, take a cue from the designers that used wild prints, sophisticated patterns and interesting textures all while staying in the neutral color palette of black and white.

Read more Fashion Week.
Tagged in: designer, spring 2014, fashion week, paris couture week,