Spring 2014: Footwear Trends
Go ahead - travel to that tropical getaway you've been yearning for without having to fly there. How is this possible, you may ask? With footwear made of innovative materials or bold and bright tropical colors this upcoming spring season. Spice up outfits with funky footwear inspired by exotic lush foliage, vibrant colors and roaring wildlife. Models graced the spring/summer runways with animal prints, transparent and sporty elements, and novelty-heel footwear.
Animal Print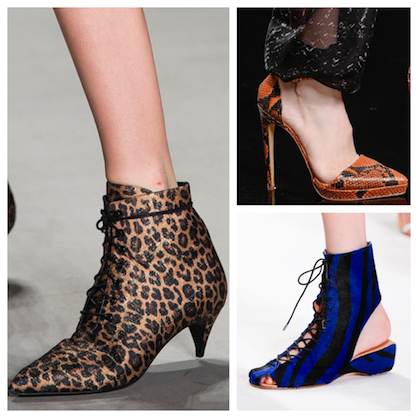 Just like the wild creatures that roam untamed jungles and lands, you can become the animal on the prowl with animal prints. It doesn't get wilder than walking the walk while wearing snake, crocodile, zebra or feline prints. Wear this trend in any style of footwear and let it be the wild factor to your outfit.
Vinyl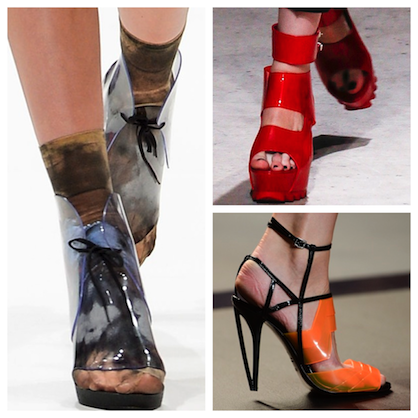 When we refer to vinyl, we don't mean vinyl records. Clear vinyl has already been introduced into footwear fashion by integrating vinyl panels to create a snippet of transparency. You can keep the peek-a-boo feel while wearing brightly colored or printed vinyl to create more of a focal point with your footwear. Some of our favorite transparent-like styles have been seen on the runways of Helen Lawrence, Fendi, and Undercover. Depending on the style, wear a colorful or printed sock under an all-over transparent bootie or heel for a stand out look.
Neoprene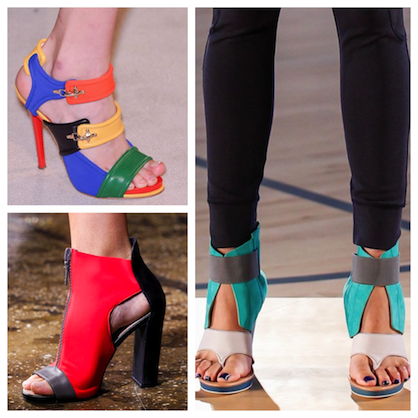 Neoprene isn't only for Scuba wet suits used while exploring undersea worlds. This versatile and sporty material was spotted on the runways to create a bold, active look. Wear neoprene footwear to add a bit of sportiness, edge and class to your outfit.
Novelty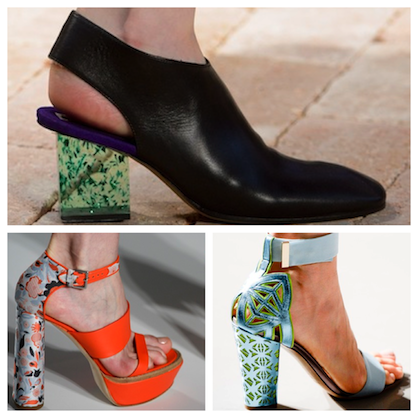 Leave a lasting impression as you walk away in footwear featuring bold and interesting novelty heels. We are especially attracted to heels with over-the-top yet functional embellishments of jewels, studs or spikes and interesting materials such as wood or Lucite. There are so many interpretations of the novelty and statement heel on the runway, it will be fun to draw inspirations from designer styles to integrate into your own wardrobe.
Read more Spring 2014

Tagged in: trends, fashion, footwear, spring 2014, shoes,