Spring 2014: 5 Must-Have Handbag Trends
Spring is in the air and we're breaking down the must-have handbags of the season. Inspired by the runways, add one of these five trending bags to your Spring 2014 wardrobe.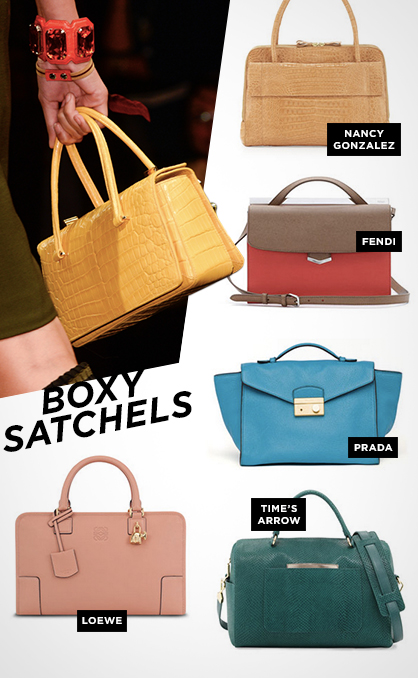 Nancy Gonzalez / Crocodile Work Satchel
Fendi / Tricolor Satchel
Prada / Turquoise Satchel
Loewe / Peach Charm Satchel
Time's Arrow / Serpent Print Satchel
Last season's satchel gets modernized for Spring 2014 with a new, boxy silhouette. Featuring smooth leathers and unfussy styling, simplicity is key for these handbags. From Prada to Fendi, there is no shortage of satchels this season as they make the perfect daytime or work companion.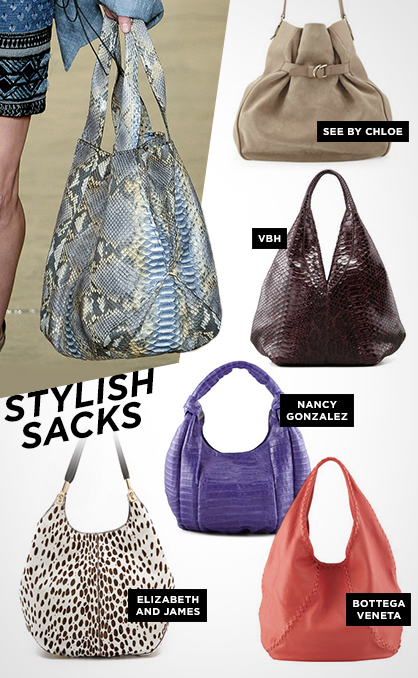 See by Chloe / Leather Suede Hobo
VBH / Python Napsack
Nancy Gonzalez / Purple Crocodile Bag
Elizabeth and James / Haircalf Shopper Bag
Bottega Veneta / Large Red Hobo
Sacks or shoppers emerge on the runways this season as the new statement bag. Taken to a new level with added embellishments, fancy materials and thoughtful construction, they are big enough to hold all your essentials. Snakeskin, crocodile and animal print up the lux factor of this style.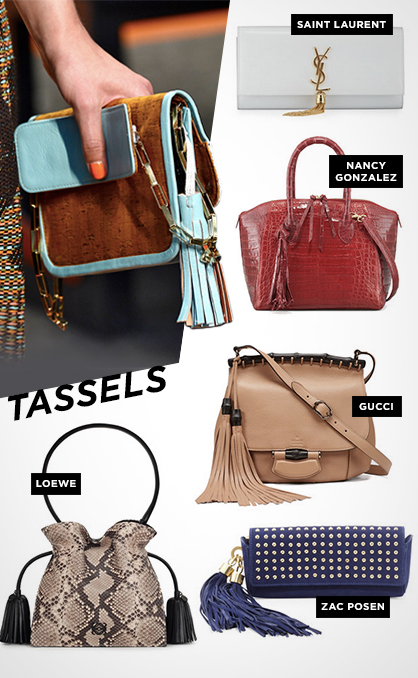 Saint Laurent / Tassel Clutch Bag
Nancy Gonzalez / Red Crocodile Tote
Gucci / Camel Crossbody Bag
Loewe / Python Drawstring Bag
ZAC Zac Posen / Studded Tassel Clutch
Tassels made their way onto the runways for Spring 2014, decorating handbags and clutches of all kinds. Varying in style and size, this popular bag addition can be seen in leather, beads and chains. Tassels are a great way to add visual interest to a classic style for spring.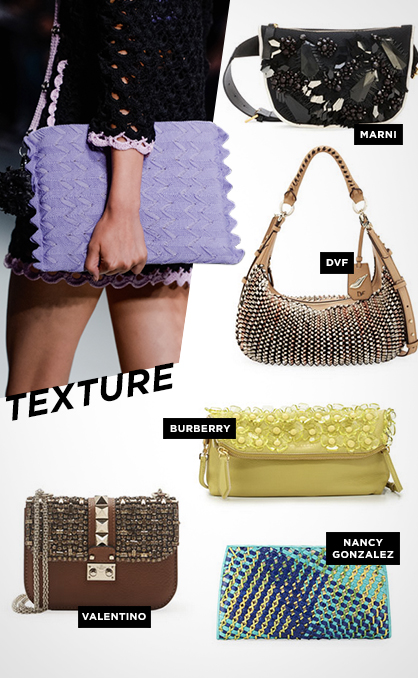 Marni / Beaded Bag
DVF / Leather Hobo Bag
Burberry / Floral Leather Shoulder Bag
Valentino / Crystal Studded Shoulder Bag
Nancy Gonzalez / Woven Front Clutch
When it comes to design, textured surfaces take the spotlight and make a statement for spring. From coarse layers to woven or embellished surfaces, designers are all about added dimension. A floral applique clutch or beaded bag is a perfect addition to your spring wardrobe.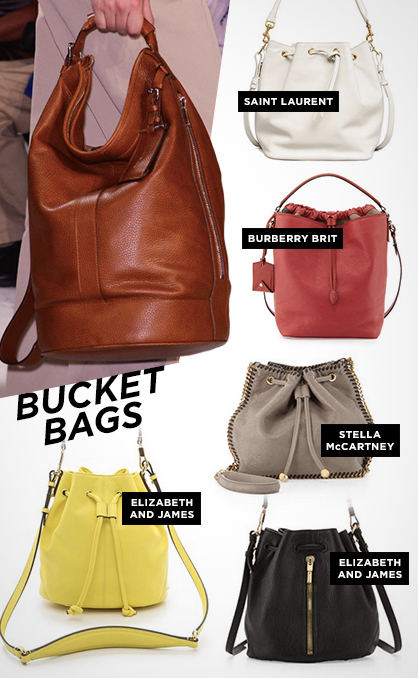 Saint Laurent / White Bucket Bag
Burberry Brit / Check Top Bucket Bag
Stella McCartney / Falabella Bucket Bag
Elizabeth and James / Yellow Bucket Bag
Elizabeth and James / Black Bucket Bag
Serving both form and function, bucket bags pick up steam for the spring season and are on everyone's must-have list. Featured in elegant shapes and luxurious materials, these styles are both relaxed and lux. Add a neutral style to your spring wardrobe that can pair with everything.
Read More Spring 2014
Tagged in: trends, guides, handbags, spring 2014, lux style, clutches,