Spring 2014: The Black and White Trend
Springtime denotes blooming flowers, pastel hues and creatures of a whimsical nature. This upcoming spring, create a bold black and white look to contrast the sorbet colors of the season. Aside from the classic colors of black and white never going out of style, the shades are especially popular for Fall/Winter 2014 and will continue trending into spring.
Black and white interpretations have been seen on the runways of Alexander McQueen, Chanel and Tory Burch to name a few. Showcase this trend by mixing prints, color blocking, wearing geometric patterns or unexpected details.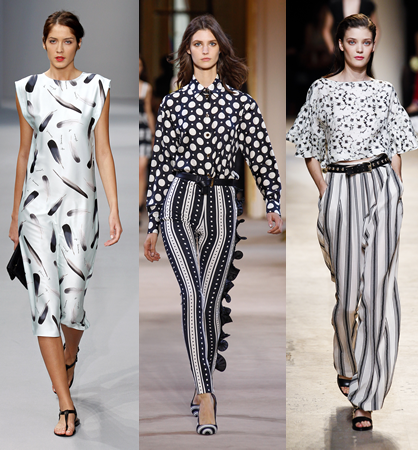 If you're not used to wearing color or prints, explore a more adventurous side to your style by adding black and white prints to the mix. Pair a printed bottom with a crisp, white button-front top, wear a printed dress, or take it a step further by mixing prints such as polka dots with stripes to create a unique and fun look.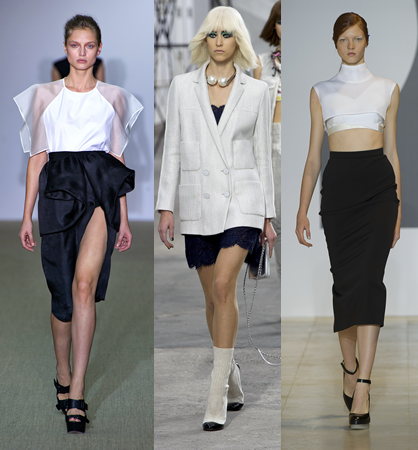 Utilize what you already have in your wardrobe by color blocking white and black pieces. Pairing a white fitted cropped top and black pencil skirt creates a sophisticated yet edgy look. If you don't want to expose your midriff, tuck a white flouncy or voluminous blouse into a more hip hugging black skirt. Mix structured and soft elements by layering an A-line black dress under a white blazer or vice versa. Essentially, you can take any solid black or white item you own and pair them together for a complete look.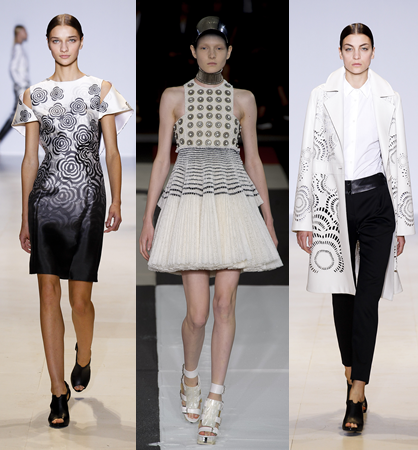 Showcase black and white through the unexpected details. Wear embellished pieces such as beaded and sequined symmetrical or intricately unusual designs, complex patterns of laser cutouts, and a play on prints and colors through ombre dip dye. Other details you can experiment with are studs, feathers, or various types of fabrics paneled, layered or incorporated together.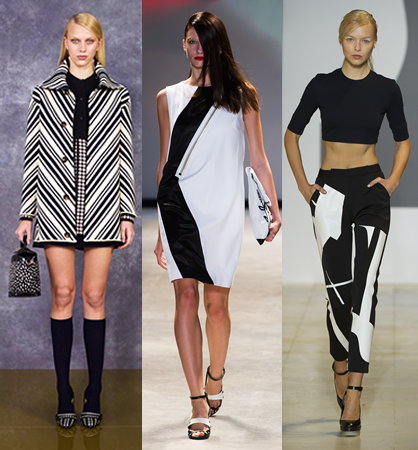 Make a statement with geometric patterns in black and white. Designers created strong looks by using one geometric shape to draw the eye to a focal point on their piece, or with a recurring or overlapping geometric pattern for a more interesting effect.
Read more spring 2014
Tagged in: trends, spring 2014, runway, colorblocking, black and white, mixing prints,