Russian Dolls by Svetlana are charming statement pieces
Bringing a little Russian history to modern fashion, Svetlana Rakhman, industry veteran and star of the Lifetime show "Russian Dolls," launched the charming jewelry collection Russian Dolls by Svetlana last September. Born and raised in Kiev, Ukraine and now residing in New York, the entrepreneur turned jewelry designer has teamed up with her husband Sasha, who was trained as a master bench jeweler in the USSR and received formal training in the United States. The pair not only collaborates on the collection, but also manages their own jewelry store, Perlina Jewelers. Russian Dolls by Svetlana combines Rakhman's passion for classic pieces with bold style to create a fresh interpretation of the traditional matryoshka Russian nesting dolls. The little dolls have traditionally been brightly painted, hollow wooden figures of graded sizes crafted to nest one inside the other, but with Rakhman's touch, they are now beautiful statement pieces.
"I have always wanted to design beautiful jewelry, and have done so in the past, but this collection is new, fun, stylish and cohesive," explains Rakhman.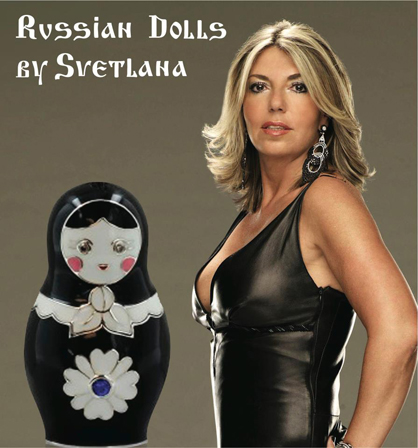 LadyLUX via Russian Dolls by Svetlana
Each series of Russian Dolls by Svetlana consists of a trio of nested dolls, handmade with a silver body, enamel face and belly. The eyes and belly sparkle with diamond, sapphire or birthstones, hinting to additional treasures inside. Like the conventional matryoshka dolls, this bejeweled version opens to reveal the smaller dolls. The pendants can be worn as a trio on a silver chain or as individual layers.
The jewelry designer aims to create for the independent woman of today and often refers to her daughter as a source of inspiration. While the dolls are heirloom pieces that can be passed on and worn by every generation, they have also become a favorite of Hollywood celebrities including Nicky Hilton, Christina Milian, Michelle Trachtenberg, Real Housewives of New York's Alex McCord, Maria Menounos, Chelsie Hightower, Alexandra Chando and Elizabeth Gillies.
Russian Dolls by Svetlana is carried in Rakhman's New York boutique, Perlina Jewelers. To learn more about Russian Dolls by Svetlana please click here.
Tagged in: jewelry, necklaces, russia, russian dolls, svetlana rakhman, russian dolls by svetlana,