Pre-Fall 2014: Brandy to Merlot
Shades of oxblood and burgundy were hot colors for the fall 2013 season, and have now been reinvented into a fine wine shade of merlot and paired with the burnt orange shade of brandy for the pre-fall 2014 season. These shades exude a modern and fine-tuned twist on the colors, textures and silhouettes of the Tudor Era, minus the corsets and excess fabric. Marry the two colors of brandy and merlot together by colorblocking or patterned pieces for a harmonious look.
Brandy and rich red wines are not just to be enjoyed in a glass, but on one spectrum of style, the colors can be worn for an opulent and sophisticated look such as with the dresses of Burberry Prorsum and tailored pieces of 3.1 Phillip Lim; and on the opposite spectrum, a refined rugged look such as the Southwestern-inspired collection on Chanel's runway.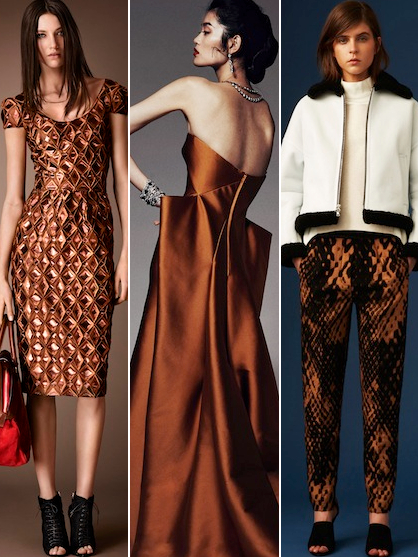 The deep caramel shade of brandy conjures up scenes of charming and well-dressed gentlemen of the 1960s, cigarette in one hand and brandy simmering in an oversized snifter in the other. This color is especially beautiful with a metallic sheen to it; like the abstract print of 3.1 Phillip Lim's pants, Burberry Prorsum's puckered textile dress, and Zac Posen's elegant evening gown.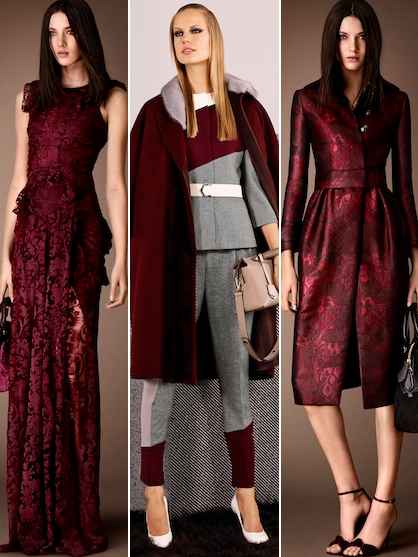 Deep burgundy took the runways, streets, and fashion world by storm this past fall. For pre-fall 2014, the new 'it' burgundy shade is a refined merlot; seen effortlessly on Fendi's colorblocked and striped coats and slacks and Burberry Prorsum's lace gowns and brocade coats.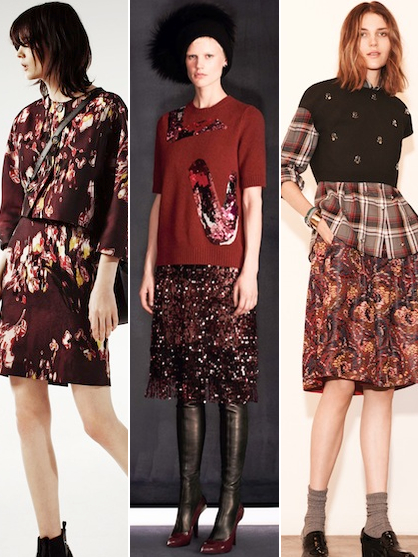 Brandy and merlot are already fabulous colors when worn alone, but mix them together by wearing a print for a vibrant and chic, stand-out look. Designers Elizabeth and James, Louis Vuitton and Philosophy by Natalie Ratabesi hit that trend on the mark with interesting prints and sequin embellished pieces.
Read more runway
Tagged in: trends, fendi, runway, 3.1 phillip lim, burberry prorsum, zac posen, pre fall 2014, color trends,