Pre-Fall 2014: Leather Trends
The fashion world is beginning to unveil Pre-Fall 2014 collections and we're already excited about the dominant leather trend appearing on the runways. Leather is taking on a few new stylistic roles for your wardrobe. From metallic shine to leather trim and blocking of fabrics, the looks are edgy and cool.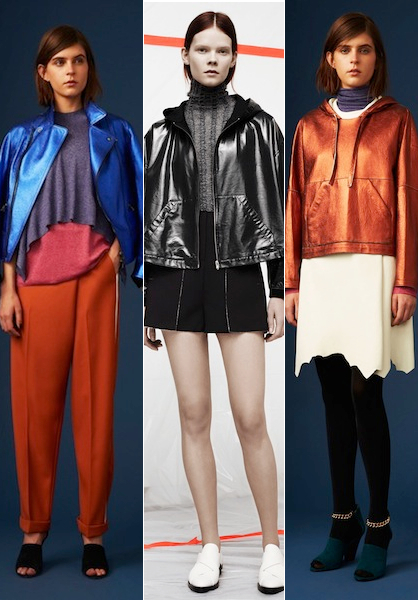 Leave the subtle leather behind and go for the most fashion forward leather trend of 2014, with a kick of metallic shine. The look is shiny, reflective and captivating. From 3.1 Phillip Lim's radiant blue and rich orange metallic tops to T by Alexander Wang's ultra shiny black track jacket, the looks are bold.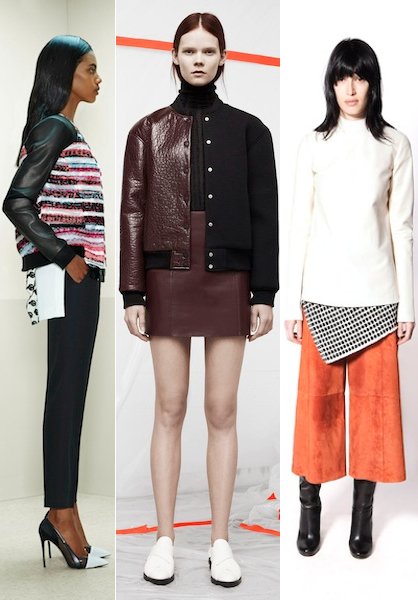 Next up on the cool leather trends is fabric blocking. Leather and suede fabrics are being mixed with an assortment of unexpected looks, creating rich depth and texture. T by Alexander Wang took on the two-fabric jackets while Prabal Gurung inserted leather sleeves onto a knit sweater. Another way to mix your leathers is with pieces like Proenza Schouler's suede three-piece look. Get creative with your styling and add leather to your look.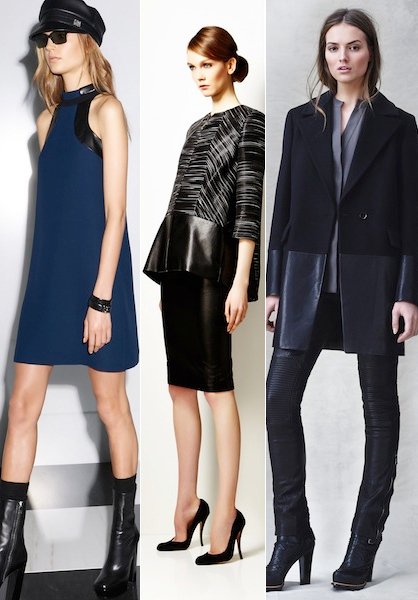 For a subtle punch of style, leather trimmed looks are taking over the runways. This is for the sophisticated at heart who's looking for a little unexpected twist in their style. Gucci, Belstaff and Pamella Roland are using the leather trim trend in three different stylistic ways. Small inserts of leather at the neckline and wide panels of leather at the waistline will draw attention.
Whatever your style preference, be sure to add in faux or real leather into your Pre-Fall style for 2014.
Read more Runway
Tagged in: trends, leather, runway, metallic, pre fall 2014, leather trim,