PFW: Vivienne Westwood S/S 14
Vivienne Westwood, known for her outrageously bold looks, was all but bashful for S/S 14. Paris Fashion Week fashionistas were lined up for this highly anticipated show. Come see how Westwood made her statement for next spring.
Westwood's pieces are always commanding attention. Traditional plaid, flower and striped prints took on unique feel for next season. Each print was playful against the woman's body, exposing her legs and waist. The Westwood woman's prints are fun, colorful and demanding.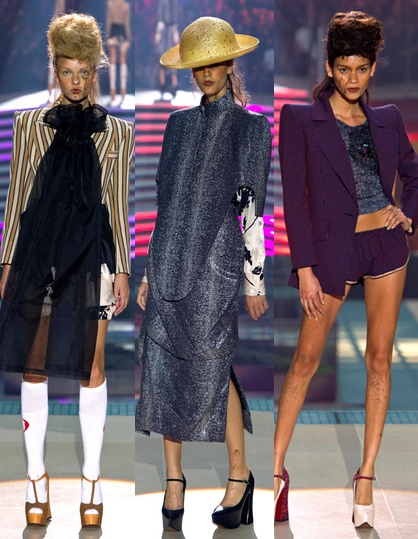 Playing on a more subdued printed look, the shoulders took center stage. Sharply accentuated shoulders were popping off of jackets. The looks were square and merged business with play. Pinstripes and muted striped patterns in khaki, cobalt and burgundy gave the line a sophisticated feel. This woman means business.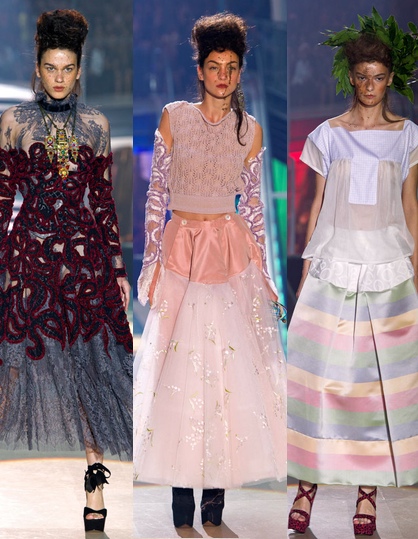 Westwood continued her 'woman power' vibe with full skirts and long strides down the runway. She took a traditionally 'old fashioned' A-line silhouette and turned up the volume to ten. Layers of lace and velvet together created a luxurious modern feel. Both Duchesse satin and tulle skirts oozed glamour. We're definitely taking a cue from the feminine and bold look for next spring.
Read more Paris Fashion Week
Tagged in: trends, fashion, spring 2014, ss 14, pfw, runway, paris fashion week, vivienne westwood,