PFW: Stella McCartney & Giambattista Valli S/S 14
Female power was evident on the Stella McCartney and Giambattista Valli runways in Paris for S/S 14. Not in the power suit mindset that some might imagine, but instead, in embracing all things feminine, soft and sexy and how that contrasts to masculinity.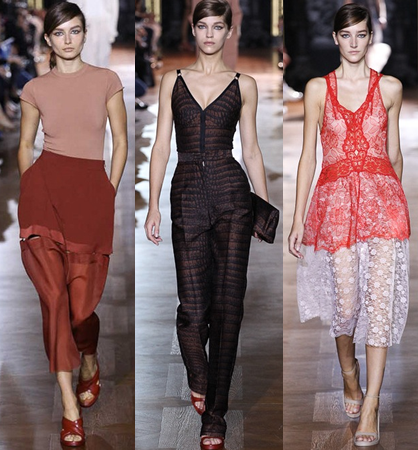 When it's time to look fashionable but not be a slave to fashion, women turn to Stella McCartney. Luckily, the designer's S/S 14 collection continues in this vein, giving busy women plenty of opportunities to dress well. And for next season, to dress sexy, show a subtle hint of skin to give the illusion of wearing next-to-nothing fluid satin and organza with peek-a-boo holes to glimpse the flesh beneath. See-through skirts and delicate summer dresses with diaphanuous lace in red, coffee and black were stunners with a mix of thick fabric and see-through sections. Menswear jackets were unconstructed and trousers were high-waisted with a fullness in the thigh for a sporty vibe. Next spring and summer, the Stella woman will mix sleek with sporty, pretty and sexy.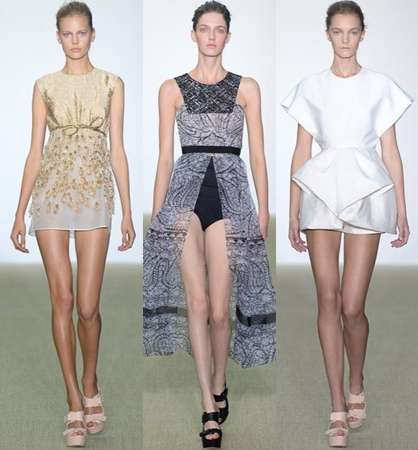 Femininity ruled at the Giambattista Valli runway for S/S 14, with pretty pastels and floral embellishments, the rule, rather than the exception. Mixing the pastels, such as lilac, with black, grey and white made for a more grown-up look for the chic modern woman who is still in touch with the eternal little girl within. The collection as a whole was as light as a summer breeze, with short skirts and longer dresses divided in the front with ultra mini shorts underneath, creating a new take on the skort. Elegant crop tops were highly wearable, too. The show wrapped with a stunning series featuring golden corn embroidered on light-colored summer clothes, for a natural yet uber-feminine feel.
Read more Paris Fashion Week
Tagged in: trends, spring 2014, stella mccartney, ss 14, pfw, fashion week, runway,