PFW: Louis Vuitton & Hermes S/S 14
The last day of Paris Fashion Week began with Marc Jacobs' majestic, all-black farewell collection at Louis Vuitton and ended with a plain white cotton shirt and simple trousers at Hermès.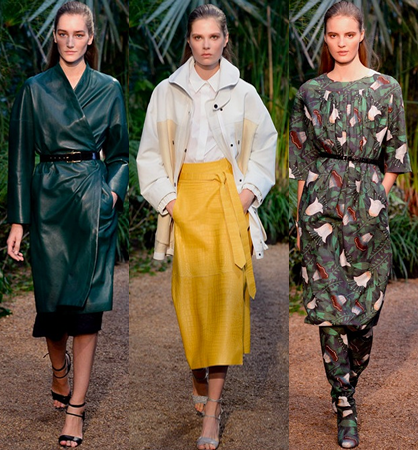 Tropics were the theme of the Hermès spring collection, with dark green tops, shifts, crocodile culottes and leather trench. This runway featured intense colors such as mulberry, teal, sky blue and sunset orange and they were seen in long, fluid shapes.
Overall, the designs were ideal for anyone who travels the globe. A voluminous shirt was worn over a suede skirt, and a tailored white blouse was paired with a mustard yellow croc-print wrap skirt. The collection had an understated ease and elegance that appeals to the Hermès woman.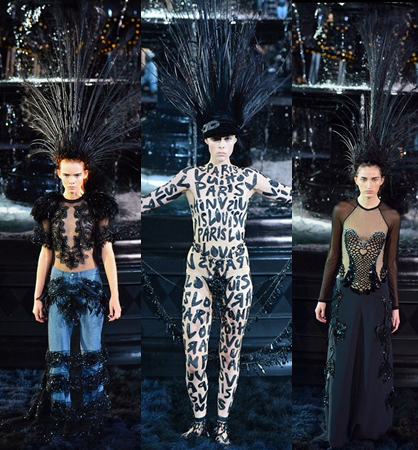 Jacobs, who has been the designer for Louis Vuitton for 16 years, announced after the show that this is his last season with the famous design house. To bid farewell, he featured a 41-piece collection with everything from embroidered black silk stockings to floor-length, thick Edwardian dresses, and baggy blue jeans worn with lacy T-shirts and decorative jackets.
The Louis Vuitton S/S 14 collection brought back many memories from collections past, such as graffiti splashes on clothing, elaborate headdresses, jet-beaded jackets and sensuous dresses etched with black lace. The show was dedicated "to the showgirl in all of us" according to Jacobs' program notes.
Tagged in: trends, spring 2014, ss 14, louis vuitton, pfw, fashion week, runway,