Paris Fashion Week: Fall 2014 RTW Trend Recap
Paris Fashion Week went out on a spectacular note thanks to the Hermes Fall 2014 show. We've seen many trends prevail in the previous fashion week shows, but there's something about the designer shows in Paris that really makes us take note. We've viewed the shows from PFW and have collected the top five trends that will be big for Fall 2014.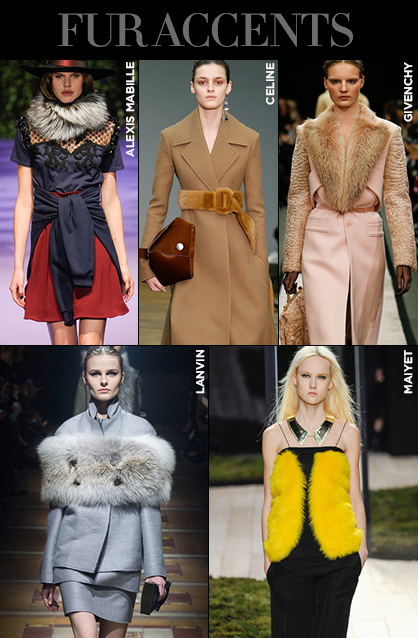 We saw fur make a big statement in the NYFW shows and that trend certainly continued with the Paris shows. A slight difference from the all out fur pieces in the NYFW shows, during Paris fashion week fur seemed to become more of an accessory. Many designers used it as a collar as seen on the Alexis Mabille runway and Givenchy. Celine incorporated it ingeniously with a belt, while Lavin and Maiyet used it as a swath over an outfit. However you decide to incorporate this trend, know that fur is going to be very trendy in the fall.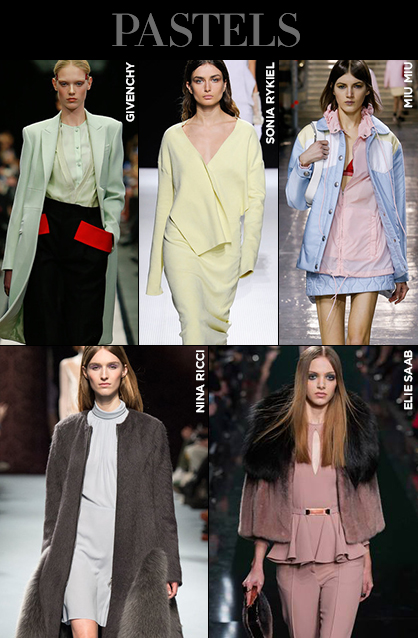 It's looking like pastels aren't just for spring anymore. While we saw the usual fall colors of deep burgundy and navy this fashion week, designers mixed things up with the color palette by sending out designs in cooler hues such as lavender and blush. We saw beautiful blush gowns and fur coats in Elie Saab's show, and Givenchy sent mint coats and blouses down the runway. It seemed like every pastel color was hit on the spectrum as Miu Miu opted for a show entirely comprised of pastel colors.

Leather is usually always trending for fall and winter, however, designers took a different approach this season with patent leather. We've already learned leather isn't just for jackets anymore and that remains true with the patent leather trend. Olympia Le-Tan used the material for chic shorts and Louis Vuitton used it for a navy pair of pants. The trend wasn't delegated to a particular color either, as we saw it in an array of colors from navy to hunter green in the Balenciaga show.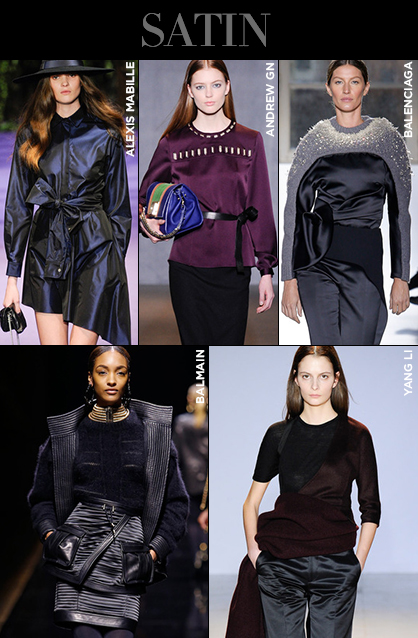 This luxe material took on a whole new look at Paris. From pants, to blouses, to dresses, to coats, satin was incorporated into a range of designs this year. Andrew Gn and Balenciaga used the material in a more traditional way with their blouses. The material was used in non-traditional ways, as well, as evident in the Yang Li and Alexis Mabille shows. It took on a sexy and unique form in the Balmain show, proving the material can be used universally.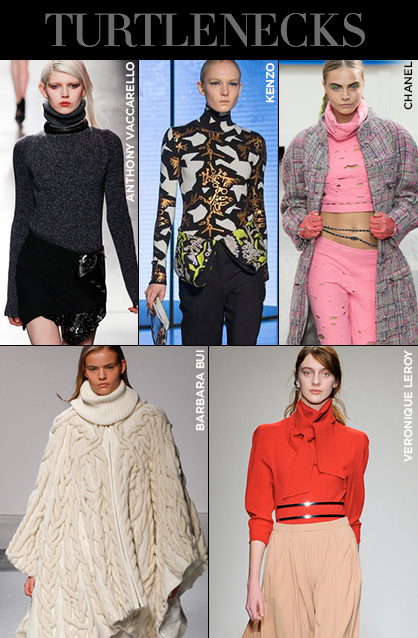 The turtleneck is back and better than ever. This was the most-used design of the week, however, it was used differently in every show. Barbara Bui used it as a chunky knit while Veronique Leroy used it as a sophisticated neck tie. The trend even paired well with another trendy piece, the crop top, as we saw in the Chanel show. Minimalistic styles were seen during the runway paired with everything from skirts, coats, and dresses.

Read more Fashion Week.
Tagged in: fashion, paris, pfw, fashion week, runway, paris fashion week,