PFW: Alexander McQueen S/S 14
As Paris Fashion Week wraps up, some of the key designers are showing their long-awaited collections for S/S 14. Alexander McQueen's runway featured a strong collection that ran the gamut from warrior princess to Japanese samurai.
Woman power was evident in this collection, with a plethora of strappy bra tops and flared skirts for a boldly feminine look. Intricately beaded outfits suitable for a tribal princess were seen as well as kilt-over-trouser looks fitting for Celtic warriors.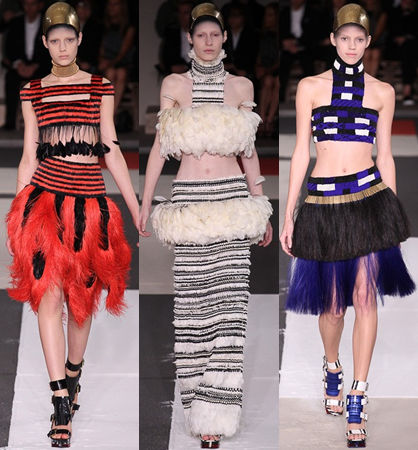 As they say, the devil is in the details, and the Alexander McQueen collection did it right, with long, horsehair skirts and painted striped feathers done in a flourish. Marabou feathers exploded from the collars, busts and waistlines of evening gowns, and others were beaded and threaded with bright fringe in red and blue.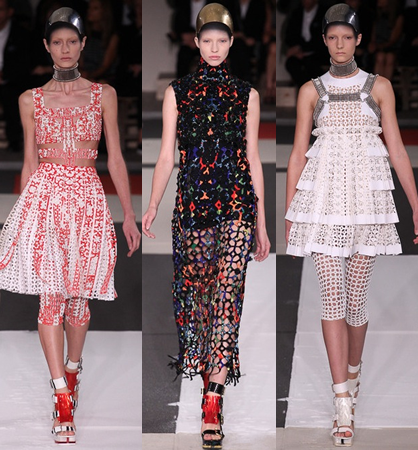 Glimpses of flesh so prevalent on the spring runways were also present in this collection in the form of dresses, tops, leggings and skirts made of laser-cut fabrics that still evoked the powerful female vibe that dominated this runway. The color palette was devoted almost entirely to red, white, blue and black, with the details not in the variety of shades, but instead, in the exquisite craftsmanship of this winning collection.
Read more Paris Fashion Week
Tagged in: trends, spring 2014, ss 14, pfw, fashion week, alexander mcqueen, runway,