Non-Surgical Body Sculpting Treatment Options
Fat blasters without the surgery
Non-surgical body contouring is one of the new buzz phrases in cosmetic treatments. But what exactly is it? And do the treatments work?
There's no substitute for working out at the gym and eating a healthy diet. But if you have a few areas of stubborn fat (and is there any other kind?) then non-surgical body sculpting treatments might be a good option before swimsuit season arrives this summer.
Read on to find out more about the current options available and what's on the horizon as LadyLUX talked to experts to get the details on non-invasive sculpting options.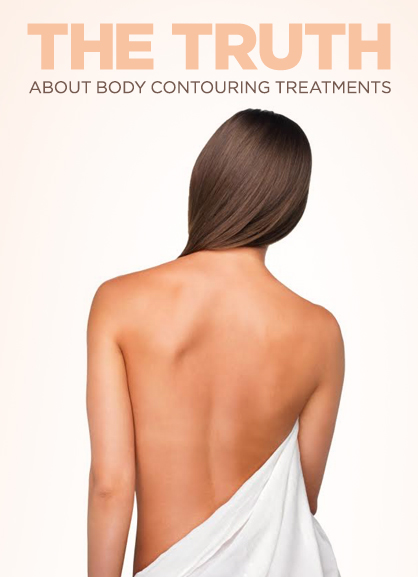 Types of body sculpting treatments
The procedures now available for fat removal include injectables Kybella/deoxycholic acid (recent FDA approval in June 2015 for neck fat), temperature devices including radiofrequency (Vanquish, Trusculpt) and ultrasound (Liposonix, Ultrashape) and cold based Cryolipolysis, said Dr. Jill Waibel, dermatologist and owner of the Miami Dermatology and Laser Institute.
"All energy based devices get about 20-30% improvement of fat with variable numbers of treatments," Waibel said.
Cold sculpting – One of the fastest growing technology is Cryolipolysis/Coolsculpting. A non-invasive, non-surgical method to reduce fat bulges on the body with no or minimal down time. Patients can return to normal activity immediately. There may be some mild discomfort afterward, but no pain medications are needed. Some numbness over the treated area can persist for up to 1-2 weeks, Waibel said.
At the Few Institute in New York and Chicago, they also use "dual sculpting" to create the desired contour in half the time. "We find the use of Venus Legacy and Venus Freeze can help tighten loose, sagging skin on the body to further the desired body contouring need," said Dr. Julius Few, founder of The Few Institute in New York and Chicago.
Dr. Peter Lee, medical director and CEO of Wave Plastic Surgery Center in Los Angeles, explained how it works. The fat is eliminated "by the application of cold temperature, in order to cause a portion of the subcutaneous fat, i.e., the fat located just below the deep surface of the skin, to melt away. The cold is delivered to the tissues by an applicator that sandwiches the target area between two plates."
Ultrasound sculpting – This is a new procedure uses ultrasound waves to destroy fat cells. No heat or cold are used. There's no post-treatment recovery time needed.
Marina Peredo, MD, NYC dermatologist and associate clinical professor of dermatology at Mount Sinai Hospital, said, "One of the most effective body sculpting treatments is a procedure called Ultrashape. Ultrashape is a non-invasive body shaping device that uses pulsed, focused ultrasound to destroy fat cells without harming skin, blood vessels, nerves or connective tissue."
Injections - A new technology just approved is an injectable fat dissolver called Kybella for under the chin fat. Submental convexity or fullness associated with subcutaneous fat is an undertreated condition within facial aesthetics. Kybella is first-in-class injectable drug for contouring the submental region. Kybella demonstrated statistically significant and clinically meaningful reductions in SMF compared with placebo, based on clinician- and patient-reported outcome measures (PR/CR-SMFRS) and MRI, Waibel said.
Kybella may result in downtime with significant swelling and discomfort for 3-4 days post procedure, she said.
Are you a good candidate?
Age doesn't play much of a factor in whether the treatments will work. The more elastic the skin, the more it will bounce back, but the difference between someone 20 and 50 is slight, according to our experts.
The best candidate for Coolsculpt, a brand name of a popular cold sculpting treatment, is someone with small areas of fat that are resistant to diet and exercise who wants a invasive option than liposuction, with less downtime, said Dr. Steven Davis, a board-certified plastic surgeon at Davis Cosmetic Plastic Surgery in Cherry Hill, NJ.
Few added, "The best candidate for contouring is a man or woman close to their ideal body weight, living a healthy lifestyle with good skin tone. If there is a small area of unwanted fat, like the love handles or lower belly, in an otherwise shapely person, the effect of CoolSculpt is quite powerful."
The results of Coolsculpt are long lasting, with some clinical studies demonstrating maintenance of fat loss five years after the initial treatment. The ideal patient for Coolsculpt is someone who is relatively fit, but has some focal fat deposit in areas like the "love handles" of the torso or the "saddlebags" of the the outer thighs, that have not responded to conventional diet and exercise regimens, Lee said.
The ideal UltraShape candidate has a body mass index (BMI) of 30 or less and can pinch an inch or so of fat around their middle. Someone who has that extra fat they can pinch no matter how much they diet and exercise, Peredo said.
Where does it work best
You can use cold sculpting treatments on any part of the body, but the outer thighs, lower abdomen and love handles have the most dramatic results, Few said.
Ultrashape works best on the abdomen, love handles, thighs and on the back, Pepredo said.
"CoolSculpt is especially helpful for stubborn fat bulges that are difficult to reduce with normal diet and exercise. This procedure is especially helpful in the region of the abdomen and flank area (sides). Coolsculpting is performed in the comfort of our office and can take anywhere from one hour or more depending on how many areas are being treated," Waibel said.
Kybella works best on the under-the-chin area - no more double chins.
How much does it cost
It depends on where you go for treatment. At Davis Cosmetic Plastic Surgery, Coolsculpt is around $700 per session. It can take 3-6 weeks for an area to be reduced and results visible.
At The Few Institute, the cost is $1,500 for Coolsculpt and $1,000 for Venus Freeze, Few said. Results can be seen as early as within 6 weeks, but it takes 3 months for optimal results, he said.
At the Miami Dermatology and Laser Institute, one area of Coolsculpting costs $700 and patients get a discount if they do multiple areas. Various areas can take longer to treat. The under-chin area can be resolved in just one treatment, but abdomen, thighs, back fat and under arm or love handles can take multiple treatments over three months to resolve.
Kybella is typically $800-$1,000 dollars per treatment at the Miami Dermatology and Laser Institute. The typical patient needs 2-4 cycles, Weibel said.
Ultrashape costs approximately $1,200 per treatment with about three treatments needed. Results are visible in as little as two weeks, and the complete treatment can be completed in four weeks, with three treatments spaced two weeks apart, Peredo said.
The future of body sculpting
Lee said there is more to look forward to in the future.
"Welcome to the brave new world of body contouring, in which new surgical approaches and techniques have given surgeons much greater ability to subtly, or radically, reshape patients' body contour with greater precision, safety, and faster recovery. And we are not done yet. On the horizon: focused longer wavelength radiofrequency or ultrasound energy to melt not only subcutaneous fat, but also the much deeper visceral fat stores in the abdominal cavity; and using stem cells to grow out additional fat or breast cells to allow surgeons to augment these areas with the patient's own tissues. The strides plastic surgeons have made in aesthetic body contouring over the past decade have indeed been impressive, but innovations on the horizon promise an even greater revolution to come," he said.