NJ Goldston Shares Her Behind-The-Scenes Secrets
Get ready for the M
Fashionista, socialite and blogger extraordinaire NJ Goldston took time out to talk to LadyLUX and give a sneak peek at what it takes to get ready for the MET ball in NYC.
NJ Goldston is the blogging genuis behind The Blonde & The Brunette. She's also a respected fashionista, and she is an insider contributor for The Hollywood Reporter and also writes for C Magazine and other publications.
Goldston talked to LadyLUX about her fashion secrets, and how she prepared for this year's MET gala, which has been dubbed "The Party of the Year" and fashion's Oscars. The gala draws an impressive collection of A-list celebs, sports stars, fashion designers and philanthropists, and the guest list is curated under the watchful eye of Vogue editor Anna Wintour.
LadyLUX: The MET gala was last month, but we'd still love to hear about your favorite part of the evening.
NJ Goldston: It's a tie between the fashion parade that unfolded with Rihanna in a bare midriff Stella McCartney gown to Frank Ocean performing with the all-female orchestra including a female conductor. He brought the house down.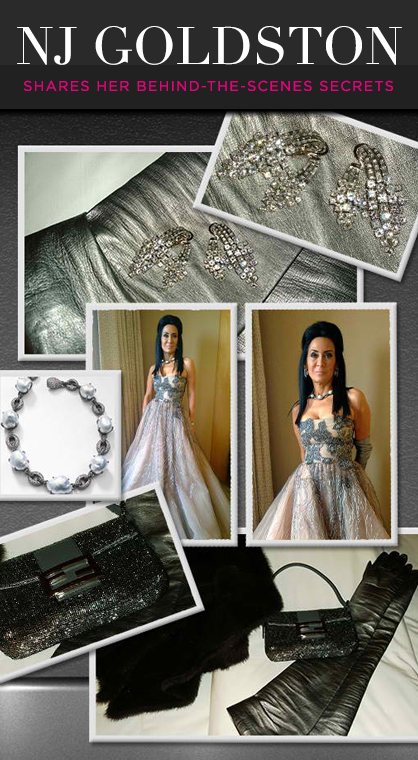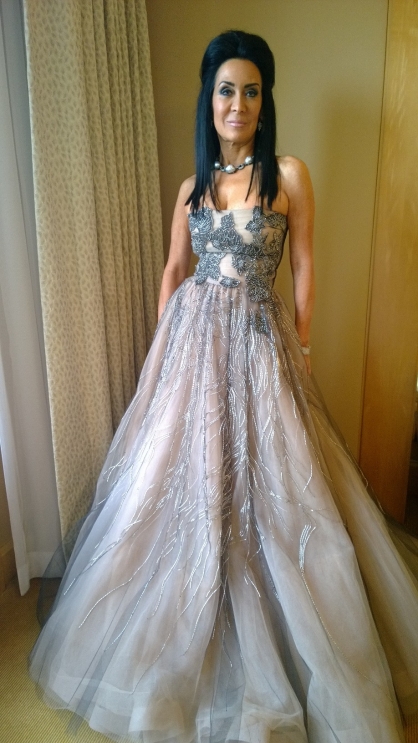 LL: What did you most enjoy? The preparation or the actual event?
NJ: Getting prepared is always very exciting because I very much enjoy the fashion journey centered around the challenges each theme presents. But, honestly, nothing tops the event. It's electric.
LL: How did you get involved in covering the event for the Hollywood Reporter?
NJ: They reached out to me as they'd seen some of the coverage I'd done for several other media outlets including C Social Front and of course my own website, The Blonde and The Brunette. I was happy to do it and they loved getting the inside scoop and pictures from a guests perspective. It was a blast and they posted so many of my one of a kind photos on their instagram feed. They had a great response; I hope to do it again for them next year.
LL: How did people react to your carefully chosen ensemble? We think you looked gorgeously stylish!
NJ: Wow! Thank you! Way beyond my expectations. What makes it even more special is weeks after the event, I'm still receiving thoughtful emails, calls, and comments.
Many of my designer friends and the celebs who attended were clearly intrigued by my choice, understood how the gown was inspired by the Charles James theme, particularly his "Butterfly" ball gown, yet couldn't quite place it as vintage Valentino demi-couture. The magnificent, detailed multi-layered tulle and the embellishment definitely caught everyone's attention as a work of art and possibly as the ultimate "princess" gown. The one person I didn't stump was Valentino, who happily joined me for a photograph! He obviously recognized his own design and loved seeing it at the MET!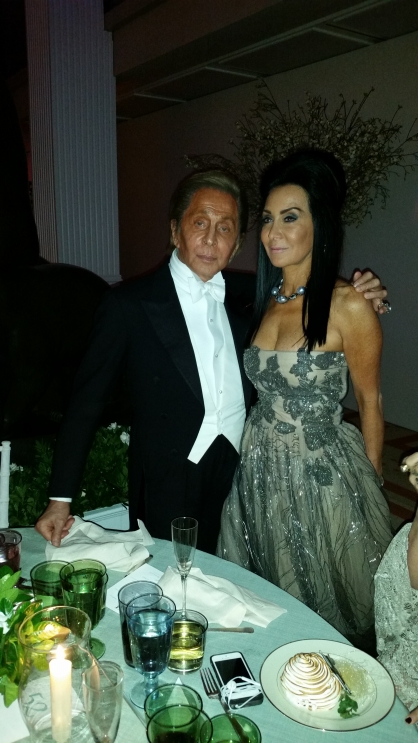 LL: While getting ready, did anything not go as perfectly as you'd planned but that you managed to overcome?
NJ: I need to be completely honest. None of it went perfectly until the very end. Until about three days before I didn't have a dress that I felt was right. I had been struggling this year with my choices more than any other year. Maybe I started to over think it. I'm not sure but it just wasn't going well.
I talked with lots of designers and used all my contacts. For months, I bounced from one dress choice to the next. I loved each one but eventually concluded for different reasons to look for another option.
I went from a gorgeous navy and black Antonio Berardi from his FW2103 collection (and I just love this dress) that suddenly seemed too wintery and had sheer side panels to a short couture Giambattista Valli with a lilac duchess satin skirt. With the dress code White Tie and Decorations, short suddenly seemed inappropriate. I then found a vintage pink duchesse satin Valentino reminiscent of a famous Jacki O gown and didn't scoop it up quickly. Another woman grabbed it and she wore it. She looked stunning. But, I had secretly coveted the Valentino (I wore) and finally got my courage up to go with it. Then the mad scramble started to accessorize. I had less than 24 hours to find matching opera gloves and just the right evening clutch. On the jewelry front, fortunately for me, Lily et Cie and David Yurman came forward to help dress me.
LL: You also recently attended Victoria Beckham's Net-a-Porter.com dinner in NYC. How does choosing an outfit for an event such as the VB dinner differ from the MET gala?
NJ: It's very different. The venue, of the Bowery Hotel, dictated more of a LBD, and I really had to factor in the rainy weather that night and what other guests might potentially wear from her collection. I also thought in this particular instance it was important to wear one of Victoria's pieces as I truly admire her work and what she's achieved.
The trick was not to be too overdressed or exactly replicate the runway look. I went for a very distinctive Prada clutch and my favorite black pumps as accents. One of my personal style rules is not to wear everything all from one designer. It's way too matchy-matchy.
I think everyone got the same memo because black VB dresses reigned that night and each guest put their own distinct twist with their look. Victoria loved it and she was dressed in black too!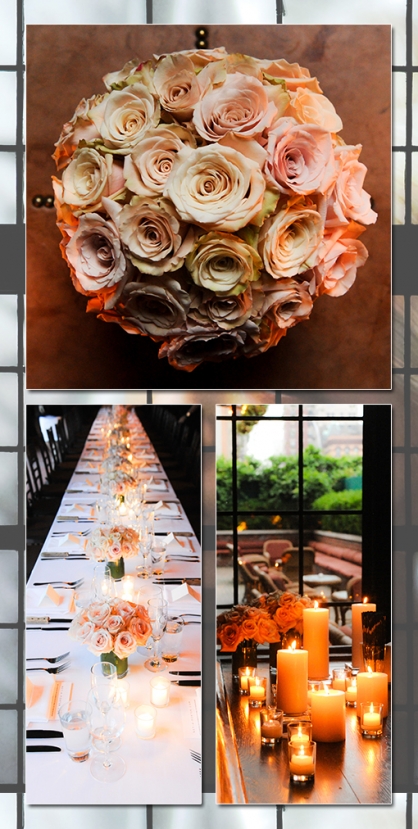 LL: What was your favorite part of the VB evening?
NJ: The tequila shot toasts provided by Net-A-Porter CEO Natalie Massenet and Victoria Beckham along with the stories about a young Victoria Adams. Massenet gave us all the inside scoop about Victoria doing her first shoot without the other Spice Girls right after her first date with David Beckham. The rest is history!
LL: What are your favorite pieces of the fall VB collection?
NJ: I'm a big fan of distinctive outwear. So I adore the smashing white winter cashmere coat with a gold chain as a closure plus all of the evening goddess gowns in the collection. For Victoria, Victoria Beckham, which was showcased at the dinner, I love the already almost sold out sleeveless navy jacquard mini-dress with a glossy sequined panel.
LL: You also attend the Paris fashion shows each year. How do you prepare for your coverage?
NJ: I speak with lots of fashion insiders to determine which shows are potentially the most critical or pivotal for a particular season as they may have the most far reaching impact. For instance, on my last trip, all of Paris and the fashion world were anxiously anticipating Nicolas Ghesquiere's first show for Louis Vuitton. I'm also always on the hunt for those breakout collections and young designers. Most importantly, I definitely rest up and carefully plan all my outfits by day and event-way in advance!
LL: Is it a whirlwind of activity the entire time you're in Paris?
NJ: It really is. It's absolutely non-stop and I carefully plan each day, from which shows to attend, designers to visit, the ateliers, and of course, lunches, dinner, parties and trips to LaDuree for macaroons!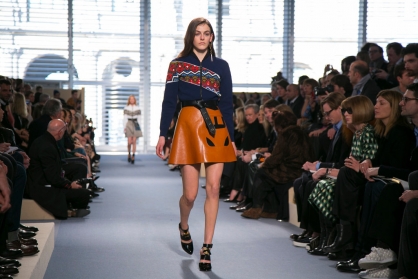 LL: How long does it take you to recover from your Paris trip to the shows?
NJ: At least 10 days. I'm not kidding. It's intense in a good way.
LL: What do you do in Paris when you're not at one of the shows or parties?
NJ: I love to meet friends for casual dinners, have coffee or drinks with any view of the Louvre, go to the museums, and this time, I went to see the Dries Van Noten retrospective.
LL: Is there a particular way that you unwind in Paris with time to yourself?
NJ: I really need some alone time in the middle of the whirlwind. I've always been a walker so I love to literally browse the city, and, well, you guessed it, shop! During the shows, all the brands send in their very best things from around the world so you actually see the best items from all the collections. Even if you're not buying, it's a thrill just to see all the special pieces.
LL: And finally, we must know. Where is your favorite place to shop in NYC?
NJ: All roads lead to Bergdorf Goodman. In Paris? Colette. The edit is spectacular. In Los Angeles? It's a tie between Louis Vuitton and Prada. That's usually where I find those special one-of-kind items that make a statement and are timeless.
LL: What is the next event you're planning to attend?
NJ: The Moe Aliona Kononova fashion show and after party in Los Angeles. Her work is so unique and I'm thinking of returning to Paris in July for a Chanel event and more shows.