Minimalist Style: Stephanie Karen Jewels
Beautiful jewels, simple design
Los Angeles native and jewelry designer Stephanie Lee took time out to talk to LadyLUX about her thoughts on jewels, style and what inspires her most.
Lee began pursuing a career as a pharmacist, but decided to explore her artistic side and switched to jewelry design, a business that her family has been in for decades.
Read on to find out more about Lee's favorite pieces, and what she does when she isn't making gorgeous, minimalist jewelry for her line, Stephanie Karen Jewels.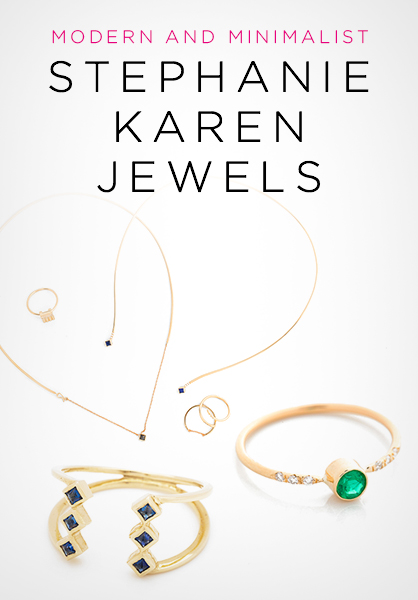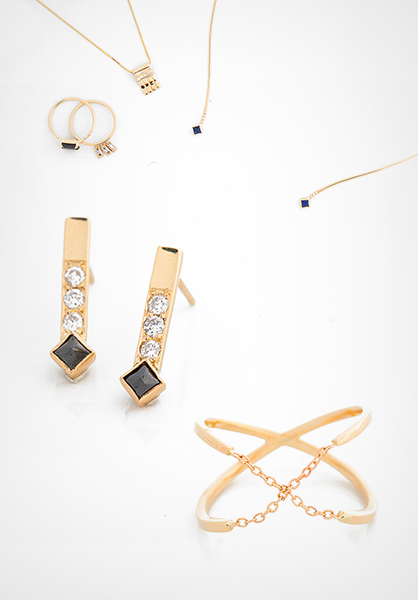 LADYLUX: It's quite a switch to go from pharmacy to jewelry designer. What spurred the change?
Stephanie Lee: There is so much science behind jewelry from how the stones form naturally to the process of making jewelry. It's not so much of a change but really a combination of the two worlds for me. It all started with the desire to help my family's jewelry business capture a younger customer. I started to design pieces and it sparked an unexpected passion and creativity I never anticipated, but I love it.

LL: Did you design jewelry while you were a pharmacist?
SL: As of right now I don't see myself choosing one over the other. Although they are both different, I feel they have a positive influence on one another.

LL: What was the first piece of jewelry you made once you changed your career goal?
SL: One of the first pieces that I made was the Eva Rome Earrings.

LL: What inspires you to create your designs?
SL: I love gathering inspiration daily. I try to draw from as many possible sources of inspiration as possible including my environment, nature and California's minimalistic sense of style. Often times my materials will help inspire my new designs. Many of my designs are influenced by geometrical shapes and I like to use colors and shapes with the gold and stones I use, to find a balance between contemporary and elegance.

LL: What is your favorite current piece?
SL: My favorite current piece from our Summer 2015 collection would have to be the Tassel Cuff Ring. I love the movement of the baguette blue sapphires and I have been obsessively pairing it with our claw cuff rings.

LL: What is your favorite all-time piece from your collections?
SL: This is a tough one it really depends on my mood. As of right now, I would have to say the Eva Rome Ring or Earrings. It's a strong and delicate design and I feel like it embodies the brand in so many different ways.

LL: How do you describe the style of your jewelry designs?
SL: Modern elegance that's bold and subtle. Each piece is designed to be layered or can be worn on it's own to fit the style of the woman who is wearing them. Modern women have so many different hats that they wear and my goal is to design pieces where she can mix and match designs to make her feel beautiful and empowered.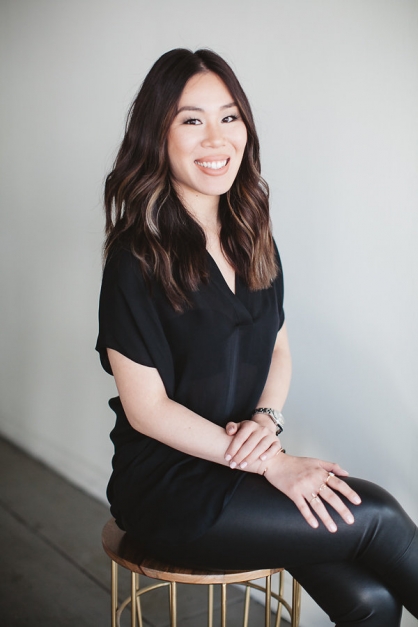 LL: Switching gears, tell us a little bit about you. What is your favorite pastime outside of jewelry design?
SL: There is so much heart and soul when it comes to food in LA. There are so many different ethnic pockets it makes it easy to try different cuisines. I love exploring the city and finding new places to eat, particularly I love the hole in the wall type places but I also like to mix it up. Since my schedule can get crazy, spending quality time with friends and family can be tough. I love to cook and entertain. There is something gratifying about sitting around a table with your loved ones and enjoying a good home cooked meal. Food pretty much sums up my life.

LL: Where is your favorite vacation spot?
SL: Current favorite vacation spot would have to be Costa Rica.

LL: Since we're all about fashion and beauty, please describe your fashion style.
SL: My fashion style is simple chic. I like mixing designer pieces with the basics and accessorizing with jewelry helps make the outfit look effortless and polished.

LL: Do you have any favorite beauty products you can share with us?
SL: Philosophy Purity Made Simple Cleanser + Clarisonic Brush - It's amazing at removing all my makeup, yet its gentle. I have sensitive skin and I am not a fan of using makeup removers. They either leave an oily residue or I feel like it strips the natural oil of my skin.
Dr. Bronner's Pure-Castille Liquid Soaps – Tea Tree - I have eczema. Whenever the weather changes or I'm stressed, my skin will flare up. Since I have started using Dr. Bronner's soap, I haven't had to use any medication. Plus it's organic and the company has such a rich history.

Philosophy Turbo Booster C Powder + Sulwhasoo Essential Balancing Water & Emulsion - This leaves my skin looking radiant.

Bobbi Brown's BB Cream - This is perfect for light coverage and if I'm going out on a girls night Giorgio Armani's Luminous Silk Foundation.

Nars Velvet Matte Lip Pencils - I love them all!
Tagged in: stephanie karen jewels, jewelry design,