LUX Man: Date Night Style
Whether your ideal date is pizza and a movie at home or taking your special someone out for a romantic night on the town, you still have to find something to wear. We've put together an assortment of date-ready styles that will be a quick guide to reference. As you build your wardrobe, these key items will be your go-to pieces for year-round date nights. It doesn't have to be a chore getting ready and looking good, so let us help make you 'simply handsome.'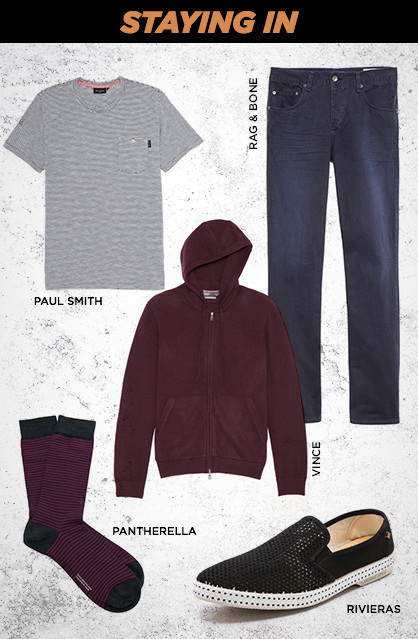 Paul Smith: SS Narrow Stripe T Shirt
Rag & Bone: Brushed Twill Jeans
Vince: Cashmere Zip Up Hoodie
Pantherella: Micro Striped Socks
Rivieras: Classic 20 Slip-on Shoes
Some evenings call for a date night in. No need to bust out the button up or dress shoes, just keep it casual. There are a few key things to keep in mind for a well styled, at-home look. Make sure to add in one color or print to your look. Give your look a simple touch of style that comes from a micro-striped T-shirt. Pair the effortlessly styled tee with dark jeans. Dark jeans instantly add a more styled feel to the casual T-shirt. Lastly, a great pair of socks is necessary if you're staying in. Try colored or printed socks to give your look some added personality. Kick off the shoes and get comfortable with your date.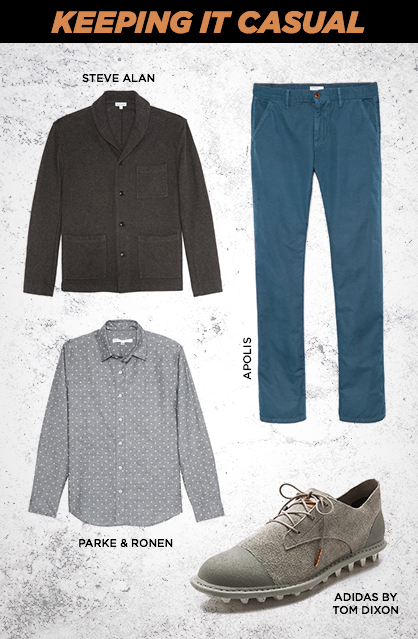 Steven Alan: Jerome Sweatshirt Jacket
Apolis: Utility Chinos
Parke & Ronen: Starlight Long Sleeve Shirt
Adidas by Tom Dixon: TD Shoes
Next up, for the man taking his date out or even going on a first date, keep your cool. As nerve wracking as first dates can be in general, no need to stress about your style. Give your jeans a break and try out some colored chinos. They have a touch more personality than neutral tones and come in an assortment of colors for the more daring men. Pair your chinos, or dark jeans if you must, with a printed button-front shirt. Leave the well tailored shirt untucked for a relaxed feel. For your coat, wear a medium-to-short length style. This will pair well with the untucked shirt to keep the look casual. Lastly, lace up in a canvas, suede or denim shoe. Keep the entire date casual and cool.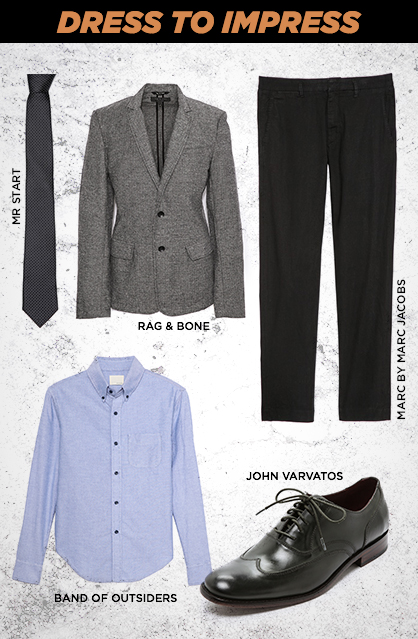 Mr Start: Mini Dot Slim Silk Tie
Rag & Bone: Phillips 2B Casual Blazer
Marc by Marc Jacobs: Whitby Trousers
Band of Outsiders: Long Sleeve Sport Shirt
John Varvatos: Luxe Classic Wing Tips
Looking to impress your date or celebrate an anniversary in style? Let's dress to really impress. A more formal look always starts with the pants. Find a great-fitting trouser that is slim to your leg but not too constricting. This will be the foundation to all your looks and will pair with a multitude of different shirts, jackets and shoes. A button-front shirt with a contrasting button color is great for looks where no tie is needed. Add in a tie or bowtie for a more formal setting. Keeping with the black foundation color, a grey blazer pops well with the trousers. The contrasting shirt and trousers gives the look a touch of style, allowing you to leave your monochromatic, full suits for the office. Lastly, a nice pair of leather wing tips are a classic dress shoe every man should own. They can pair with jeans as well, but perfectly polish off a more formal style.
Whatever your style is, slowly start adding in these key items so you'll eventually have a closet full of pieces for any occasion.

Read more menswear
Tagged in: menswear, dating, style, east dane, casual, formal,