LUX Man: Fall 2013 Footwear Trends
This fall, menswear looks are bold and captivating. From camo print to metallic fabrics, men's footwear trends are demanding your attention. Style these trends to create a casual look, or take your swag for a night out with the guys. Lace up in these trends for fall.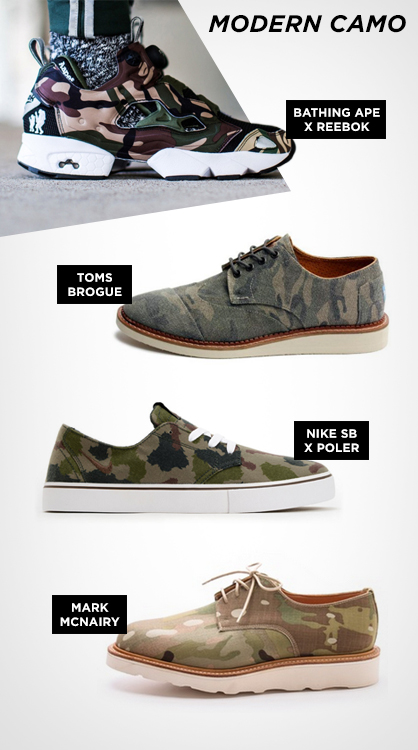 Bathing Ape X Reebok
Toms: Brogues Camo Canvas
Poler X Nike: Braata Classic Camo
Mark McNairy: Multi Camo Buck Shoe
This fall, menswear is taking on a heavy, military-inspired theme. From a military color palette to camo footwear, the pieces are rustic and manly. Dress up your look with canvas in a camo brogue, or go for a calm and collected camo style with some graphic tennis shoes. Whatever the occasion, camo is the footwear print for fall.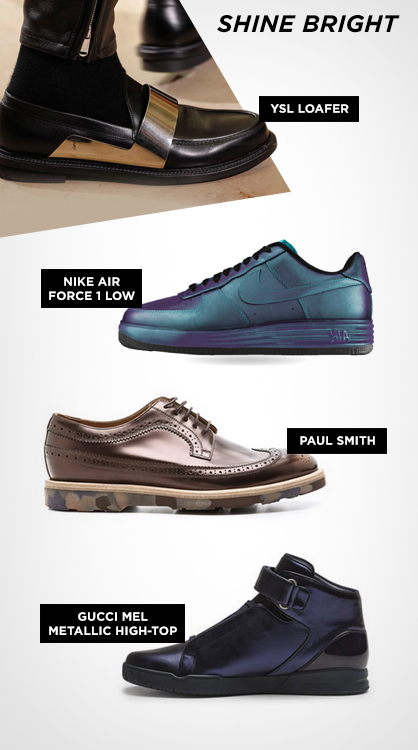 YSL
Nike: Air Force 1 Low Premium
Paul Smith: Grand Brogues
Gucci: Mel Metallic Hi-Top
The Shine Bright look is for the sneaker elite. The style is bold, fresh and eye-catching. It's the statement-making shoe of the season and can work in a laid back office setting or out on the town. Take on metal details and metallic colors with this footwear trend.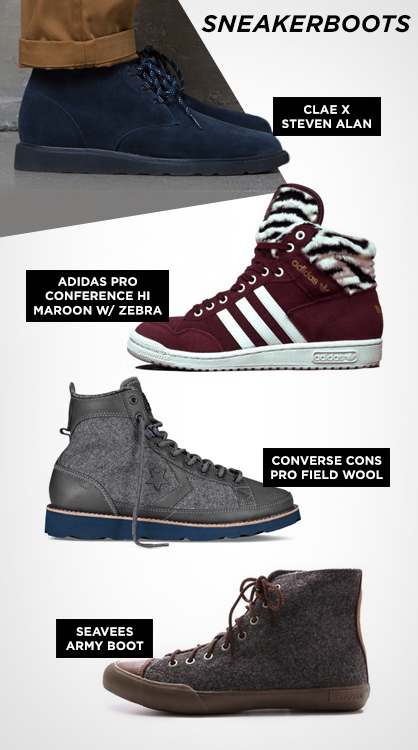 Clae X Steven Alan
Adidas Pro Conference Hi
Converse: CONS Pro Field
Seavees: Army Issue High Tops
The Sneakerboot is where the sneaker freak meets the ultimate fall shoe. Lace up in a mid- to high ankle boot with the cool styling of a sneaker. Leave the stiff boots for work and wear these relaxed fit shoes on the weekend. The fabrics are comfortable and the look can work for a night out. Now you have a reason you to wear your sneakers out on the town.

Read more menswear
Tagged in: trends, footwear, menswear, fall 2013, sneakers, high tops,