L'Oreal Melbourne Fashion Festival in full swing
Sometimes for a bit of unexpected, progressive fashion, you have to travel down under to Melbourne, Australia. The city has been making its mark in fashion with the L'Oreal Melbourne Fashion Festival (LMFF) since 1996 and this season's extravaganza is currently in full swing. The annual celebration began on March 8 and will continue through the 15th.
Each year the festival attracts over 80,000 fashion lovers, buyers and designers with over 120 events, including world-class runway shows featuring Australia's established and emerging designers, beauty workshops by Marie Claire and L'Oreal, industry seminars and forums hosted by internationally respected business leaders and live entertainment. This season, nearly sixty designers came together to showcase their best ready-to-wear including Ksubi, Camilla and Marc, Ellery, Karen Walker, Talulah and Dita von Teese for Target Australia.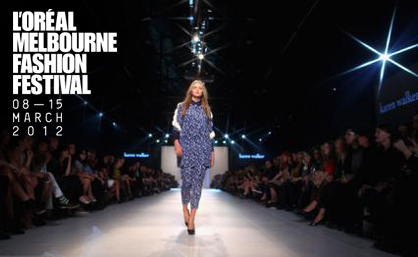 LadyLUX via LMFF
To further marry fashion and technology, LMFF presented "Shop the Runway" to immediately bring the runway to the fingertips of eager fashionistas. Directly after each show, the latest runway styles are uploaded to the revolutionary tool, allowing them to view pictures and videos and find retail store information through smart phones and computers. Favorite looks can not only be shared via Facebook or Twitter, but can be immediately shopped courtesy of Westfield Australia. "Shop the Runway" makes finding runway looks easy with options to shop by event, designer or beauty look.
The Fashion Festival doesn't completely end on the 15th. To continue to inspire and connect designers, consumers and retailers, The Cultural Program will continue on. The program includes the exhibits "Linda Jackson", "Grace Kelly: Style Icon" and "Fashion Loves Art Loves Fashion." Continuing until March 23, daily workshops are also offered on topics such as blogging, styling, photography and home décor.
For more information about L'Oreal Melbourne Fashion Festival, please click here or follow via Facebook or Twitter.
Tagged in: runway, australia, ellery, karen walker, fashion festival, camilla and marc, melbourne, ksubi, australia fashion, dita von teese, tallah, l'oreal melbourne fashion festival,