Last Minute Holiday Style Guide
It's crunch time for the holidays. Do you need ideas for last minute holiday outfits? We've compiled three different looks for your next holiday gathering: A casual-glam look to hang with friends or co-workers; a semi-formal look so you'll be camera ready for any family photos; and a formal look for a fancy engagement. Of course, sparkle is included.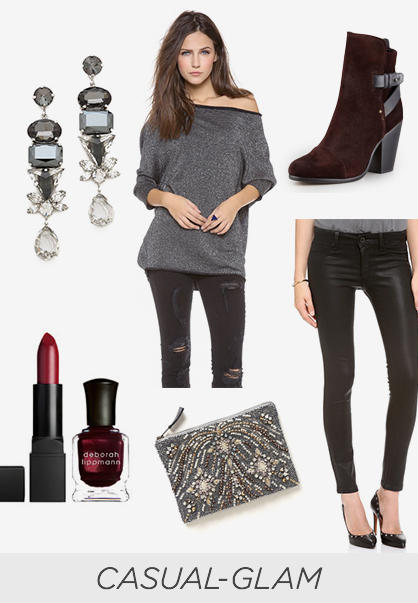 Noir Jewelry: Geometric Crystal Drop Earrings
Anthropologie: Evie Pouch
DL1961: Emma Coated Legging Jeans
Velvet: Metallic Shine Sweater
Rag & Bone: Kinsey Suede Bootie
Deborah Lippmann: Midnight Confessions Lipstick and Nail Polish Set
You can't go wrong with dark or coated denim, a cute sweater, booties and sparkly accessories to take your look from plain casual to casual-glam. We love the versatility of dark and coated denim. The bottoms can easily be worn during the daytime with your favorite white tee and flats or sneakers, then instantly transformed into an evening look by adding daring jewelry and accessories like Noir's Geometric Crystal Drop Earrings and Anthropologie's Evie Clutch. We like how the oxblood color of Rag & Bone's Kinsey Suede Bootie sand Deborah Lippmann's lipstick and nail polish set in Midnight Confessions perfectly complement the metallic sheen of the velvet sweater and the glamour of the earrings and clutch, creating an overall lavish but not overwhelming look.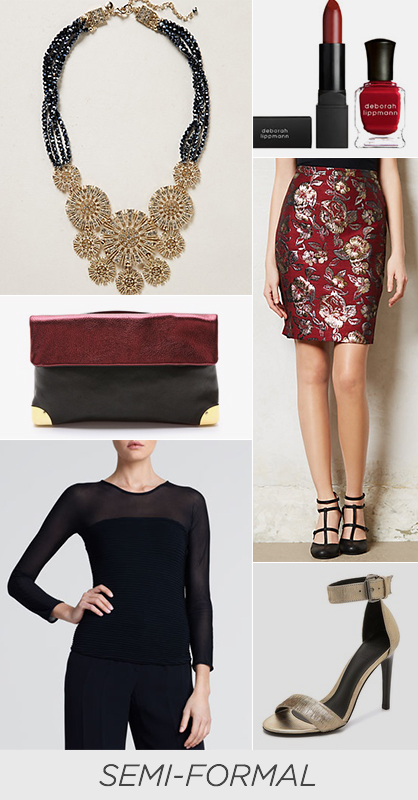 Anthropologie: Claval Bib Necklace
Giorgio Armani: Mesh Ottoman-Pane Top
Deborah Lippmann: Love Notes Lipstick and Nail Polish Set
Golden Lane: Metallic Duo Clutch
Tibi: Carine Single Band Sandals
Anthropologie: Dreza Pencil Skirt
You can still get dolled-up for a family gathering with a semi-formal look and without breaking the bank. Wear an embellished, textured, or printed bottom with a solid color top, basic or detailed with lace or sheer paneling or a feature like peplum, and finish with fun accessories and a metallic shoe. We love this look with a red lip and manicure. Try Deborah Lippman's lipstick and nailpolish set in Love Notes. You'll be picture perfect in this look whether for candids for opening presents or posed for three hours with the family.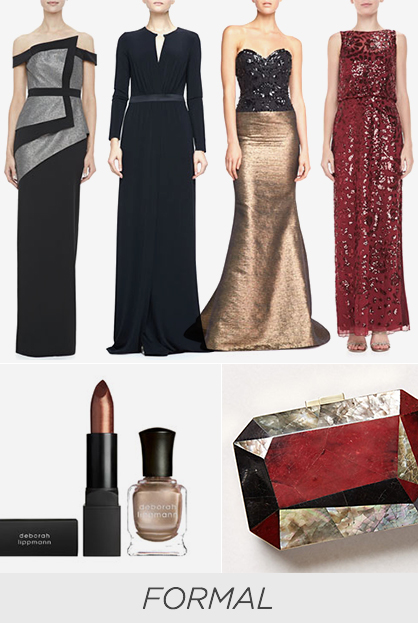 Carolina Herrera: Sweetheart Tweed Black and Gold Gown
Black Halo Eve: La Reina Colorblock Gown
Halston Heritage: Satin Waist Jersey Gown
Aidan Mattox: Sleeveless Blouson Beaded Gown
Anthropologie: Seabed Minaudiere
Deborah Lippmann: Puttin' on the Ritz Liptstick and Nail Polish Set
Go for all out grandeur with a formal look for your next fancy soiree. A gown and extravagant accessories are a must to complete this look, and we love these gowns made by Aidan Maddox, Black Halo Eve, Carolina Herrera, and Halston Heritage. Each can be paired with your own fabulous black, strappy heels, and a gorgeous colorblocked mother-of-pearl clutch inspired by the beauty of geodes and designed by RafeTotengco. Finish off your look with Deborah Lippmann's lipstick and nailpolish set in Puttin' on the Ritz.
Read more Trends
Tagged in: trends, holiday, style, anthropologie, deborah lippmann, formal, semi formal,