In-stores Now: Top 12 Black Backpacks We Love for Fall 2015
A selection of our favorite utilitarian accessory
It's September 2015, and whether you've headed back to campus, or are a practical city dweller, it's clear, the functional backpack trend is here for at least one more season.
For those of you who consider black a color, or at the very least, a basic must-have accessory hue - we've lined up our favorites in the all encompassing black backpack to help communicate your signature style.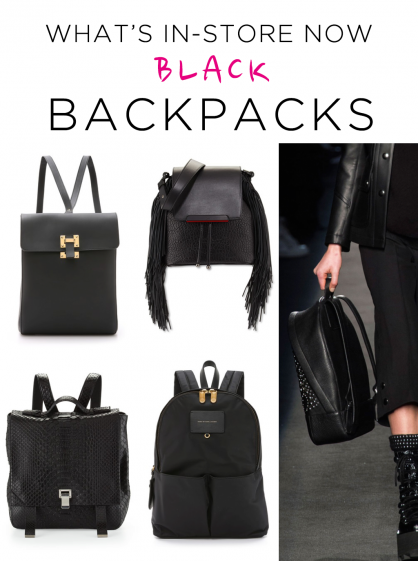 Chic, streamline designs - you're a woman who prefers polish to embellishment, and rarely uses an emoji or !.
Pragmatic & function focused - you're a woman who strongly defines her world by order and simplicity.
Aloof & likes to communicate discernment - saying, "I'm on trend, without being on trend," and makes a point to express this through unique selections.
Or, a fashion forward connoisseur who enjoys incorporating the latest trend into her accessories, à la, a fringe backpack.
Whichever way you define yourself, we've got you covered.