Get the Look: The Metallic Mood
Metallic pieces are key players in Spring 2014 wardrobes. From head-to-toe, metallic plays a vital part in the completion of a look. Whether you're lusting over a sophisticated metallic top or a free-spirited metallic oxford, this is the season to invest in metallic pieces.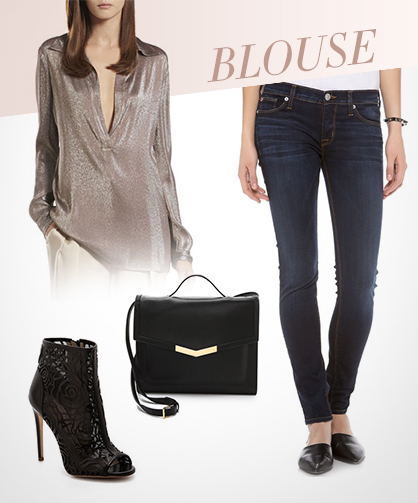 Gucci: Metallic Tunic
Time's Arrow: Portfolio Bag
Hudson: Skinny Jean
Jerome C. Rousseau: Laser Booties
For the woman who wants to keep her sophisticated touch of style, a metallic top is the perfect way to go. Pair neutral colored accessories and dark denim with the metallic top. This top gives just enough sheen to the rich, sultry style.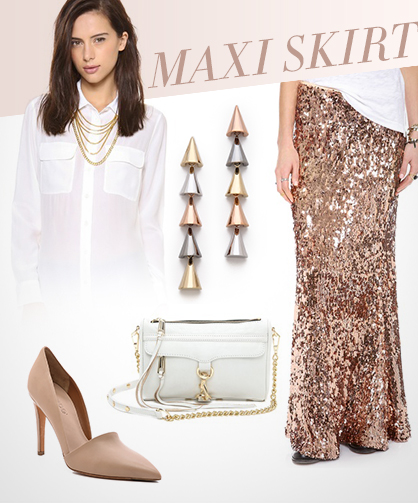 Equipment: Signature Blouse
Sarah Magid: Mini Cone Earrings
Rebecca Minkoff: Mini MAC Bag
Free People: Sequin Maxi Skirt
Vince: Asymmetrical Pumps
For an equally chic but more playful look, try a metallic maxi skirt. This skirt has an electrified bohemian feel. With the abundance of sequins, downplay the rest of the outfit in whites, complimentary metals and nude pumps.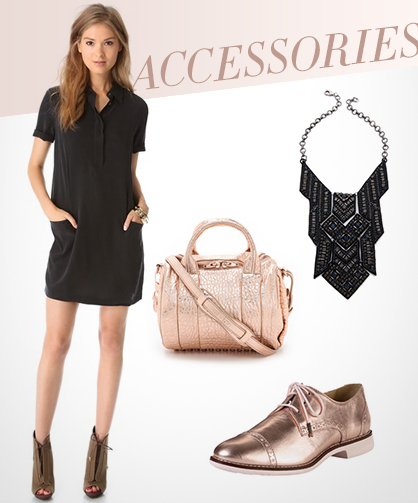 Equipment: T-Shirt Dress
Deepa Gurnani: Statement Necklace
Alexander Wang: Duffel Bag
Cole Haan: Metallic Oxfords
For the fashion-forward woman, layer up the metallic pieces. The foundation of the outfit should be simple and solid colored. Then accessorize with a mix of metallic pieces. This black metallic statement necklace beautifully complements the metallic rose gold bag and oxfords.
Get playful with your metallic wardrobe, mixing and matching for a pop of the ultimate spring style.
Read more Style Guides
Tagged in: trends, accessories, spring 2014, metallic, get the look, guide, maxi skirt,