LUX Home: 5 Ways to Decorate for Spring
The sun is out and flowers are blooming, which can only mean one thing; spring is here! As you begin to transition out of your winter wardrobe, consider a seasonal update to your home décor as well. Nothing puts you in a better mood than a well decorated space, so add some cheery colors throughout your home to ring in the season.
Accent Pillows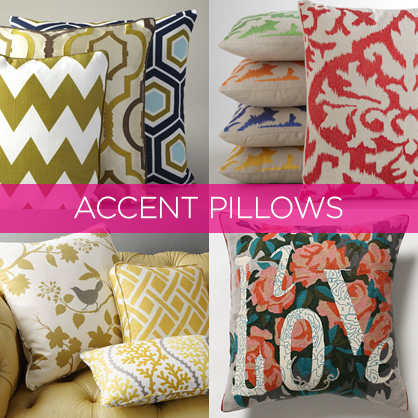 Neiman Marcus / Geometric Pillows
Neiman Marcus / Ikat Pillows
Neiman Marcus / Yellow Print Pillows
Anthropologie / Live Love Pillow
Add a pop of color to sofas, chairs and even your bed by tossing on a few accent pillows featuring lively florals, ikat and geometric patterns. This simple addition is an easy way to transform the vibe of your décor. Mix and match color schemes for added interest.
Table Accents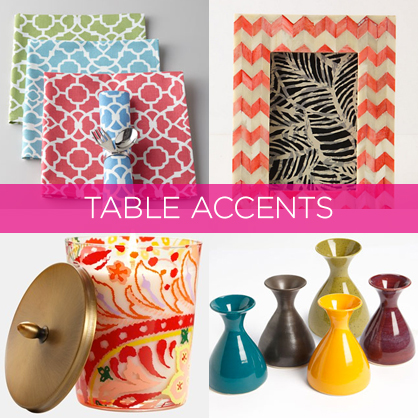 Legacy / Lattice Napkins
Anthropologie / Chevron Frame
Illume Candles / Tulip Pattern Candle
Nordstrom / Mini Colored Vases
If you're not looking to commit to a drastic redesign, a few colored accents around your home will still put you in a spring-y mood. Small and personal touches like a vibrant chevron frame, eclectic candle or mini vases go a long way.
Wall Art

Horchow / Chevron Painting
Neiman Marcus / Floral Print Wall Art
John-Richard Collection / Colorful Abstract Painting
Neiman Marcus / Poppy Flower Paintings
Enliven your surroundings and turn a blank wall into a conversation starter by adding a fun piece of art. Whether you're into florals, patterns or abstract motifs, a colorful piece of wall art is sure to set the mood.
Dinnerware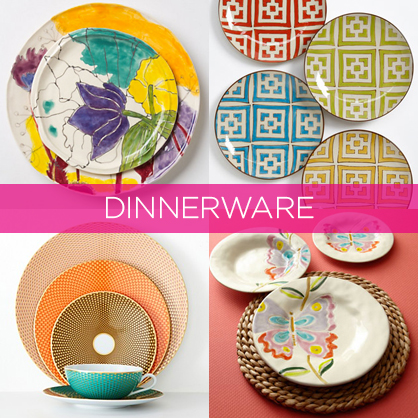 Anthropologie / Handpainted Floral Dinnerware
Vagabond Vintage / Morrocan Dessert Plates
Bloomingdale's / Earthy Patterned Dinnerware
Neiman Marcus / Butterfly Dinnerware
Make food look even more appetizing on a new set of bright dinnerware fitting for the season. Choose a theme or mix and match for a more eclectic look and put them on parade for casual nights in or garden parties.
Entertaining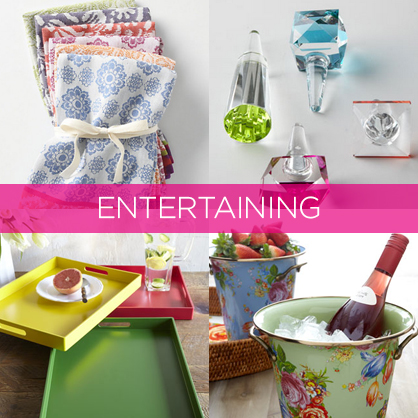 Anthropologie / Patterned Napkins
Kate Spade / Crystal Bottle Stoppers
Neiman Marcus / Colorful Serving Tray
MacKenzie-Childs / Floral Wine Cooler
With warmer weather and longer days come more barbeques, block parties and friendly gatherings in the backyard. Entertain your guests in style with sunny hued serving trays, wine glasses, coolers and other bar essentials.
Read more LUX Lifestyle
Tagged in: home, spring, spring 2013, decorating, art, tips, lux home,