London Fashion Week: Fall 2014 RTW Trend Recap
After New York Fashion Week came to an end, fashion lovers, enthusiasts and industry leaders flocked to the UK for London Fashion Week which presented an exciting array of Fall 2014 collections. Runways were filled with abstract designs and a play on retro looks as well as twists on a classic trends. Checkered prints and basket weaves, shades of grey, matching top and bottoms, sunset hues, and two-toned textile skirts caught our attention and offer great inspiration for wardrobe remixes.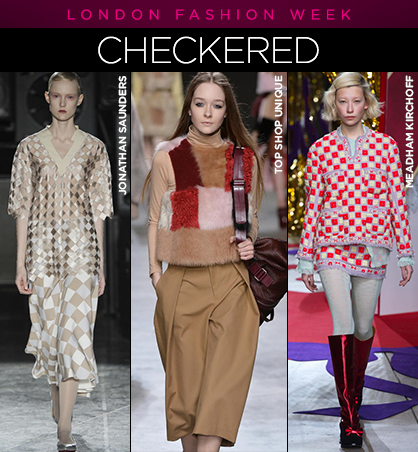 Like the geometric checkered prints of the 60s mod era, designer Meadham Kirchhoff created a modern mashup of a go-go girl and the overly stylish Cher Horowitz from the film, Clueless. The outfit included a matching checkered print top and bottom with a ruffle wrist peeking through, sophisticated tights, and flashy knee-high boots. Designer TopShop Unique indeed created a unique fur vest of multicolor checkered, patchwork-like squares. And designer Jonathan Saunders showcased a captivating tunic of sheer and metallic checkered squares resembling a basket weave, paired with a skirt in a print of large checkered squares. This is an interesting trend to explore if you want to style a print other than stripes, chevron, or polka dots.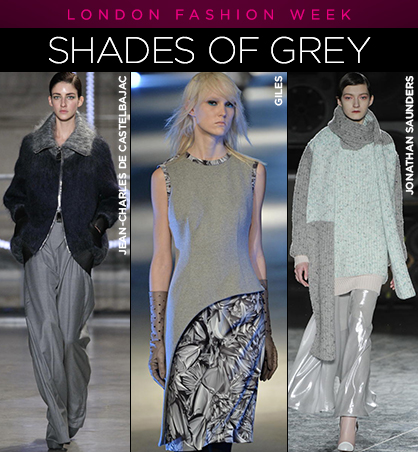 There was an inundation of grey with designers presenting looks layering different shades of grey. Grey is the new black and is easy to style. Shades of grey can be color-blocked, worn as a print, or mixed with contrasting textures; designer Giles incorporated a print as the hem and trim for a dress, Jean-Charles de Castelbajac paired a luxurious, furry zip-up with oversized trousers; and Jonathon Saunders mixed a slouchy knit sweater and scarf with a metallic sheen maxi skirt.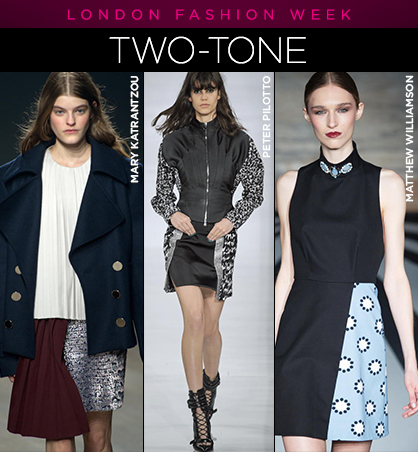 Why wear just any mini skirt when you can wear a show stopping two-toned textile skirt? But you ask, 'What is a two-toned textile skirt?' Well, it's a skirt featuring two fabrics in one and usually of different styles; a solid color paired with a bold print or embellished with a sheer fabric. Designer Mary Katrantzou married together a silver sequined skirt with burgundy pleated half overlay for a standout look.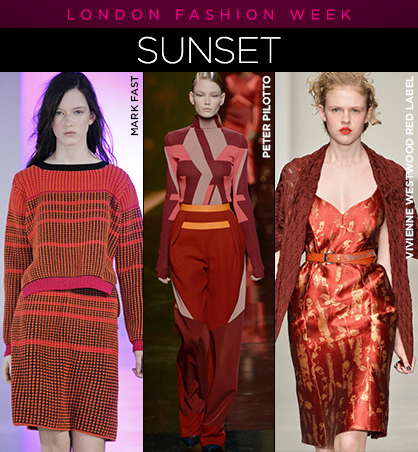 A sunset can be many things; the end to your day, the sun giving way to the moon, or a shift from light blue skies to rich orange and pink hues. Designers melded deep shades of orange to fuchsia and magenta reminiscent of a breathtaking sunset sky in a variety of designs from knit sweaters and brocade dresses to geometric jumpsuits and more. Create this complementary colored look by color-blocking or finding prints donning the sunset color palette.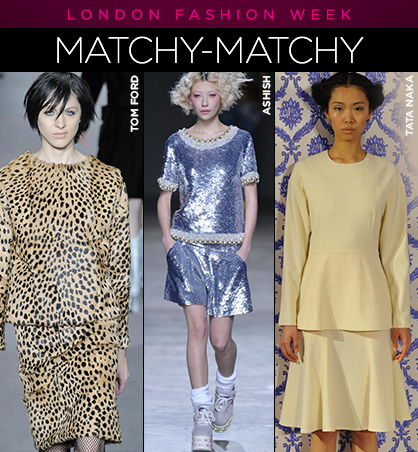 Matching two-piece sets are a no brainer. The designs themselves are not any less chic, but make styling a simple task by allowing us to effortlessly pair a matching top and bottom. Designer Ashish created an all-over sequined and embellished top and shorts; Tata Naka, a simple and sophisticated light yellow blouse and skirt; and Tom Ford, a statement animal print top and pencil skirt.
Read More Fashion Week
Tagged in: trends, fashion, fashion week, runway, lfw, london fashion week, fall 2014,