Evian collaborates with Courrèges for 50-year anniversary bottle
Since the 1992 Winter Olympic Games, Evian has created limited edition iconic bottles to express its young spirit and commemorate festive moments. To produce these special bottles, the brand has teamed up with some of fashion's most elite designers, including Issey Miyake, Paul Smith, Jean Paul Gaultier and Christian Lacroix. Each designed an exclusive bold and innovative bottle that continues to carry on the same vibe.
This year marks Evian's 50-year anniversary, and in keeping with tradition, the famed water company celebrated the special occasion by collaborating with French designer Andre Courrèges to create another limited edition bottle.
Created in 1961 by Andre Courrèges, The House of Courrèges has made its mark with its modern and futuristic style. The design house is known for establishing key trends in womenswear, including creating the first pants for women and introducing the miniskirt. Courrèges will also be celebrating 50 years in fashion by relaunching the brand and revisiting the archives for inspiration.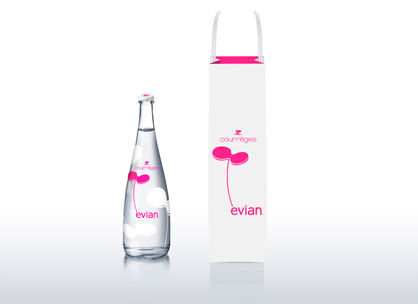 LadyLUX via Evian
Unveiled in September during Fashion's Night Out in Paris and New York, the 50-year anniversary bottle features the design house's elegant white-and-pink emblematic flower, first introduced in 1967. The flower appears on the backdrop of Evian's iconic glass bottle and for the first time ever, is printed in organic ink. The cap of the bottle symbolizes the partnership of the two companies, displaying Evian's and Courrèges' logos together in pink. The colors of the bottle, white and pink, represent Courrèges' traditional colors. Also for the first time, Evian allowed a shade of pink different from its original hue. Moreover, the bottle is eco-friendly, made of 100-percent recyclable packaging.
When the idea of an anniversary bottle was conceived, Evian approached Courrèges for the collaboration, believing the two brands shared similar values. Both exude a certain elegance and attitude and have an appreciation for purity and sophisticated design. Excited, Courrèges jumped at the opportunity. Together, the two companies represent modernity, innovation and youth – a perfect way to embody Evian's 50-year anniversary.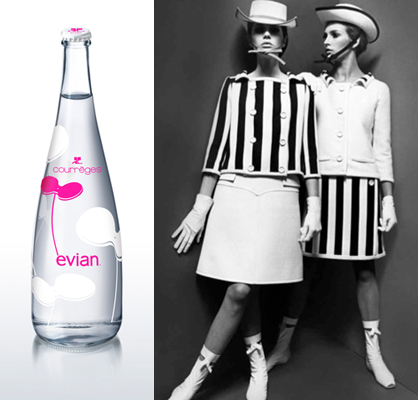 LadyLUX via Evian & Courrèges
"Evian and Courrèges both share the idea that youth is a matter of attitude rather than age," said Jerome Goure, vice president of marketing, Danone Waters of America. "The idea here was to bring Courrèges' timeless taste for fresh concepts to conceive a water bottle design that radiates a joy and a freedom from convention."
The limited edition bottle will be available to the public at selected hotels and restaurants in New York, Los Angeles, Las Vegas and Miami from early November through early 2012. Evian and Courrèges have chosen trendy hotspots to feature the bottle, including the Soho House, Ritz Carlton South Beach, Bergdorf Goodman Restaurant, The London Hotel, Intercontinental Barclay, Boa, Sushi Roku, Katana and The Pierre Hotel.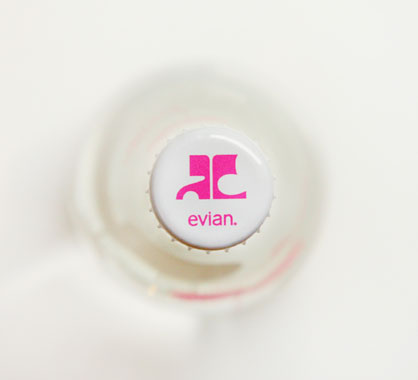 LadyLUX via Evian
Contest
Evian's 50-year anniversary bottle is also currently available for pre-order on Evian.us.
And for one lucky person, LadyLUX will be giving away one Evian limited edition Courrèges bottle! The winner will be selected at random and notified via Facebook.
Here's how to enter to win:
1) Become a fan of Evian on Facebook
2) "LIKE" the picture of the Evian bottle on the LadyLUX's Facebook
The giveaway is open for seven days and ends on Oct. 25.
This article was contributed by Annette Tang of the Versastyle. You can follow Annette and her fashion adventures on Twitter at @theversastyle.
Tagged in: giveaway, collaboration, andre courrèges, courrèges, courreges, evian, 50-year anniversary,