Discover the Sunny Personality of Mallorca
Gorgeous beaches, remote mountains and crystal-clear water are among the highlights of this island paradise
Mallorca is a hidden gem off the coast of Spain in the Balearic Islands in the Mediterranean. When you arrive, you'll think you've been transported to a magical land as you gaze upon the beautiful azure waters, ravishing beaches, limestone mountains and Roman and Moorish architectural remains.
The island is truly something out of the ordinary, which is why it's a favorite with European tourists. The historic old town gives a cultural grounding to Mallorca, and there's plenty of nightlife when the stars come out.
One of the keys to having a truly unique experience on Mallorca is to find a local resident to guide you across the island. Mallorca Urban Adventures is part of the global Urban Adventures organization. On Mallorca, husband and wife team Marialaura Dolfi and Damià Rita will customize any tour to suit their guests. Whether you have only a few hours in port during a cruise, or a week to spend on this heavenly island, they will come up with the best plan to allow you to head away from the typical tourist areas and truly experience the intimacy of the island.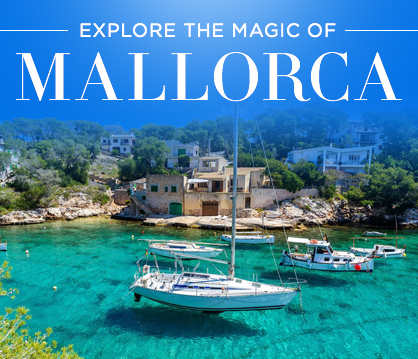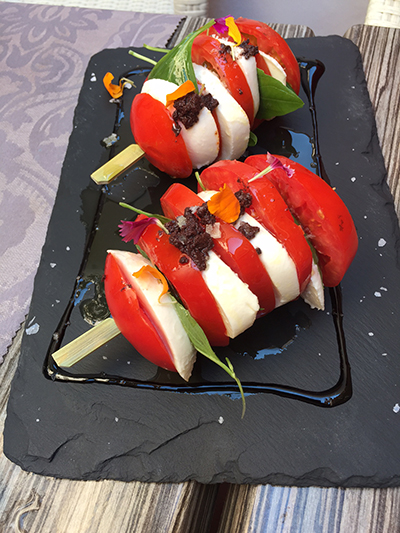 Mallorca in a day
We took a tour with Damià, with Mallorca Urban Adventures, to find out exactly what Mallorca offers and to live it like a Mallorcan. We had 7 hours in port at Palma de Mallorca during a Mediterranean cruise, and wanted to make the most of every minute.
We worked with Marialaura via email to hone the day's itinerary to key points that would give us a flavor of Mallorca. We opted for an intensive day to allow us to see as much as possible, but with plenty of time to stop and savor the stunning scenery and local vibe. Marialaura is willing to vary the schedule to accommodate each person's desires and needs. Although there is something to be said for trusting a tour guide who lives on Mallorca to find the best spots to visit. That is what we ended up doing, with remarkable results. We experience everything from the perfect vantage point to view the sea, to eating some of the freshest, most delicious food imaginable (see right).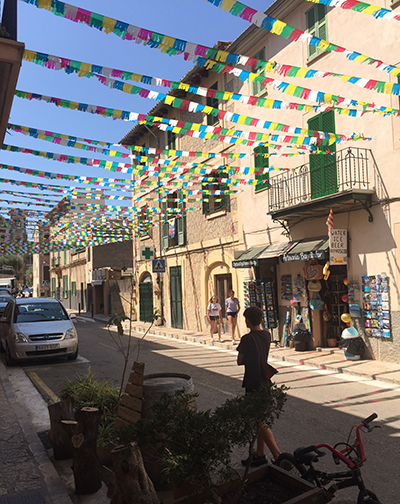 The hills of Banyalbufar
After Damià picked us up at the port, he drove us to the Sierra Tramuntana Mountains, where Banyalbufar was thefirst stop. This hillside village includes an old water basin where rainwater collects for the terraced fields each summer. It's a hilly town, with each winding street lined with charming buildings and steeped in history and authentic Mallorcan culture.
Chairs sit outside most homes, on the narrow streets, because being immersed in the town and chatting with your neighbors is an important part of daily life in Banyalbufar. As you stroll through Banyalbufar, and admire the stunning views that appear around every corner, you'll find a new appreciation for how life is lived in small towns. On the day we were in town, residents were putting up streamers and preparing for a summer festival. Every town in Spain, Mallorca included, has a festival scheduled for at least one weekend during the summer season.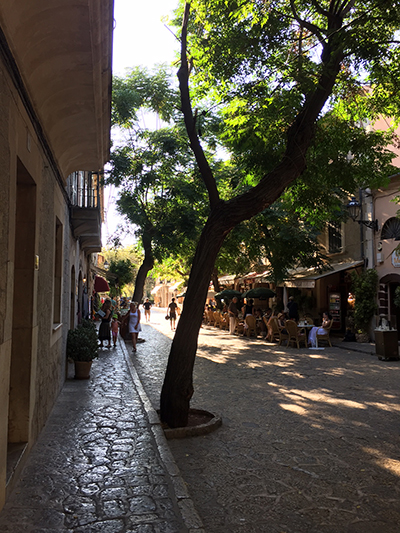 Valldemossa and Chopin
Next stop, Valldemossa. This car-free village with cobbled alleys is easily most famous for hosting Frederic Chopin and his lover, French writer Amantine-Lucile-Aurore Dupin, better known by her pseudonym George Sand, who wrote A Winter in Majorca to detail the winter the couple spent in Valldemossa in 1838-1839.
The couple stayed in a 13th century monastery, which sits near a tiny bakery known for its delicate pastries. Damià assured us that it was the perfect place to stop and soak in the atmosphere, even if only for a little while. And he was right. While sitting on a stone patio covered by a vine-filled trellis roof, it's easy to imagine being in the same place during Chopin's time, and experiencing the town from his perspective.
The feel in Valldemossa is unique among Mallorocan towns. It's chic and stylish and filled with wonderful shops to buy artisan keepsakes to take home.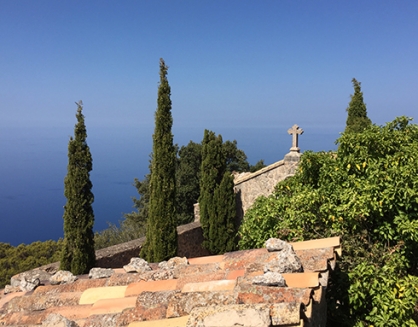 The scenery of Deià
The most scenic village in Mallorca is the ruggedly seductive Deià. This is where the artists gather. It is perched in a ravine at the foot of the Teix mountain, with the waters of the Mediterranean below, Deià has long been a draw for famous artists and writers, most notably Robert Graves. It was also the setting of Helen Walsh's book in 2014 titled The Lemon Grove.
Deià is not well connected by roads, so it's not privy to huge groups of tourists. Parking outside the village and then walking along the streets allow for a spectacular view of the sea, and a feel as if you're a village local. Perhaps you'll be inspired enough to write your own masterpiece as you explore this town rich with culture and heritage.
Discovering Sa Foradada
This hidden getaway perched on the edge of a cliff in Valldemosa includes an outdoor bar with one of the best views in perhaps the entire Mediterranean, and sipping on a cold beer while relaxing in the casual atmosphere reminds you of what vacation is all about. If you're here at mealtime, Sa Foradada is a place you'll never forget. Try a traditional paella cooked over a wood-fired grill for a memorable experience.
To keep the restaurant intimate, you cannot arrive via car. Guests come by boat or they hike a half hour to reach Sa Foradada. Once there, it's worth the trouble.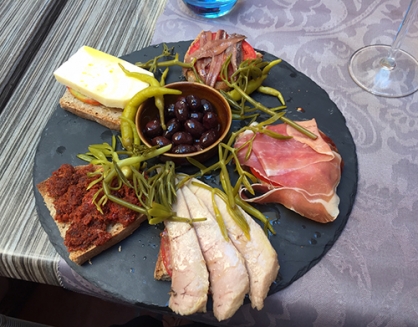 The capital city of Palma
The town of Palma is full of history. The landmark La Seu Cathedral is a masterpiece of Gothic architecture and worth a stop. There are charming stores for shopping, but unless you're with a guide, make sure to take a map when you explore the narrow cobbled streets behind the cathedral, which are mainly pedestrianized because they are too narrow for cars. Places worth visiting include the peaceful Bishop's Garden and the Arab Baths.
Wherever you go on your tour of Mallorca, you're sure to be surprised and delighted at the stunning views, friendly locals, and delicious food, such as the traditional plate of tapas as seen to the left.
As we left, we realized that seven hours is not nearly enough time to explore this beautiful island. Mallorca is a place where we could easily spend an entire winter, a la Chopin.
Tagged in: vacation, europe, spain, tour guides, mallorca,