David Bitton launches new premium denim line for Fall 2012
In recent years, jeans have evolved into premium denim with the help of precise, unique washes, flawless fits and quality materials. Now, David Bitton of Buffalo Jeans is putting his spin on it with his new eponymous line. With the designer's DNA comprised of decades of experience in the industry, the collection boasts clean lines that express new forms of contemporary fashion, extreme creativity and the highest level of quality. Bitton blends modern denim expertise with sharply tailored sportswear for a modern, authentic and unconventional assortment.
In creating the new line, he was inspired by his international travel, especially his experience in Italy and the Mediterranean. Particularly for the debut Fall 2012 collection, Bitton's vision was to create a modern sportswear collection built on a foundation of staple pieces that are essential to any contemporary man's wardrobe. The unique concept merges breakthrough innovation with a strong European sensibility.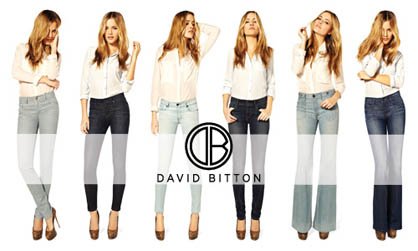 LadyLUX via David Bitton
A peek at the collection reveals several different colors and washes from light to dark in cuts that range from skinny to flare. Alongside the traditional styles, vibrant fitted denim pants are expressive in cobalt blue, turquoise, green, yellow, orange, red and pink. Each pair in the comprehensive collection offers an impeccable fit, premium fabric and value.
The David Bitton collection aims to appeal to a broad audience while maintaining a sophisticated international look.
The new collection will be available in stores this Fall.
Tagged in: fall 2012, launch, premium denim, buffalo jeans, david bitton, david bitton premium denim,