Australian brand Seduce shows its colors for Spring
Ironically, sexy and stylish Seduce Group Australia began in the early 1990s as a menswear line. Launched by the talented brother-and-sister duo Peter and Judy Li, the collection humbly began in the unlikely place of the family garage. As the company evolved over the last 20 years, the collection has unexpectedly transitioned into a successful women's wear brand.
Today, the Seduce Group has grown into a full-fledged women's apparel company that boasts fashionable collections from four iconic Australian labels: Seduce, Katherine, Blue Juice and Be Seduced Luxe. Each separate line is known for its quality, unique style and a very specific "je ne sais quoi." The design pair capitalizes on their experience from the past two decades to offer the finest materials and exclusive one-of-a-kind prints, along with distinctive design and attention to detail. Just like a true fashion house, each garment goes through the process of sketching to fitting to fabric selection to quality control and finally to production, all overseen by the brother and sister team.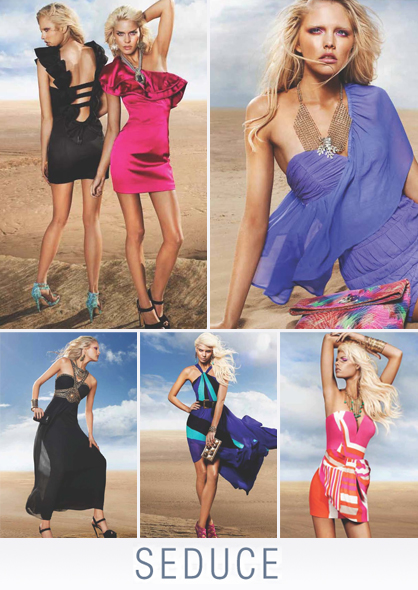 LadyLUX via Seduce
The main collection, Seduce, steals the spotlight as it's created with the confidant woman in mind. Modern and spirited, the Spring/Summer 2012 collection promises a generous dosage of exuberance and fun blended with the usual gloss and glamour that is synonymous with the brand. This season's lineup is expressive in rich jewel tones of fuchsia and deep violet, azure blues, sundrenched buttermilk shades and burnt terracotta. The array of maxi dresses, flirty tops, fitted pants and daydresses complement the colors with soft watercolor prints, bold graphic stripes, Aztec-colored embroidery and a bit of '70s inspired geometric and floral prints. The exotic Spring/Summer collection embodies a mystical urban romance with divine beaded looks influenced by alluring metallic Persian jewelry.
With its dynamic designs, Seduce has attracted a star-studded following from Australian and American celebrities such as Kelly Rowland, Paris Hilton, Camille Grammar, Carmen Electra and Emma Lung.
To shop Seduce's styles, please click here.
Tagged in: spring 2012, apparel, womenswear, australia, seduce, peter li, judy li, seduce group australia,