Spring 2014: The Color Story Trend
Go bold and vibrant with effervescent colors this spring. The Pantone colors Dazzling Blue, Cayenne, Gold Fusion, Flame and Radiant Orchid have caught our attention and have been seen on runways including Hermes, Stella Lam and Paul Smith. We love the richness of the colors and they would pair well with color blocking, or worn as a statement color.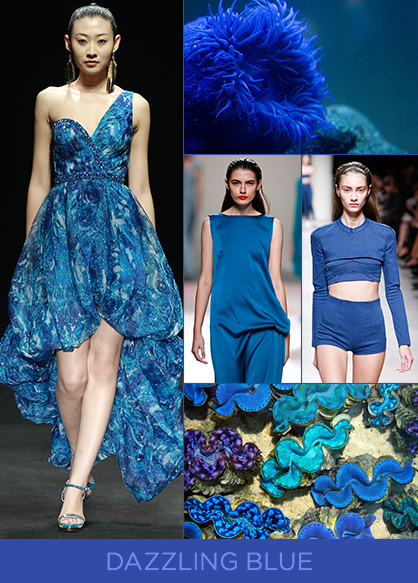 Like the majestic sea animals of the ocean blue, the captivating hue of Dazzling Blue has us wanting to dive right into the waters of Caribbean and swim among the enchanting fish, sea anemones, and many other lively creatures. We like how the color was incorporated into a printed, billowy dress on Stella Lam's runway, designer Barbara Bui's two-piece look, and the modern designs of Duyos.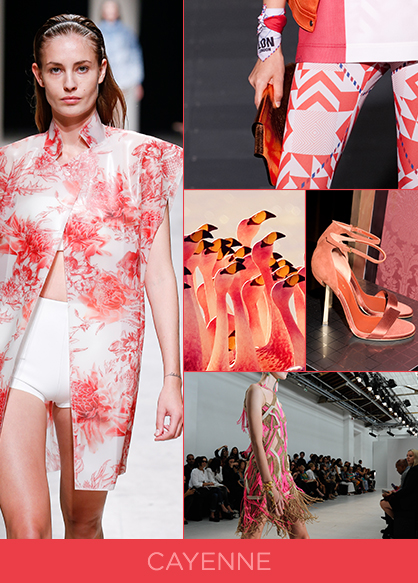 The color Cayenne is the perfect pink hue for spring. It is a unique shade, just as the flamingo is a fun and unique bird species. We love how it was used to construct a woven chain dress on Manish Arora's runway and in statement geometric prints or Asian-inspired floral patterns.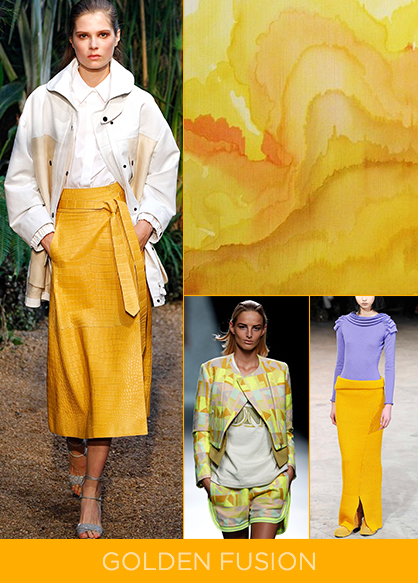 Bring a happy hue to your wardrobe with a the reinvented yellow, Golden Fusion. It's not quite a sunny yellow and not quite a mustard yellow, just a radiant color like the petals of a sunflower. It has been seen on the runways of Hermes as a wrap skirt and of Ana Locking as an interesting printed short suit.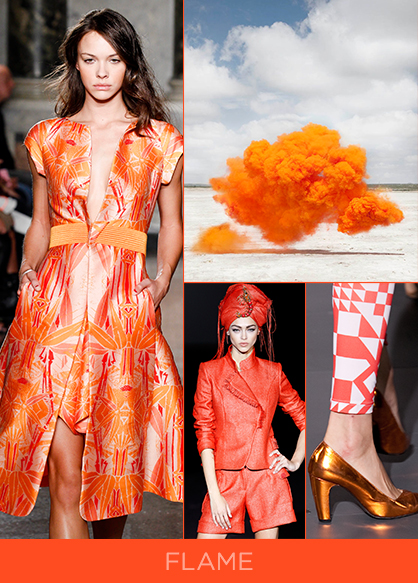 The brilliant color Flame is a gorgeous shade of orange that is sure to turn heads. We're inspired by the boxy top paired with fitted bottoms on Hermes' runway, Roberto Verino's textured and tailored suit, and how it was incorporated into Mila Schon's Spring/Summer 2014 collection, especially with the art deco inspired print in a low-cut, A-line dress.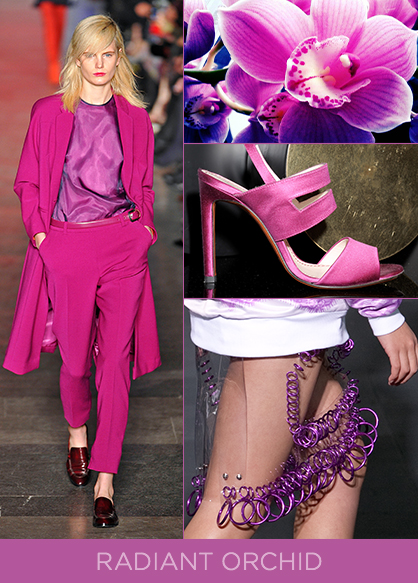 And, of course, the beautiful shade of purple, Radiant Orchid, was named Pantone's 2014 Color of the Year. That means you need to add it to your closet. If this violet hue is not your cup of tea, wear it mixed with other colors or as a heel, purse, or jewelry.
Read more Spring 2014
Tagged in: spring 2014, runway, color, pantone, trend, radiant orchid,