Milan Fashion Week: Fall 2014 RTW Trend Recap
Italy is home to the city of Milan, well-recognized for its fashion scene and slew of top designers. Milan Fashion Week brought a mix of playful and serious trends down the Fall/Winter 2014 runways. Three major trends overtook the city, from detachable turtlenecks and playful color piecing to the structured look of androgynous tailoring. Come see what Milan-influenced trends you'll be dying to wear next fall.
Forget the matronly old-fashioned turtlenecks and give your bundled-up look a fresh start. Detachable turtlenecks were spotted across the Milan runways. The sleek and sophisticated look from Ports 1961 is great for the business woman, resembling a high-choker styled turtleneck. Get the fashion forward detached turtleneck styling of Fendi and Marni by infusing your look with feathers and fur. This detached look is for the statement-making woman.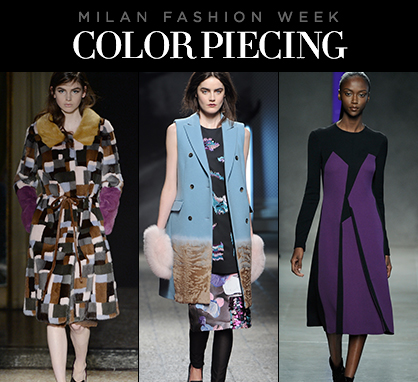 The ever-so-popular color blocking trend is taking a new twist for fall. Geometrical color piecing made a statement in Milan. Bottega Veneta's rich plum and black dress resembled a stained glass window. Both MSGM and Aquilano Rimondi mixed up an assortment of sky blue, black, brown and creams for their color-pieced styles. Take a hold of the dramatically colorful trend and embrace the geometrical 'print'.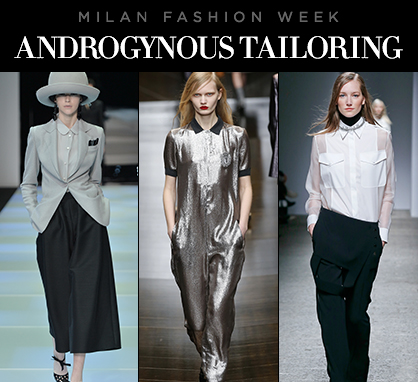 The androgynous tailoring in Milan was poised and perfect. Ports 1961 gave its menswear-inspired look a hint of sex appeal with sheer fabric panels down the side of the button-down shirt. Emporio Armani gave the runways a softer feel with cement grey blazers, hats and romantic rounded collars. For a complete contrast, Trussardi lit up the runways with a metallic silver jumpsuit, adorned in a black collar and trim. The silhouettes were a perfect balance of structure and ease, gracefully making eye-catching statements.

Read more Fashion Week
Tagged in: trends, fashion week, runway, milan, mfw, fall 2014,