9 Summer Wedding Cliches to Avoid
What not to do at your wedding
Summer weddings are tons of fun, and the often casual atmosphere created by warm weather and sunshine allow for doing creative things that don't always work with a more traditional wedding.
However, many alternative wedding ideas are quickly become cliche because they've been overdone, often thanks to Pinterest.
If you're worried that you might be doing something cliche at your summer wedding, here is a list of the biggest ones to avoid.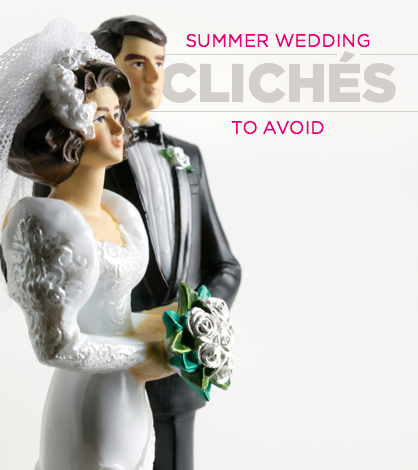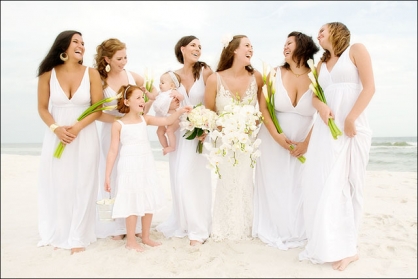 Cliche #1: All-White Wedding
Most important - do not put your entire wedding party and all of the decor in white.
"Please, stop the all white beach themes we've seen a million times. There are so many fresh ideas out there. Put your bridesmaids in short and flirty pin-up style dresses or put them in sexy tuxedos designed for women," said Richard O'Malley, event planner and owner of The O'Malley Project.
"The guys can look great in modernly cut Seersucker suits or a cool Bermuda-style jacket and shorts combo. The latter for only the most fashionably adventurous. But let's make the wedding about your lifestyle and bring that style to
your life," O'Malley said.
Kelli Corn, a wedding planner in Hilton Head, South Carolina, said another option instead of all-white is choosing a summer color like coral or turquoise and have suits made with light fabrics such as linen.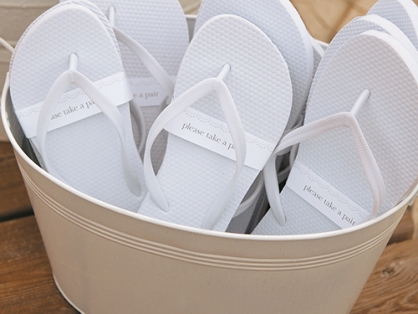 Cliche #2: Flip-Flop Basket
While it's nice to offer your guests a chance to get out of their shoes and dance the night away in a bright pink pair of flip flops complete with your wedding date on them, everyone does it, according to Danielle Rothweiler of Rothweiler Event Design. "It's one thing if your ceremony is on the beach and you want to give the ladies a chance not to ruin their heels, but I still prefer the invitation to be crystal clear as to where the locations are so that people will wear proper footwear."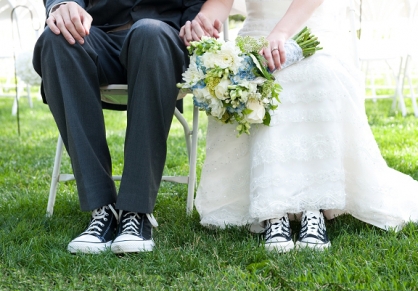 Cliche #3: Converse Sneakers
There's an overuse of Converse athletic shoes at summer weddings. Rothweiler said, "I'm super tired of seeing Converses at these summer weddings. Summer doesn't automatically mean casual everything, and the Converse sneakers are just something that take away from the whole wedding vibe. There are countless other ways to personalize the groom and groomsmen besides putting them in sneakers that they will never wear again."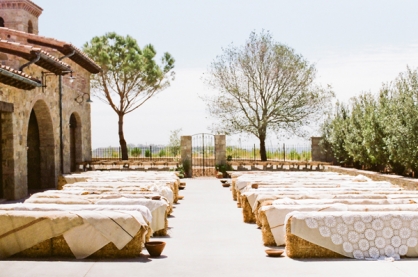 Cliche #4: Hay Bale Seating
Hay bale seating at your ceremony or reception screams rustic cliche, said Julia Pavlovski, owner of Wedding Wise.
"Not only have hay bales been used in so many weddings, they are also pretty uncomfortable for your guests. Consider laying blankets on the ground for your guests to enjoy a picnic wedding or call around to find the most inexpensive place to rent chairs. Your guests will thank you," she said.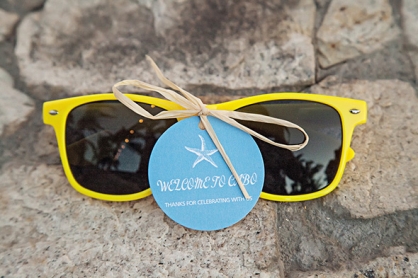 Cliche #5: Sunglass Favors
"This idea was really popular a few years ago, but it's 2015 now and it's pretty dated," Pavlovski said. "You'll end up with a ton of leftover sunglasses and your guests will likely use them a few times then either lose or throw them away. Pick favors that your guests actually want and will use."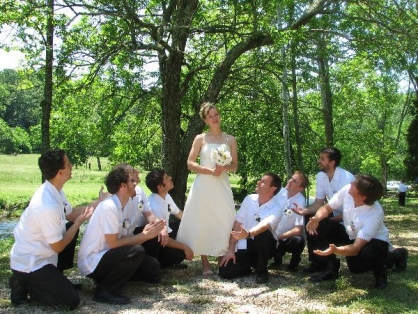 Cliche #6: Linen Shirts
Avoid khaki linen Tommy Bahama type shirts for the guys, said Lynn D'Ascanio, owner of D'Asigner Events. "You might think it's easy/breezy but the minute the guys start to sweat it looks awful. Imagine a group of hot (temperature) guys with armpit, chest and back sweat marks in your photos." Just don't do it.
Cliche #7: Mason Jars
"Mason jars are an easy, cheap alternative to flower vases, but they are also extremely overused. Try hitting up a local thrift store for different shapes and sizes of regular glass vases or get recommendations from your florists. Your centerpieces will look unique and different with no mason jars in sight," Pavlovski said.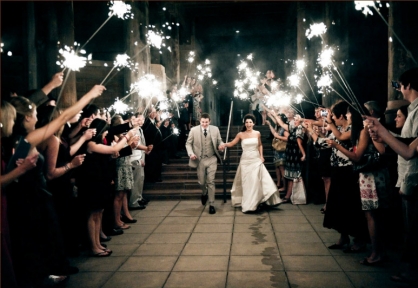 Cliche #8: Sparkler Exit
Pavlovski said, "Don't fall captive to the mindset that the only way to have a cool send-off is with sparklers. Some of my favorite alternatives are glow sticks, sprinkles, and ribbon wands."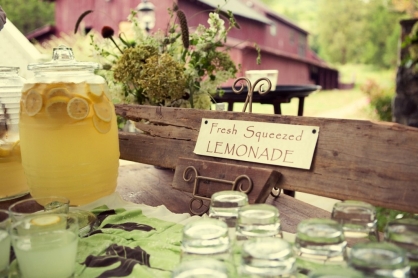 Cliche #9: Lemonade
Yes, everyone loves lemonade. But there's nothing different about it. It's pretty in a serving container, but opt for something more unique, such as watermelon or peach coolers.