13 Wickedly Delicious Cocktails for Halloween
Trick-or-treat for grownups
Halloween isn't just for kids. Adults can have a fantastic treat, too, with these spooky and delicious cocktails. Whether you're up for a Poisoned Apple, a Bloody Orange or a Scary Cherry Smash, there's something here for everyone.
For an extra cool effect, adding a bit of dry ice is an unexpected treat. It's perfectly safe as long as you use tongs to handle it and you use food grade dry ice and let it completely dissolve before enjoying your delicious concoction.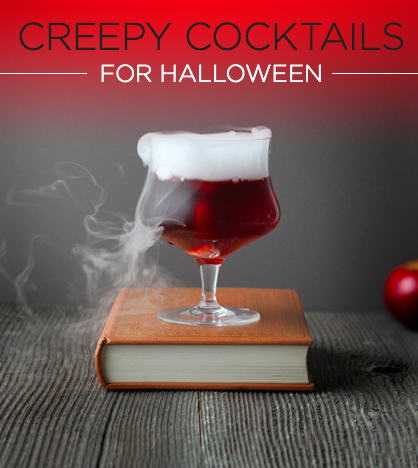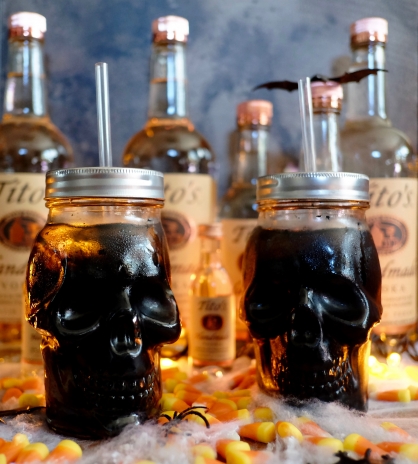 Three simple ingredients are all that you need for this Halloween cocktail:
Ingredients:
1.5 oz Tito's Handmade Vodka
3 oz of lemonade
¼ tsp activated charcoal
Pour Tito's Handmade Vodka in a glass over ice. Add lemonade.
Stir in the activated charcoal.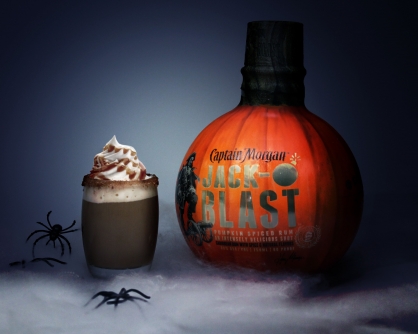 Ingredients:
1 oz. Captain Morgan Jack-O'Blast
1 oz. Captain Morgan LocoNut
2 oz. cold beer
whipped cream
Combine Jack-O'Blast, LocoNut and cold beer in a shaker with ice. Pour into 2.5 oz. shot glass and top with whipped cream and a caramel drizzle.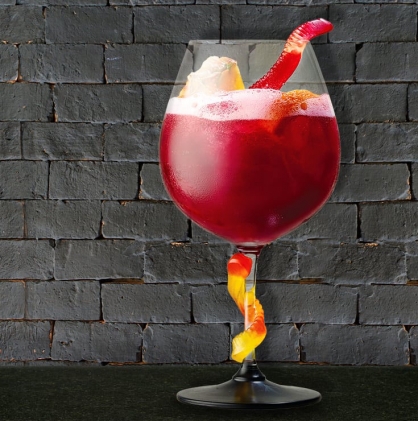 Ingredients:
3 ounces Barefoot Bubbly Red Moscato
¾ ounce pomegranate juice
¼ ounce pineapple juice
¼ ounce black cherry soda
1 orange slice
2 pineapple slices
Place juice and soda in wine glass over ice. Add orange slice and pineapple slices. Top with Barefoot Bubbly Red Moscato. Stir. Garnish with gummy worms.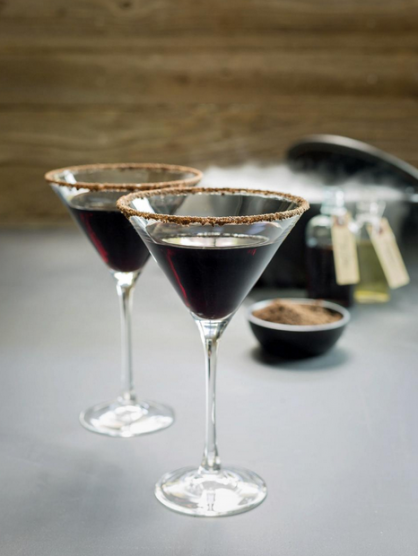 Ingredients:
2 ounces black vodka
1 ounce black Chambord
2 ounces dark cherry juice
crushed chocolate wafers for garnish
light corn syrup
Lightly dampen the rim of a martini glass and dip in crushed chocolate wafer crumbs. Set aside.
Tip: for better adhesion, dilute two tablespoons of light corn syrup with a few drops of water. Use your fingertips to apply the syrup to the rim of the glass.
Place vodka, Chambord, and cherry juice in a cocktail shaker filled 2/3 with ice. Shake until cold.
Strain the cocktail into the martini glass and serve.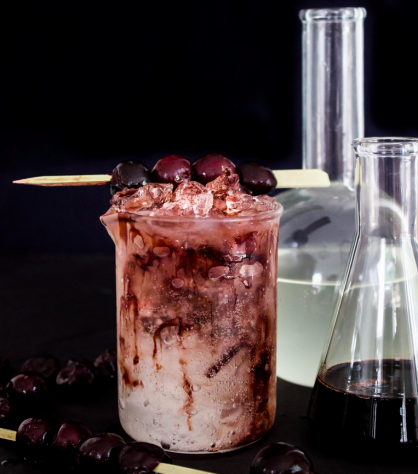 Ingredients:
4 ounces ginger beer
1 ounce lime juice
2 teaspoons black cherry concentrate
2 ounce tequila, rum, or brandy (optional)
Cherries for garnish
Crushed ice
Fill a glass with crushed ice. Pour in the ginger beer, lime juice, and optional alcohol. Give it a swirl with a cocktail stirrer or spoon. Top off with a bit more ice. Just before serving, drizzle black cherry concentrate on top. Add cherries for garnish.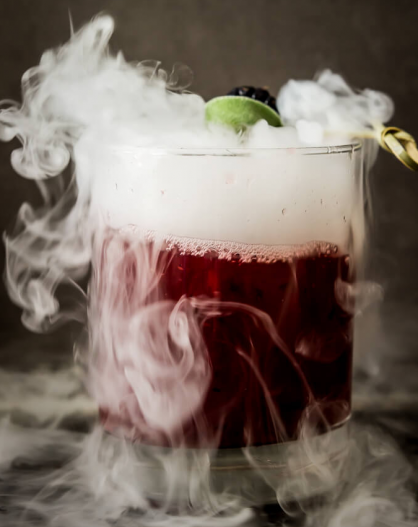 Ingredients:
2 ounces 100% agave silver tequila
1 ounce lemon juice
8 blackberries
5 fresh sage leaves
1 teaspoon maple syrup
Dash of orange bitters
Dried sage leaves
Blackberries
Dry Ice
Muddle the blackberries and sage together in a cocktail shaker until broken down and fragrant.
Pour in the tequila, lemon juice, bitters, and maple syrup. Give it a good shake and pour over either a cube of dry ice (if using) or regular ice if using the dried sage leaf. If using the dried sage light the tip on fire right before serving.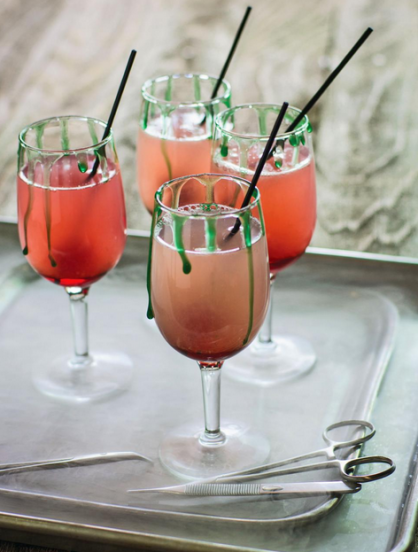 Goo:
1/4 cup light corn syrup
green food coloring
Cocktail:
1/2 cup fresh lime juice
1 cup club soda
3/4 cup tequila
3 ounces triple sec
4 cherries
4 teaspoons maraschino cherry syrup
Yield: 4 cocktails
Directions:
Mix together 1/4 cup light corn syrup with green food dye. Tip: Start with just a little coloring and add until you get the desired color then set aside.
Place glasses in the freezer to frost them. When frozen, dip each glass into the green syrup and invert to allow the syrup to drip slightly. Return glasses to the freezer to set.
Insert stirrers through maraschino cherries for each drink and set aside.
Juice the limes and strain if desired to remove pulp.
Combine tequila, triple sec and lime juice in a cocktail shaker with ice and shake until very cold.
Pour one teaspoon of the maraschino cherry syrup into the bottom of each glass. Add a cherry and stirrer to each glass.
Carefully pour the margarita mixture into each glass till about 3/4 full. Tip: Pour very slowly to avoid disturbing the syrup on the bottom.
Top off each drink with 1/4 cup club soda and serve immediately.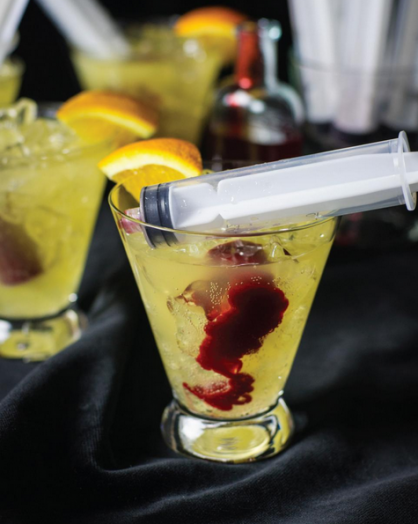 Ingredients:
4 ounces vodka
2 ounces Licor43
8 ounces Orangina
3 ounces raspberry syrup (recipe below)
1 orange
plastic syringes (available at party stores)
Yield: 4 cocktails
Raspberry syrup
Puree 2 cups of fresh raspberries in a food processor. Press the puree through a fine mesh strainer to extract the pulp, then discard the seeds.
Directions:
Place the puree in a small saucepan with 1/4 cup of sugar. Heat over medium-low heat, stirring frequently until thick and dark (about 10 minutes) and let cool (Image 1).
Fill each syringe with .75 ounces of raspberry syrup and set aside.
Add vodka and Licor43 to a shaker with ice, shake until very cold (about 20 seconds). Add Orangina and stir. Pour into iced glasses and place filled syringes in drinks.
Add an orange wedge to the side of each glass and serve.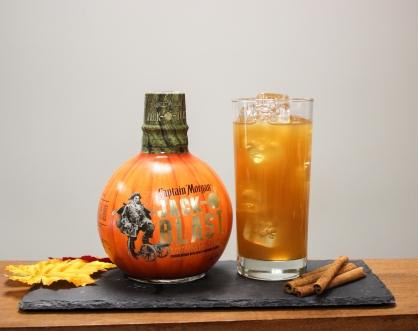 Ingredients:
1.5 oz. Captain Morgan Jack-O'Blast
4 oz. chilled apple cider
Combine all ingredients in a glass filled with ice, stir and serve.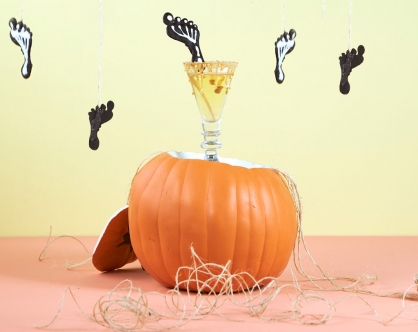 Ingredients:
2 ounces Barefoot Pinto Grigio
½ ounce chocolate vodka
¼ ounce chocolate syrup
caramel sauce
chopped peanuts
Rim a chilled cocktail glass with caramel syrup. Dup caramel covered rim into chopped peanuts and set glass aside. Add Barefoot Pinot Grigio, vodka, liqueur and chocolate syrup into a cocktail shaker with ice.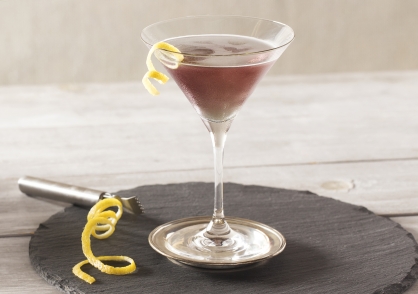 Purple Haze Martini
Ingredients:
2 parts Pinnacle Original Vodka
2 parts DeKuyper Pucker Grape Schnapps
splash sour mix
splash lemon-lime soda
Add ingredients to an ice-filled shaker. Shake and strain into a chilled martini glass.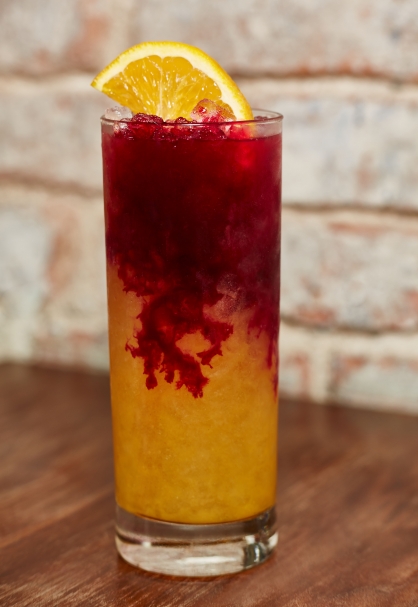 Potion de Muerto
Ingredients:
2 parts Hornitos Black Barrel Tequila
¾ part fresh orange juice
¾ part fresh lemon juice
¾ part agave
2 dashes orange bitters
½ part beet juice
Serve in a tall glass over crushed ice with a beet juice float – the beet juice will slowly float down the glass through the crushed ice, making it look like blood dropping down. Garnish with an orange slice.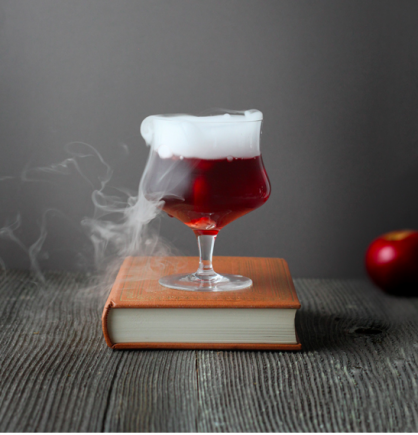 Ingredients:
2 ounces apple cider
1 ounce pomegranate juice
2 ounces tequila
Several chips of dry ice
Combine ingredients with ice in a martini shaker. Shake to mix and strain into a chilled martini glass. Add dry ice to the glasses just before serving.