What Brides Forget To Do After The Wedding
Stay on track with this list
Brides often get so busy planning their wedding that after the ceremony they breathe a sigh of relief and promptly forget to follow-up on important details and tasks.
Here are some of the most common things that brides forget to do after the wedding and honeymoon.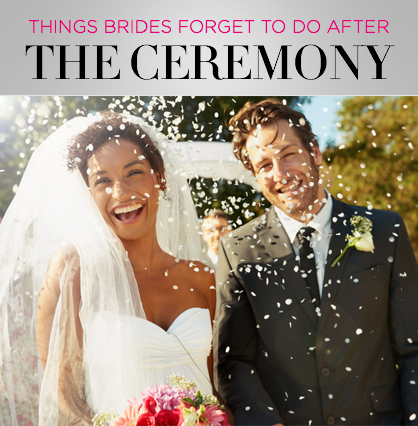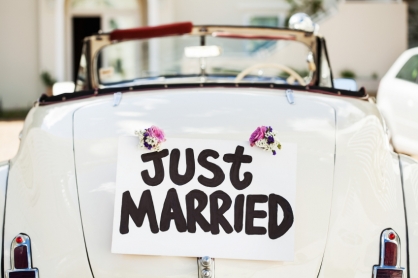 Top things to remember post-wedding ceremony
Send thank you's to vendors. Everyone knows to send thank you notes to those who gave a wedding gift and guests who travelled from afar. But also take the time to write simple little notes to your vendor teams as well. Remember, they're the ones who came together to bring your wedding dreams to fruition.
Return the wedding cake stands and paraphernalia. One of the most frequently forgotten things that brides do is returning any rented equipment associated with their wedding cake, namely cake stands.
Make the marriage legal. Planning to get hitched in another country? In some cases, unless you have a civil ceremony or fuss with a ton of paperwork ahead of time, your 'I Dos' are not always recognized as legal back in the United States. You can still have a beautiful and meaningful wedding abroad, but don't forget to make it official" at your local courthouse upon your return.
Eat. Weddings are high-energy social settings that whip you up into a whirlwind of dancing, mingling and more. Taking the time to stop and eat can easily get lost in the mix. Talk to your wedding planner or caterer ahead of time and arrange for a late night snack to be delivered to you and your groom. You'll be thankful you did.
Create a wedding memento box. Your wedding was likely full of special touches that were special and unique to you and your partner. Create a special box to store them. Consider including your invitation suite, ceremony program, a favor, dried flowers from your bouquet, cards from guests, escort cards, toasting flutes, cake cutting set, and any other special items from your day that you want to save.
Get photos printed. Your wedding day should not live on only in the cloud. After you get the link from your photographer to view your online gallery, pick your favorites to create an album to place on your coffee table or have canvas prints created to display on the wall in your living room. After all, it was the best day of your life so why not have the photos viewable so you can relive it any time you want.
Leave reviews for your vendor team. Don't forget to recognize the hard work your vendors put into your wedding day. The best way to say thank you is to leave a glowing online review for them. You are also helping future brides find their team when you leave a review in a public format.
Spend time alone with your husband. Once the vows are said, and the photos are taken and the reception begins, most birdes forget to sneak away for a few minutes with their new spouse. Spend a bit of time bonding with your new life partner and letting him gush over how gorgeous you look.
Sources: Eva Farragher, Sweet Perfection; Renae Strozier, wedding planner, Beauty and the Details; Kim Wiseley, founder and editor-in-chief, Flutter Magazine; Julia Pavlovski, Wedding Wise