The Best Holiday Travel Tips
Don't let a missed flight ruin your holiday
It's that time of year when travelers flood the airports and flight delays are common. There's nothing more frustrating than trying to make it home for the holidays, and being stopped in your tracks by a missed flight or bad weather.
Find out how to ease your travel woes with tips from the experts.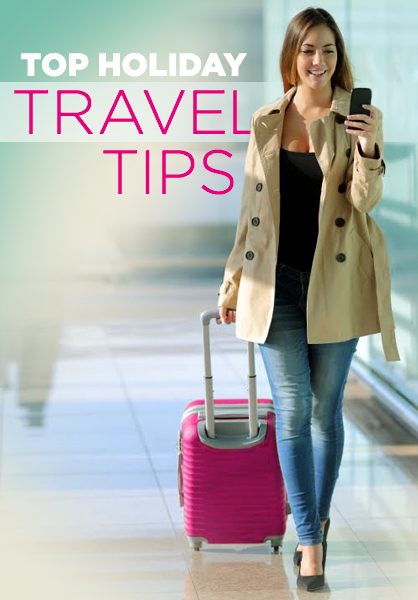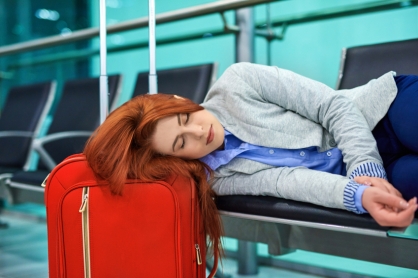 Avoid extra fees
Scott Wainner, founder of Fareness.com, tries to make travel a positive experience for everyone. Here are his best tips:
If you're running late for a flight, don't call the airline. If you call, you'll always get hit with a change fee, which can be $150 or more. Instead, go to the gate for the next flight to your destination, and tell the agent you missed your flight. 9 times out of 10, they'll put you on the next flight without a fee.
Airlines always say that a flight is 100% full, even if it isn't. They don't want your carry-on bags, so they try to incentivize you to gate check your bag. Help them (and yourself) out by reducing the size of your carry-on's, so that you're a smart, efficient traveler with carry-on's that don't take a lot of space, and never deal with a lost bag. Like Twitter's 140-character limit, limiting yourself to a smaller bag inspires travel creativity, and compels you to take only what's needed. You'll feel so much lighter and have a lot less stress.
Get Clear (Clearme.com). If you travel more than 2-3 times a year, it's 100% worth it. Clear is a dedicated security lane available at more than a dozen US airports, that lets you skip the security line and be chauffeured to the front of the line right up to the X-ray machine, VIP style. Clear costs about $15 a month.
As a Clear alternative, register for TSA's pre-check program which is $85 and is good for five years. Pre-check security lanes are almost always a 5-minute wait or less and you don't have to take off your shoes or remove your laptop. It's a breeze. Registration is simple. You sign up online and set an appointment to show your ID and undergo a background check. Don't be put off by the interview, it's quick and easy. Within a few days, you'll be able to fly through the airport in the pre-check lines.
You might have a specific destination and trip dates in mind, but always check fares by varying your trip length by several days, and the trip departure date by several days, to find the best airfare. This is especially key during the holidays.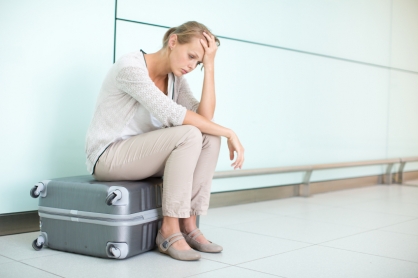 Pick the right suitcase
World traveler and vice president of corporate communications for Outrigger Hotel & Resorts, Bitsy Kelley, has hosted outdoor and travel shows on TV and radio and has vast experience in how to get around the world with ease. Kelley shares her favorite travel tips:
Buy the right suitcase, because you get what you pay for. Hard case suitcases are more expensive but harder for thieves to get into (thieves can cut soft bags with a knife).

No suitcase is safe, particularly if you are traveling to a third world country. Some travelers pay for the "plastic wrap" service at airports. It's good to pay for this service if your bag will be going through many transfers or has a long layover, where it's easy for your bag to get into the wrong hands.

Always hand-carry any valuables: jewelry, important documents, money etc.

My carry-on is a sturdy backpack (made to carry a computer). This leaves my hands free to carry tickets/jackets/coffee when going through airports. It can also substitute as my "personal" item thus allowing me to carry a larger carry-on bag when needed. This way a typical smaller lady's purse does not take up the "personal" item option (I can put my purse in the backpack).
Communicate effectively
Matthew Storm, head of marketing, Americas, at NICE Systems, shares his best tips:

Pick a channel. When you have a problem that needs resolution, it may be tempting to jump from phone to Twitter to email. But often you'll receive better results if you seek to resolve the problem in the channel in which it occurred. If a problem arises at a store, speak with someone behind the counter. If it happened online, open a chat window or send an email. Telling someone in a call center about how bad a store was will typically fall into a black hole. Sharing your frustration about a website to someone in the call center may fall on deaf ears. While organizations work to share feedback across every touch point, keep your feedback in the same channel to reach faster resolutions.

Give clear feedback. Always mention names, products, special deals, reservations, and anything else that is relevant to your situation. Make sure to prepare before you interact with customer service. Have all your documentation and packaging with you. And when giving feedback about poor customer service, be specific. Simply marking a two on a one to 10 survey doesn't give enough detail for an organization to resolve the issue. Some brands actually care a great deal about your feedback and may incent you to reconnect with them about your experience.

Keep your emotions in check. George Carlin was right that there are words you can't say on TV - and the same rule applies in customer service, too. Some customer service staff, whether in person or over the phone, are trained to disengage or hang up the moment things get ugly. Keep it clean in your comments too. Share your emotion, but hold back on the trash.
Tagged in: vacation, holiday travel,