Minimalist Style with classic engineering
Fusing together style and substance
Watches are a statement piece now more than ever. With so many options available for simply telling time, the person who chooses to wear a classic timepiece is doing it for substance and style. And those who design such watches are artisans, sharing beauty through their creations.
One such designer is Eduardo Umaña, the creator of classic engineering. The Bogota, Columbia native designs the minimalist NATO wrist watch, which is a beautiful yet affordable luxury. Umaña took time out to talk to LadyLUX about his designs and style.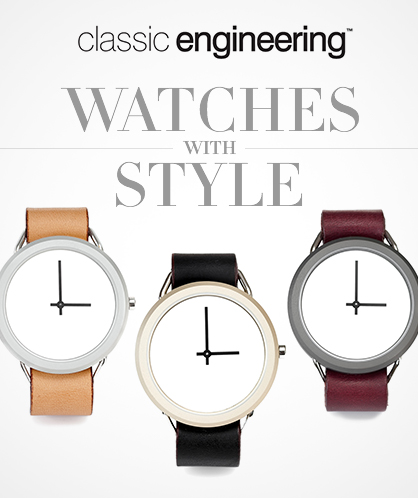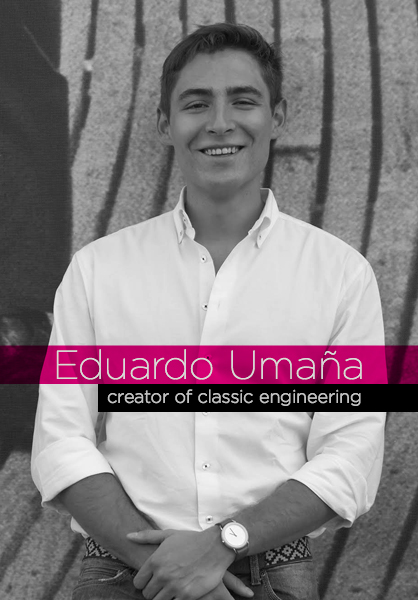 LadyLUX: Where do you get the inspiration for your designs?
Eduardo Umaña: Usually from things around me; I see beauty in objects, natural phenomena such as a ray of light piercing a translucent material, or in gestures and events. When I experience enough of these I feel compelled to create something.
LL: What is your design language?
EU: The design language I tried to go for is a balance of the classical and the modern, an upgraded minimalism that adds perhaps a modest amount of luxury or ornament. People say my design is simple and elegant.
LL: Tell us about the classic NATO and what you love most about it.
EU: What I most love about the classic NATO is that most people recognize it as a "simple, and elegant" design. Which is exactly what my intention was–creating something classic. Something elegant without the extravagance.
The classic NATO was entirely designed, engineered, and created by myself. I sourced the highest quality materials: case machined and ceramic treated right here in the U.S, swiss movement and assembly, sapphire crystal, and a beautiful handmade in Amsterdam leather strap. The leather is vegetable tanned, full-grain sourced from Tuscany, Italy (in other words,
the absolute best leather). The classic NATO comes in gold, black, and silver, and the straps in chianti, black, and natural. There are nine possible combinations. The packaging of the classic NATO is solid acrylic and raw paper, all made here in the U.S.
LL: Were you inspired by any watch designers along the way?
EU: My favorite watches: Ressence Type 3 and the beautiful Audemars Piguet Royal Oak.

LL: Tell us about your engineering background and how that influenced your designs.
EU: Conceiving an object takes two very different skills: analytical and rational for functionality, and abstract and irrational to come up with beautiful form. You can't solve your way, or analyze your way in order to arrive at something beautiful, and you also can't get away from solving difficult analytical problems that have to do with function.

As an engineer and designer I can simultaneously make creative decisions throughout the design process, knowing in full how these decisions will affect the outcome; both in form and function.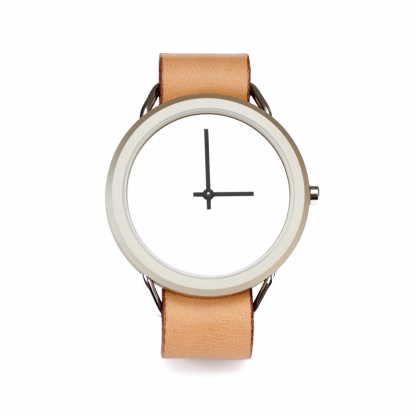 LL: What is your single favorite piece of your collection?
EU: I wear the silver NATO with Natural band. These were the original colors when I envisioned the watch.

LL: What are you working on now?
EU: An enchanted object. It is all I can say!
LL: Where can our readers buy your products?
EU: Through classic.engineering. That is actually the URL to the website.

LL: Tell us a little about yourself. What do you do for fun when you're not working?
EU: When I am not working, which is often, I like using different methods of making coffee, like using a siphon or a Chemex. I then sit down and read something. Like a newspaper or magazine.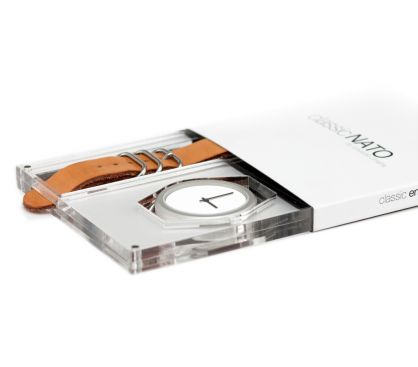 LL: What is your favorite vacation spot?
EU: Colombia! It's an amazing country with some beautiful spots like Cartagena.

LL: What is your ideal way to spend a Sunday afternoon?
EU: I usually take my beagle for a very long walk.